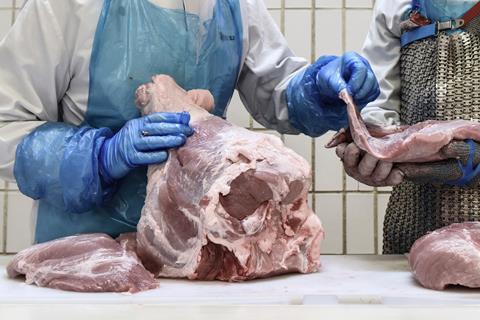 A leading migration expert has warned businesses reliant on skilled foreign workers, such as butchers, may not be prepared for the post-Brexit immigration system.
Set to come into force from 1 January, the new system requires companies hiring workers who meet the points-based system to register with the government visa sponsor scheme.
However, according to Home Office data, just under 32,000 UK businesses – equivalent to 2% of the estimated 1.4 million private sector employers in the UK – have registered.
"It's shocking to me that so few businesses seem aware of these rules," said Yash Dubal, director of London-based specialist immigration law firm AY & J Solicitors.
"My advice would be to make preparations now to make sure the UK's meat sector can thrive. The big worry at this stage is that there'll be a huge demand at the last minute, creating a backlog of applications."
Dubal singled out butchers as one occupation which could reach crisis point should meat businesses not prepare for the new rules.
In response, the British Meat Processors Association said it had been "supporting members with advice and guidance on what they need to do right now, and how to plan for the medium-term staffing issues they may face".
While butchers were recommended for the shortage occupation list by the independent Migration Advisory Committee, the Home Office has not added them to it. This led to warnings of a "full-blown crisis" around labour by the BMPA in June.
But this situation appears to have been temporarily averted, with BMPA members said to have reported that more EU workers than usual have elected to stay in the UK due to the coronavirus pandemic.
However, it said while there was less of a likelihood of labour availability problems in the short-term, question marks remained about what would happen beyond that.
"The picture could look very different if those workers choose to return home in 2021," said BMPA CEO Nick Allen.
"Had the Home Office accepted the MAC recommendations, including adding butchers to the Shortage Occupation List, it would have given meat processors much more flexibility to fill vacancies where there is still clear evidence of skills shortages that cannot readily be filled by UK workers."
Allen added there were hopes rising unemployment levels across the UK would lead to greater interest in butchery roles but said the "lengthy course lead times" – which can take up to two years – as well as the rural location of processing sites, could lead to recruitment issues.
Defra said food businesses should encourage EU staff to register for pre-settled or settled status and called on them to turn to and invest in UK-based workers. A spokesman said the department was working with other parts of the government to "ensure there is a long-term strategy" for the food industry's workforce.
The news comes after warnings of a looming vet crisis facing meat exports at the end of the year.
A recent paper by the British Veterinary Association and the Veterinary Public Health Association stated a lack of certified vets meant the sector was "totally unprepared" to export meat to the EU after Brexit.