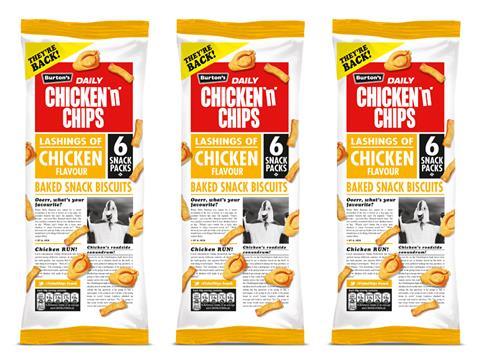 Burton's Biscuit Company is set to boost its savoury snacks portfolio with the revival of Chicken 'n' Chips.

Launching in Asda from early next month in multipacks of six 25g bags (rsp: £1.89), with further listings expected to follow, the new SKU comes after the 2014 relaunch of Fish 'n' Chips as a result of The Grocer's Bring Back a Brand campaign.

It is now worth £19.1m [combined Kantar 52 & Nielsen 52 w/e 27 February 2016].

The return of Chicken 'n' Chips - which had its heyday in the 1980s - comes in response to strong demand from nostalgic fans, according to David Costello, head of category & shopper management at Burton's. "We've listened to the thousands of consumers who have campaigned on social media for the return of Chicken 'n' Chips, as well as those in the trade who have petitioned for it to be reintroduced," he said.

"The classic combination of strong flavours and chip shop-style packaging will align Chicken 'n' Chips with the Fish 'n' Chips brand portfolio, and set it apart from other savoury snacks on the market."

The relaunch of the bagged snack, which comprises pieces shaped like chips and roasted chickens, will be supported with in-store activation and a full-scale digital campaign.

Burton's ongoing partnership with the Wireless Group will continue to drive the total Fish 'n' Chips product portfolio that will include Chicken 'n' Chips.

It currently acts as sponsor on key programming across the four national radio stations: TalkSport, TalkSport 2, TalkRadio and Virgin Radio.