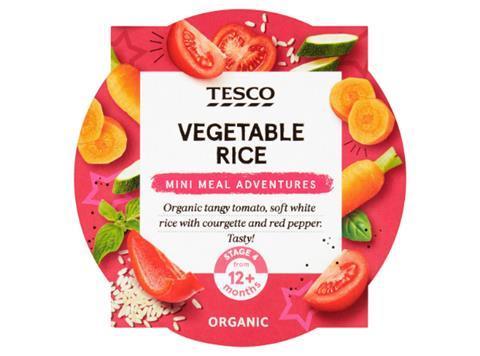 Tesco has launched a 15-strong range of own-label babyfood, featuring natural ingredients for feeding stages one to four.
Comprising pouches, ready meal trays and rice cakes, the Exclusive to Tesco babyfood lineup – available in more than 700 stores – contains no added salt or sugar and no artificial colours or flavouring. Each meal is at least 45% vegetables.
Pouch variants include Apple & Mango (70g), Carrot, Sweet Potato & Swede (100g) and Courgette, Aubergine and Red Pepper (130g), while the meals include Cottage Pie (190g) and Vegetable Rice (200g). The trio of rice cakes comprises Pear & Berry and Apple in a 40g format, as well as Apple in a 4x20g pack.
Prices range from 45p to £1.80.
All recipes had "been developed with experts and nutritionists to help babies on their journey of discovering exciting new tastes and textures," said Sinead Bell, Tesco category director for baby, beauty & toiletries.
The new range encouraged "the experience, enjoyment and exploration of food with health, taste and quality at the heart of every recipe" she added. "It's our way of helping even our youngest customers lead healthier lives and supporting parents in their goal to raise healthy eaters."