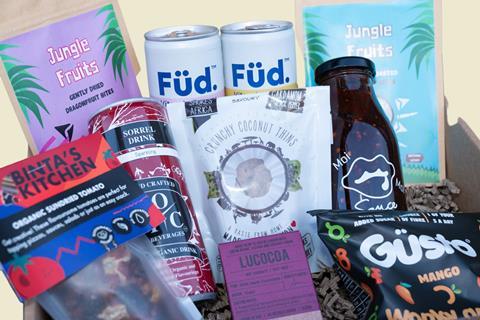 Afroposure, a new retailer and subscription service showcasing food and drink brands from entrepreneurs from ethnic minority backgrounds, has made its debut.
The business, which dubs itself as a social enterprise, has launched with a 'discovery box' of brands, with a full online marketplace due to launch in July.
It is the brainchild of Josh Okitikpi and Ayo Dada, who are financing the business entirely with their own money.
"We wanted to start something with a mission at its core – the initial idea was to have a vending machine stocked with snacks from diverse entrepreneurs," Okitikpi told The Grocer.
"Black and minority ethnic founders represent 7.1% of business owners in the UK food and drink industry, which is not reflective of our society at all. We think it's due to a lack of funding at all stages and a lack of exposure and accessibility."
However with the onset of the pandemic in 2020 the duo adapted their plan to create an online marketplace and subscription service – although they still intended to launch an accompanying vending machine later this year with a shared workspace business in South London. They also hope to run pop-up shops across the city in future.
"At the moment we have 15 brands on board, and it's growing every week," said Okitikpi. "We want a minimum of 50 before we actually launch the marketplace. We've had really great feedback so far, not just from customers but from the entrepreneurs behind the brands that say this is a much-needed platform."
The initial discovery box features products from solely black-owned brands, such as Füd, Shores of Africa and Moi Moi Sauce, and costs £30.
Afroposure also plans to introduce a '5% pledge', which will see it donate 5% of its profits to one startup supplier, offering them funding, business support and mentorship.
Okitikpi said the business was "going to see how things play out in the next few months and then potentially go for funding".
It's the latest in a series of industry moves to boost representation and diversity among the supplier base. February, for instance, saw the launch of Add Psalt, a new accelerator scheme focused solely on growing black-owned food and drink businesses, founded by former Mars grocery sales director Sam Akinluyi and former Nescafé UK & Ireland head of innovation Lucy Smith.