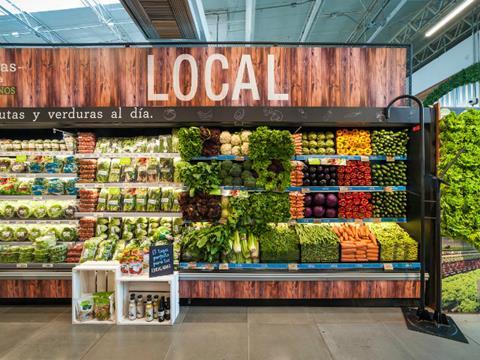 Top story
French grocery giant Groupe Casino has posted a rise in sales and earnings in the third quarter as strong performance in Latin American was helped by improved profitability in France as Covid costs reduced.
Consolidated net sales were up 6.2% to €7.4bn on a same-store basis.
In its core French operations same-store net sales edged down 0.2%, reflecting lower tourist numbers in Paris and south-east France in July mitigated by improved sales momentum in August.
However, there was a €46m improvement in EBITDA versus Q3 2019, driven by significant productivity gains from its transformation plans, on top of the full-year effect of the disposal and closure of loss-making Rocade stores.
Additionally, the costs associated with the health crisis were sharply reduced, and the Group has sustainably lowered its cost base across all of its banners.
Net sales at Monoprix were down by -1.2% on a same-store basis, reflecting the impact of weaker activity in Paris, while sales in the Convenience segment rose by 6.5% on a same-store basis and Casino Supermarkets reported 1.7% same-store growth.
Food e-commerce was up +44% over the quarter:
In Latin America, it posted same-store growth of 11.6%, led by strong increase at Assaí (up 18.1% on a same-store basis) and growth in consolidated EBITDA of +30% in local currency.
Net sales in Brazil advanced by 20.0% on an organic basis the quarter.
Casino shares have opened down 0.1% at €19.63 following the update.
Morning update
UK restaurant operator Tasty PLC has seen first half revenues hit hard by the coronavirus outbreak.
Due to the lockdown and Covid-19 restrictions, sales were down 59% on the corresponding period to £8.7m. In the period leading up to the closure, revenue had been ahead of management expectations.
However, the lockdowns meant its adjusted EBITDA loss before IFRS16 adjustments was £2.5m, up from 0.1% a year ago. Operating loss before highlighted items was £2.7m up from £0.6m.
It also took a £7.6m impairment across its assets, leading to a stated loss after tax of £11m for the period, compared to a 0.8% loss in 2019.
It stated: "2020 has been an extremely difficult year which required swift action to mitigate the extraordinary challenges faced. Tasty was quick to react to the Covid-19 outbreak, implementing various measures to stabilise the business and safeguard and preserve the wellbeing of our people and customers."
At one stage, 98% of employees were furloughed and, while it still employs approximately 700 people.
"Whilst the trading environment continues to be extremely challenging and ever-changing, with the additional bank facility and support from our creditors and landlords, we are hopeful that we will be able to navigate our way through these difficult times due to our agility and restructured operational base.
"Our focus on cash preservation and maintaining the wellbeing of our staff and customers, has provided us with the opportunity to find a new way of operating the business, which is Covid-19 safe. There are opportunities to build on the stability in the group and the lower operating cost base which will allow us to take advantage of reduced competition."
No decision has yet been made regarding a restructuring or potential Company Voluntary Arrangement (CVA), the board is continuing to work with its advisers, KPMG, to assess the potential impact of Covid-19 on the business and the various strategic options available to the group.
Elsewhere, Carrefour has announced the disposal of a 60% stake in its Market Pay payments platform to AnaCap Financial Partners, a specialist investor in European financial services, in order to accelerate its development and diversification.
This all-cash transaction values Market Pay at an enterprise value of €300m.
Developed by Carrefour teams since in 2016, Market Pay is a European payments platform designed to support the Group's omnichannel retail operations in its various geographies. It handles 1.3 billion transactions per year and manages 45,000 payment terminals and 5 million cards.
Market Pay has experienced strong and continuous growth since its inception and in expects to post net sales of over €30m.
Through this "ambitious and balanced partnership" Carrefour hopes to capitalise on AnaCap's expertise in the sector and 15-year track record in growing and developing businesses to enable Market Pay to "continue its development, diversify its activities and accelerate its transformation to support innovation projects at Carrefour as well as for its other customers and prospects".
This transaction will result in the recognition of a capital gain of €245m in the group's accounts.
On the markets this morning, the FTSE 100 is down a further 0.2% at 5,568.2pts.
Risers include McColl's Retail Group, up 7.1% to 22.5p, Stock Spirits, up 3.6% to 218p and Glanbia, up 2.5% to €8.37.
Fallers include FeverTree, down 2.3% to 2,106.5p, Pets at Home, down 2% to 382p and Ocado, down 1.8% to 2,308p.
Yesterday in the City
The heavy market losses of Wednesday were consolidated yesterday as the FTSE 100 ended the day flat at 5,581.8pts.
Glanbia was up 4.8% to €8.16 after posted improved third quarter sales yesterday.
Other risers included McColl's Retail Group, up 3.2% to 21p, Nichol's, up 2.1% to 1,002.5p, C&C Group, up 1.6% to 162.6p, Ocado, up 1.6% to 2,350p and PZ Cussons, up 1.5% to 233p.
The day's fallers included Tate & Lyle, down 3.3% to 603.2p, Marks & Spencer, down 3% to 88.7p, Britvic, down 2.5% to 737p, Coca-Cola HBC, down 2.4% to 1,769p and Hotel Chocolat, down 2.1% to 355p.