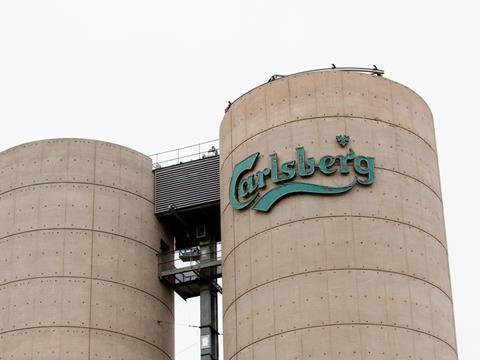 Top story
Carlsberg has reported a 2% rise in first half organic sales despite a fall in beer volumes as higher prices supported its overall sales.
Total group beer volumes fell by 3% organically in the first six months of the year, particularly hit by a fall in sales in Russia.
Other non-beer beverages grew by 4% in the period, boosted by growth in the Nordics and Asia, but total volumes declined by 2% organically and by 4% in reported terms.
However, a 4% rise in the group's price/mix meant net revenues grew organically by 2% and reported revenue was also up 2% as a positive currency impact related to the Russian rouble was negated by divestments – notably last year's divestment of Carlsberg Malawi and this year's divestment of Nordic Getränke.
Net revenues rose to DKK31,765m (£3.9bn)from DKK31,243m.
This pattern was particularly notable in the UK, where volumes plunged by 7% - partly driven by tough annual comparables due to the Euro 2016 football tournament falling in the previous period.
However, its focus on premiumising its UK portfolio – including the addition of Brooklyn and the rejuvenation of Carlsberg Export – helped deliver a significant price/mix improvement to drag organic revenues for the six months back to flat.
Overall cost of goods sold per hectolitre increased organically by approx 3%, mainly due to overall cost inflation and the volume decline in Eastern Europe.
However, the improvement in price/mix and efficiency savings meant that the gross margin improved by 110bp to 50.8%.
Operating profit was up 15% organically, with all three regions delivering double-digit growth, while reported operating profit was up 20% to DKK4,125m as a positive currency impact benefitted the bottom line.
CEO Cees 't Hart said: "We delivered a strong set of results for the first half-year, improving earnings and cash flow and reducing leverage. The results show that we're well on track to deliver on our key priorities for this year: achieving a substantial proportion of the remaining Funding the Journey benefits, enabling investments in SAIL'22-related activities to grow the top-line in the future.
"Our strong financial results enable us to accelerate our investments in the SAIL'22 priorities to drive sustainable long-term growth of the Carlsberg Group. The growth of Tuborg in Asia, the expansion of Grimbergen and the further development of our fruitful cooperation with Brooklyn serve as excellent examples of SAIL'22 at this point in time."
Carlsberg said its Funding the Journey cost efficiency programme is "progressing as expected", and it is on track to deliver a large proportion of the expected total net benefits of DKK1.5-2.0bn this year and the full net benefits in 2018.
The programme was a key driver of the organic operating profit growth and margin improvement, the brewer said.
It is maintaining its full year forecast of mid-single-digit percentage growth in organic operating profit.
However, it now expects a positive currency translation impact of around DKK50m, compared to previous expectations of DKK300m-plus.
Carlsberg shares are up 0.4% to DKK696 so far this morning.
Morning update
A quiet morning sees no new announcements of note on the market this morning, though all eyes will be on the Walmart/Asda first half results tomorrow morning.
On the markets this morning the FTSE 100 is up another 0.7% to 7,433.4pts so far this morning, continuing its strong week.
Early FTSE 100 movers include Tesco (TSCO), up 1.3% to 179.5p, Diageo (DGE), up 1.3% to 2,567.8p, while Premier Foods (PFD), up 2% to 40p and Total Produce (TOT), up 2% to 203p, are also on the move.
The market's few early fallers include Crawshaw Group (CRAW), down 3% to 20.4p and C&C Group (CCR), down 1% to €3.09.
Yesterday in the City
The FTSE 100 ended the day up 0.4% to 7,383.8pts, continuing the market fightback from the declines seen last week amid rising political tensions between the US and North Korea.
However, the pound fell close to an eight-year low against the Euro and lost further ground against the dollar yesterday as lower than expected inflation figures (CPI remained flat at 2.6%) dampened expectations of an imminent rise in interest rates.
The pound dropped almost 0.5% to €1.095 against euro and tumbled 0.8 against the dollar to $1.286.
The falling pound boosted the share price of some of the markets big, international fmcg players.
Imperial Brands (IMB) rose 2.1% to 3,221.5p, Diageo (DGE), was up 1.4% to 2,536p, Unilever (ULVR) climbed 1.3% to 4,471.5p and British American Tobacco (BATS) was up 1.3% to 4,907.5p.
The supermarkets had a largely positive day on the news that consumers' wallets might not be quite as stretched by rising prices as was forecast. Sainsbury's (SBRY) was up 0.7% to 241.8p, Morrisons (MRW) was up 0.7% to 247.4p and Tesco (TSCO) rose 0.5% to 177.2p.
John Menzies (MZNS) shrugged off a fall in first half profits and the abandonment of its distribution arm merger with DX as its shares ended the day up 1.7% to 725p.
Other risers included Stock Spirits (STCK), up 5.5% to 205p, Devro (DVO), up 2.9% to 241.8p, McColl's (MCLS) up 1.8% to 260p and Hotel Chocolat Group (HOTC), up 1.6% to 279.3p.
The day's few fallers included Majestic Wine (WINE), down 3.1% to 329.5p, Premier Foods (PFD), down 1.3% to 39.3p and Hilton Food Group (HFG), down 1% to 755p.