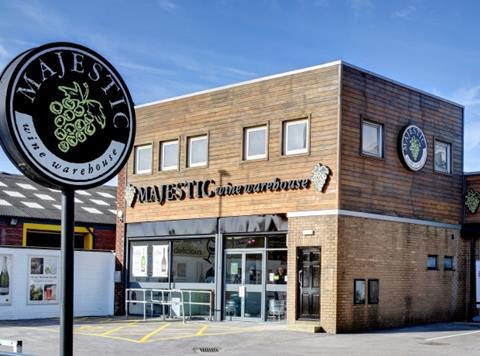 Top story
Majestic Wine (WINE) has fallen to a first half loss of £0.2m as investment in growth and the "tough" retail market were a drag on performance.
Group revenue grew by 5.4% in the period to £229.1m, primarily driven by growth in its online Naked Wines business and as a result of its previously announced investment plan.
Sales were up 4.8% on an underlying basis, which representing an acceleration from its 2018 financial year underlying growth of 4%.
Naked Wines underlying revenue growth accelerated from 11.6% in the second half of last year to 14% in the first half to £75.7m.
Naked's growth was particularly driven by international expansion, with US revenue overtaking the UK for the first time.
Total new customer investment increased 60.6%, accelerating new customer sales by 28.4%, driven by the US.
Its Majestic retail business posted underlying revenue growth of 1.9% to £122.9m amid a "very challenging" retail market "with significant structural change taking place and lower consumer confidence."
"Against this backdrop, and without an Easter trading period in the half, sales growth of 1.9% represents a credible performance by the retail team and demonstrates that the growth initiatives that we have taken into the retail business show signs of success," Majestic stated.
Sales from orders placed online were 34% higher in the period, while its concierge service delivering £4.7m of sales to 29k customers
However, the retail gross margin was 0.9% lower year on year at 22.6%, partly attributable to investment in recruiting customers into the concierge proposition.
The wider Majestic group posted a statutory loss before tax of £0.2m compared to a profit of £3.1m in the corresponding period last year as investment in growth and its narrowing trading margin in retail hit the bottom line.
In the first half, the group said it added around £31.6m of future value to Naked by investing £7.9m in acquiring new customers.
In June, the group said it expects to double the level of annual investment to £28m over the next few years, to grow the future value generated from this to over £100m a year.
CEO Rowan Gormley said Majestic was "doing well in a tough market".
He added: "We were planning for tough times and we're investing through tough times because we know that's the route to a more profitable future. As a result, we now have a business that is almost 45% online and over 20% international with both the option, and intention, to invest further in order to drive returns."
Majestic said the UK retail market is "tough" and will continue to be a drag on performance in Retail and Majestic Commercial.
It had previously targeted growth, but now expects adjusted EBIT across these business units this year to be flat at best.
Majestic shares have plunged 11.8% this morning back to 330.4p on the news.
Morning update
French spirits group Remy Cointreau has posted "robust" sales growth in the first half of its financial year.
The group posted organic sales growth of 7.7% and reported sales growth of 5% to €571.4m, driven by "excellent" performance of its group brands which grew 8.9% in organic terms.
Overall growth in the six months to the end of September was driven by strong performance in Asia-Pacific and the Americas, while EMEA remains "a work in progress".
The EMEA region, which accounts for 26% of net sales, was down 8.8%. This was partly due to the expiration of Partner Brand distribution contracts, as well as commercial decisions in favour of the other regions.
The Americas (40% of net sales) recorded a 4.9% increase for the entire portfolio of Group brands, and in particular, Cognac.
Asia Pacific (34% of net sales) recorded a sharp increase of 29.6%, spurred by the strong performance of Cognac in Greater China.
Current operating profits grew 10.1% in organic terms and by 2.9% in reported terms to €138m.
Botton line growth was driven by an improvement in gross marking due to favourable price/mix benefits and management of overheads.
Current operating margin up 0.6pt in organic terms, but fell 0.5pt in reported terms due to adverse currency effects.
Overall, exchange rate fluctuations had a negative impact of €9.6m.
Elsewhere, Agricultural supplies group Wynnstay has updated the market on trading for the financial year ended 31 October 2018.
It said trading across both its agriculture and specialist retail divisions has "continued strongly" in the second half of the financial year, with "farmer confidence and spending patterns continuing to recover as output prices have strengthened".
As a result, the board now expects to report profit before tax and earnings per share for the financial year ahead of current market forecasts.
It said strong feed sales, both direct-to-farm and through Wynnstay's agricultural retail stores have been a key driver of this better-than-expected performance. Feed volumes and margins benefited from both the improvement in underlying market demand and the extended warm dry summer, which limited forage availability.
It said the general agricultural and commodity outlook in the UK "remains positive".
On the markets this morning, the FTSE 100 has fallen back below 7,000pts after dropping 0.8% to 6,997pts so far today.
In addition to Majestic, fallers include Imperial Brands (IMB), down 4.5% to 2,460p, Dairy Crest (DCG), down 2.6% to 444p, B&M European Value Retail (BME), down 2.2% to 344p and British American Tobacco (BATS), down 2% to 2,670p.
Risers include Wynnstay, up 7.5% to 432.5p on this morning's upgraded earnings forecast, SSP Group (SSPG), up 2% to 640.1p after yesterday's falls and Just Eat (JE), up 1.3% to 582.2p.
Remy Cointreau is up 1.3% to €105.40.
Yesterday in the City
The FTSE jumped back 1.5% to 7,050.2pts after a tough start to the week as oil prices rebounded and the shares of energy companies rose again.
Consumer stocks shared in the gains, with FTSE 100 risers including Coca-Cola HBC (CCH), up 2.4% to 2,298p, Morrisons (MRW), up 2.3% to 251.2p, Reckitt Benckiser (RB), up 1.9% to 6,703p, Associated British Foods (ABF), up 1.8% to 2,505p, Sainsbury's (SBRY), up 1.7% to 312.1p and Tesco (TSCO), up 1.6% to 207.2p.
Other risers included PureCircle (PURE), up 4.5% to 305p, Just Eat (JE), up 4.4% to 574.6p, PZ Cussons (PZC), up 4% to 244p, Greggs (GRG), up 2.4% to 1,223p and C&C Group (CCR), up 2.9% to €3.22.
However, the day's big faller was undoubtedly SSP Group (SSPG), which plunged 8.4% back to 627.5p on the forthcoming departure of its CEO Kate Swann as news of her leaving overshadowed otherwise solid full year profit gains and sales growth.
Other fallers included FeverTree (FEVR), down 3.4% to 2,616p, Finsbury Food Group (FIF) after its update to shareholders at its AGM, down 1.3% to 111.5p and Majestic Wine ahead of this morning's first half results.