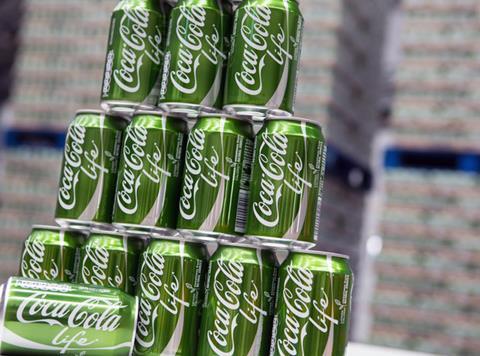 Coca-Cola Great Britain is pulling the plug on Coke Life, with the stevia-sweetened variant set to disappear from UK shelves as of June.
Coca-Cola said the decision to phase out Life would "enable the company to simplify consumer choice between sugar and sugar-free formats". It added Life had built a "loyal and niche following" since launching in 2014.
Sales of the green variant crashed 58.1% over the past year to just £8.8m, after all but three skus were axed at the end of 2016 [Nielsen 52 w/e 31 December 2016]. Only 8-packs of 330ml cans, 1.75-litre and 500ml bottles remained with reduced distribution in 'key outlets'.
At the same time, the soft drinks giant plans to accelerate investment in Coca-Cola Zero Sugar, as new data shows sales of no-sugar Coke now match sales of the full-sugar Classic. Since the beginning of the year, 51.2% of Coca-Cola sold in UK grocery is no sugar, a 7% increase on a year ago [Nielsen YTD 25 March 2017].
Coca-Cola Zero Sugar replaced Coke Zero in June. The new variant has been backed by £10m and £4.5m campaigns featuring the slogan 'Tastes More Like Coke' and is now worth £115m, according to Coca-Cola Great Britain.
Leendert den Hollander, Coca-Cola European Partners Vice President & General Manager, said: "We're pleased that in just nine months Coca-Cola Zero Sugar has grown significantly and become the fastest growing cola in UK grocery. As a result, more than 50% of Coca-Cola sales in UK grocery are sugar-free. As we look to drive no-sugar sales even more and make it clearer for consumers to differentiate between sugar and no-sugar options now feels the right time to phase out Coca-Cola Life from the UK market and focus on our three leading and iconic cola variants."
Coke Life is not being phased out globally and is currently available in 30 markets.