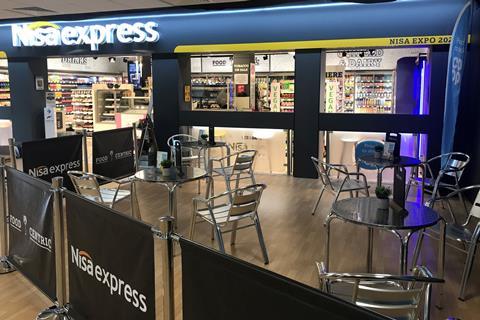 Nisa is today launching a new Express store format for independent retailers.
Announced today at the 2020 virtual Nisa Expo, it aims to cater for retailers operating in more compact spaces of up to 1,000 sq ft with three new store designs.
These include food-centric, forecourt and essentials, which all aim to target various shopper trends.
The food-centric option is meal solution-focused and is designed to service the cash-rich, time-poor consumer, living predominantly in a city centre location.
It boasts a seating area, an enhanced food-to-go offering and a new focus on fresh.
The forecourt concept store design looks to establish all key propositions under one roof, while ensuring the core theme is the right focus for the particular site.
"People are looking at what opportunities we have to reset the business as a retail business rather than a fuel business, and offer something more comprehensive than a top-up opportunity," Nisa COO John McNeill told The Grocer.
The essentials version of Nisa Express aims to serve the needs of a neighbourhood environment that are often the hub of a local community.
It offers a generous chilled range, BWS, a focus on value and other services such as Post Offices to drive footfall.
Read more:
Head of format Darren May said: "Our new Nisa Express format is designed to meet the needs of Nisa partners who operate smaller stores but who want to ensure their business is contemporary, has the right look and feel and provides their customers with the best shopping environment.
"Importantly, we want to ensure all partners have access to a Nisa fascia and format that complements their individual offering and location and we believe this is achievable with the Nisa Express format."
Meanwhile, Nisa is set to have recruited 500 new stores in 2020 by the end of this month.
"We did just shy of 550 stores for the whole of 2019 and to be able to continue that momentum, despite the pandemic, is a real testament to the strength of the proposition and how well the teams have adapted," said sales director Steve Leach.
When coronavirus hit, Nisa's recruitment team changed their approach and adapted to a virtual recruitment and induction process. During this period it has recuited a number of leading convenience operators including Touts, Highland Retail and Ascona Group.
"Over the course of this year, in difficult circumstances, the recruitment team here at Nisa has evolved magnificently to a virtual recruitment model which has been fruitful and very supportive to prospective Nisa partners," added Leach.
"We've embraced the digital platforms available to us and have ramped up our social media activity to ensure we're very visible and clear on why Nisa is the partner of choice for independent retailers and wholesalers."
Leach added that offering Co-op own-label products has also opened up a large number of doors in terms of recruitment.
"It gives retailers opportunities with a credible brand that everyone knows and loves, and is only available through Nisa," he said.