Volvic declared war on sugar by overhauling Juiced at the end of last year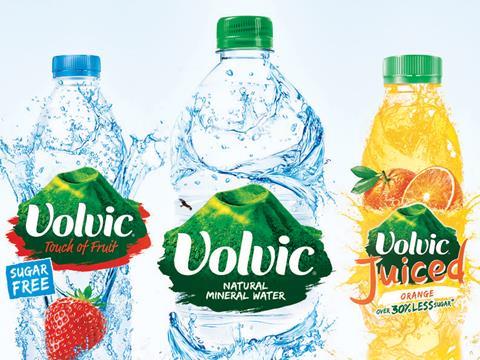 Last year: 34
Sales: £179.3m (-5.3%)
---
Volvic declared war on sugar by overhauling Juiced at the end of last year, slashing it by 28% on average so all variants now contain 4.9g per 100ml.

The reformulation means all of Volvic's flavoured waters will now come in below the sugar tax, says Bryan Martins, marketing director at Danone Waters UK & Ireland, who admits the brand's original flavoured waters have suffered a "drop in sales", but says its sugar-free variants are in "significant double-digit growth".

Indeed, while Touch of Fruit Sugar Free enjoyed another strong year of £6.8m growth, value sales of standard Touch of Fruit and Juiced slumped. The brand's plain water also lost sales, although Martins insists this is down to distribution losses, and claims Volvic water is growing ahead of the category in impulse. In addition to cutting sugar out of Juiced, Volvic has also expanded its Touch of Fruit Sugar Free range with new variants - orange and apple & elderflower, the latter in response to demand for "more adult-orientated flavours".

The brand embarked on its first sponsored TV programming last year with its Unstoppable Moments campaign on Channel 4 and E4. It has just renewed its E4 sponsorship for another year, as well as launching its first 'megabrand' campaign Find your Volcano - celebrating the brand's volcanic heritage.

Martins hints there will be more flavoured water NPD this year, and says the brand will continue its bid to encourage kids to drink more water - having already launched collectable water bottles featuring Disney characters at the end of last year.