Princes has suffered the year's second greatest loss, of £46.9m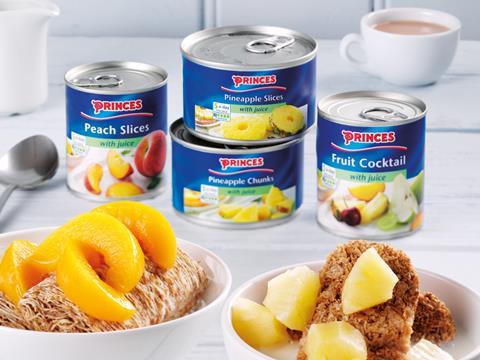 Last year: 25 ▼
Sales: £169.5m (-21.7%)
---
Princes has suffered the year's second greatest loss, of £46.9m, with only Warburtons (2) losing more. As in bread, the decline can be explained in just one word: deflation.

Canned tuna has been the brand's biggest loser, sinking £20.5m (23.3%). "Price deflation has been the main factor behind the decline in ambient fish, mainly driven by reduction in commodity costs," says marketing director Neil Brownbill. "That said, we're now seeing some commodity inflation as a result of increasing raw material costs and the impact of the weaker pound post-Brexit."

Princes meat sales suffered a further blow from the loss of some distribution on hot dogs and the reintroduction of own-label corned beef by some retailers. Princes Corned Beef was the brand's second biggest casualty, losing £4.2m (14%). Fruit, meanwhile, suffered from reduced pineapple availability, which led to "limited promotion in one of the biggest areas in canned fruit" while Princes Juice struggled in the war on sugar.

It wasn't all bad news, with canned pies and small can fruit in growth. To counter decline in other areas, the brand has invested heavily in NPD and advertising.

Launches include drained tuna and a 130g single-serve corned beef aimed at smaller households, as well as Mango Slices with Juice 432g and Peach Chunks with Juice 220g. Princes has also poured spend into TV ads for its Princes Tuna in Spring Water, and Princes Tuna Fillers, as well as a multichannel campaign for its Princes Fruit including radio ads encouraging shoppers to try canned fruit for breakfast.