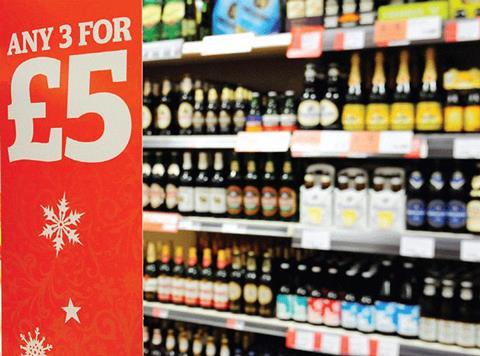 Shoppers looking to get their Christmas booze shopping in early would have been disappointed with the lack of alcohol deals in the mults last month.

Not only were there 14.6% fewer booze deals in the major supermarkets - 2,332 compared with 2,730 during the same period in 2015 - but average savings were down 3.1ppts year on year to 28.7% [Promo Dynamic Retailers 4 w/e 6 November 2016].

"With consumers starting their Christmas shopping earlier and spreading the costs over a few months, it's surprising to see alcohol promotions down in both number and value, especially with Halloween and fireworks night just finishing," says Assosia director Kay Staniland.

Asda has cut back on offers for both wine and spirits compared to last year, with beer and lager not even making it into the retailer's top 15 promoted products. Sainsbury's also had fewer offers and lower savings across beers, wines and spirits.

Morrisons has slashed the number of offers on wine by -3.7% and -6.6% respectively, and while it is offering more (+2.7%) deals on spirits, savings are down 2.8%.

Waitrose is offering more deals on beers, wines and spirits, but average savings were down across all three compared with last year. Conversely, Tesco was the only retailer to increase average percentage savings on booze (+1.4%), but has cut back on the number of deals.

This comes amid a wider cutback on featured space promotions across the major supermarkets, with only Sainsbury's and Waitrose offering more deals than a year ago.

Although average savings "look to be making a small surge" compared to last month, they remain "some way down" on last year, Staniland adds.

Asda was the only exception, with average savings across the retailer's promotions up 5.5 percentage points year on year to 30.1%.