No one would suggest it's been an easy year for Britain's booze industry.

Overall volumes have fallen in every category of the market as prices rose and consumers reined in spending. Even a summer of sport and Jubilation didn't bring the across-the-board fillip many had been hoping for. And with cost and tax hikes pushing up the price of alcoholic drinks, a positive change in value doesn't necessarily entail corresponding volume growth.

On the bright side, the volume decline of the lager category has slowed compared with last year - from 3.7% to 1.3% - as it benefited more than most from the Diamond Jubilee, Euro 2012 and the Olympics. The stronger performance has not been driven by the lager market's 'big four' - Stella Artois, Foster's, Carling and Carlsberg - but by smaller brands such as Budweiser and Peroni Nastro Azzurro.

Foster's has performed best of the big four, with strong comedy-focused marketing activity helping drive a 4% hike in value sales. Brand owner Heineken said marketing activity had also contributed to stablemate Kronenbourg 1664 enjoying strong value and volume growth.

Own-label lager has had a particularly good year, up 11.1% in value and 11.8% in volume. "This is no surprise at a time when people are so cash-strapped," says one supermarket buyer. "Shoppers are asking themselves 'is the brand tax worth it?'"
Ale & stout drinkers seem to think so. Brands have outperformed own-label ales & stouts, which fell 8.6% by volume while price hikes drove a 4.9% value increase, according to Nielsen.
Spitfire and Hobgoblin have flown up the table, the latter driven by initiatives including its Season of Mischief Halloween activity and a summer music campaign, the former boosted by a patriotic Glorious 2012 push. But the boom in bottled ales - and growing interest in craft beers - has taken its toll on other brands, with Guinness and Boddingtons both taking big hits. Guinness owner Diageo attributed its sharp decline in value and volume to shoppers switching to different pack sizes and is hoping to address the issue with a packaging revamp and its £33m Made of More campaign.

Heineken, meanwhile, is looking to tap into the growth in craft ales with the launch of limited-edition extensions to its Newcastle Brown Ale brand, which has dropped 11.4% in volume in the past year - a stark contrast to the strong performance of stablemate (and category leader) John Smith's Extra Smooth.

Heineken also holds the top position in cider and perry - but Strongbow has had a very different year to John Smith's, with volumes down 10.1% and value down 5% as the explosion of new (and particularly flavoured) ciders have hit the brand.

Like Strongbow, the juggernaut that is Stella Artois Cidre has introduced a pear variant, keen to ensure no slowdown in the momentum that has seen value and volume sales double year-on-year and enabled its original apple version to leapfrog Magners into second place. The latter has lost almost £10m in value in the past 12 months, and it's not just under attack from Stella - Aston Manor's Frosty Jack's is also closing in.

Also booming are fruit-flavoured ciders such as Kopparberg and Bulmers No 17 - although their gain has been the RTDs market's loss. Of the top five RTD brands, only premixed Gordon's G&T is in growth.

Market leader WKD has dropped 8.4% year-on-year, although fellow category stalwarts Bacardi Breezer and Smirnoff Ice have fared worse, with sharp declines in value and volume. Even Crabbie's Ginger beer, which had almost doubled sales in last year's Top Products Survey, is in slight value decline as the brand continues to mature.

As Smirnoff Ice struggles, its parent brand is faring much better. Sales of Smirnoff Red Label have grown 7.7%, and 1.8% by volume in a market down 2.5%. And the success of another vodka brand, Glen's from Glen Catrine, has pushed Bell's down a place to third as value and volume sales slumped. But it's not all bad news for blended whiskies, with The Famous Grouse soaring by more than 10% year-on-year.

Diageo still sits on top of the wine brands table with Blossom Hill, although Accolade Wine's Hardys brand has closed the gap to a mere £3m this year, having pushed past stablemate Echo Falls.

Arguably the biggest shake-up, however, has been Sainsbury's exclusive brand Mondelli soaring 11 places up the table on the back of a 71.5%
FirstCape Discovery Brand Phoenix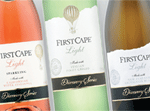 There's no delicate way of putting this: low-alcohol wines have a pretty bad rep. That said - and to quote Lennon & McCartney - it's getting better all the time, and Brand Phoenix has played a big role in improving the image of lighter styles. The Discovery range represented another huge leap forward, bringing grape varieties to the 5.5% abv arena. Brand Phoenix is delighted with the response - it's shifted 84,700 nine-litre cases since rolling the range out in February.