Go back five years and the off-licence looked dead. Familiar high street names like Bottoms Up, Oddbins, Victoria Wine, Thresher, Wine Rack and Unwins had all collapsed, joining old stalwart Bakers Wine Merchants, which first opened in 1671.

Bakers was perhaps less well-known than these chains but it was comfortably the oldest independent off-licence in the country. Its closure in March 2011 was due to its inability to commit to a new five-year lease on the shop thanks to what MD Colin Baker described as the "looming threat" of a new Sainsbury's opening down the road. It was a neat vignette that summed up the negative effect supermarket sales were having on the fortunes of the local off-licence.

At the same time Bakers bagged up its last bottle, Verdict Research said independent off-licence sales had fallen 18% in five years, while the big four supermarkets now accounted for over 70% of alcohol sales.

News that supermarkets had a negative impact on the independent retail sector is almost as old as Bakers Wine Merchants. Yet there are still lots of off-licences out there - a report in October 2015 by Ibisworld said 4,286 off-licences were generating sales of £3bn in the UK. So five years on from the dark days of 2011, how has the sector evolved to cope? What are the new opportunities? And in a post-Brexit UK, what are the threats?
Smart wine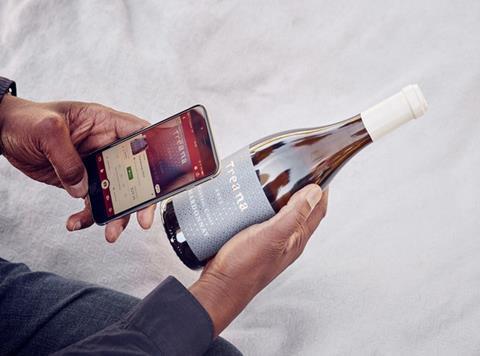 Online wine has always been considered one of the more reliable ways to make money in online food and drink, and it continues to grow. And indie off-licences wanting a quick entrance can jump on to the success of label-scanning wine app Vivino to sell to thirsty shoppers via their smartphones from the end of the month. The new 'Checkout' functionality will let indies list their wines on Vivino and be notified via email when an order is placed. "More and more wine drinkers are going online and on mobile to buy wine," says Vivino founder and CEO Heini Zachariassen. "Vivino Checkout offers an easy, instant way for retailers to connect with customers with minimal barriers. Merchants do not need a current mobile or online sales presence, only wine in stock we know Vivino users love, and the ability to ship it."
Vivino has a "database of 20 million wine drinkers" says Zachariassen, and has earned a four-star rating on iTunes based on 674 reviews.
The first thing to note is the re-emergence of a couple of those once-familiar names. Wine Rack is back, albeit as part of Conviviality Retail, which also owns Bargain Booze. Both are franchise operations - and those franchisees have enjoyed a good week.

On Monday, 224 of them (who run 318 stores between them) got some good news when Conviviality doled out one million shares between them, divvied up depending on performance. A top-performing franchisee with one store received 3,500 shares, which if sold immediately would have netted around £7,500.

It's a nice bonus, but franchisee Phil Dickson said the shares-based incentive plan also gave him "the confidence to re-invest and grow my business. With the income boost it has offered us, we have grown our stores from four to 12 over the past four years."

As for Oddbins, it never actually disappeared but it was left with only 37 of its 137 remaining shops (it had 350 at its peak) after European Food Brokers paid a rumoured £4m to administrators. But it has enjoyed mixed fortunes since.

In 2014 it scooped a Grocer Gold award for Drinks Retailer of the Year (one judge said it had "rediscovered its DNA"). And today there are 47 shops. MD Ayo Akintola has ambitions to grow to 100 company-owned stores and 200 franchises and wants to make "Oddbins the very best independent drinks retailer in the UK".

Yet although sales are on the rise - up from £11.4m in 2014 to £14.1m in 2015 - pre-tax profits worsened, from a loss of £496,610 in 2014 to £557,948 in 2015. And net liabilities increased from £2.5m to £3.1m.

Meanwhile some of the old players have been finding the going fairly tough, too: after a promising start, Majestic's turnaround under new CEO Rowan Gormley has run aground, with a major profit warning last month; Berry Bros & Rudd is also in the midst of a turnaround under Tesco's former alcoholic drinks director Dan Jago; and Bibendum has been acquired by Conviviality, with former Carlsberg boss James Lousada in the hotseat.

Pressure

Yet the landscape has changed for the supermarkets too. Five years on from that apparent tipping point in 2011, supermarkets have come under significant pressures of their own, resulting in range rationalisation and keener pricing. And crucially for many off-licences, fine wine doesn't fit the strategy.

"Over the years supermarkets started with a limited range, then tried to get into finer ranges and broaden their offering," says Hugh Sturgess, MD at Jeroboams, which operates seven shops in London. "Now they're pulling back. That's a sign of the competition among themselves and the fact everything is price-led. They can't target the slightly wealthier wine aficionado."

By the same token, he concedes the prices charged at a typical independent off-licence would struggle to attract customers for whom "just price is the issue". But "we can't compete, don't really want to compete, so we don't even try. If people want to buy wine from supermarkets they will do so anyway, because they're price-conscious or it's part of the weekly shop."

Jez Greenspan worked at a Sainsbury's supermarket for seven years running the beers, wines and spirits department before joining wine merchant The Vineking as a branch manager. He has now opened his first shop, The Wine Twit, in Clapham, and says "what's happened to supermarket ranges over the last 10 years has been a massive help for the independent sector. They have cut out 80% of the range they were doing 10 years ago."
Business barometer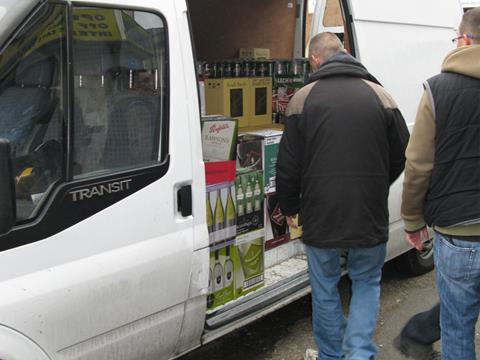 Have you ever been offered fake alcohol?
● Yes 6%
● No 94%
Is the issue on the rise?
● Yes 20%
● No 80%
How big a problem is fake alcohol?
● Negligible 48%
● Mild 21%
● Troubling 12%
● Serious 19%
How should the government tackle the issue?
● Increased fines 45%
● Increased prison sentences 21%
● Increased vigilance 17%
● It can't be tackled 17%
Will Brexit make it better?
● Yes 33%
● No 67%
Eight facings

Instead of having a "large selection of wines on two facings they have gone for eight facings, with big brands like Jacob's Creek and Hardys. It's cost-cutting - because they don't have to hold a load of stock, they don't have to have people continually filling it up on a daily basis, because they can fill it up on a night shift and let it trade the whole next day. And I wouldn't sell Jacob's Creek or Hardys because they are in the supermarket and I can't compete on price. So I leave the things the supermarkets do very well to them."

As supermarkets rationalise their ranges, "independents should capitalise on this huge opportunity to fill the gap they are creating," says head of beer, wine and spirits insights at IRI, Toby Magill. "Independents can step in and offer the customer a different and more personalised shopping experience."

Bottle Apostle in London provides "curated wine lists and experts to help guide shoppers in their purchases," says Magill. "And Vagabond, again in London, provides a wine bar/off-licence experience. It's a different way of doing things experience."

Other stunning off-licences have opened up in the capital, such as Hedonism wines in Mayfair (its largest bottle is a 27-litre Primat). It says "each of our guests can expect to receive the very highest level of customer service from our dedicated wine specialists, many are former sommeliers from Michelin-starred restaurants. They are always looking to go the extra mile."

Sturgess agrees having a "relationship" with customers is one thing the supermarkets "can't and don't do. Our target audience is people who enjoy wine and live a mile away from the shop. If you focus on a relatively small area, it's not too difficult to engage with them through open nights and tastings and getting out to the local restaurants to see what their needs are."

Greenspan opened The Wine Twit in Clapham five weeks ago. Early days, but he says he is seeing "week-on-week increases. We are growing as well as can be expected. I have customers who have been buying from places like Berry Bros & Rudd and Corney & Barrow and they trust them. They have dealt with them for a long time, and they buy £40 or £50 bottles. They won't change instantly. They need to trust my palate and my choice of wine. But that is starting to happen."

Like everyone in 2016, he is using "a lot of social media" to attract custom, and "we have regular tastings. We did a big open day a couple of weeks ago, we had 25 wines on tastings, we had 150 customers in who bought something. Normally I open two or three bottles every weekend. Suppliers donate samples because they appreciate that tastings encourage sales and there is a good conversion rate. I had an Italian wine - a £28 bottle - and for every two people that tasted it, one bought it. It's getting customers who might have previously bought wine down the road at Sainsbury's Local, or M&S. When they taste it they understand why its £12, rather than £6 at Sainsbury's".

Pop-up restaurants are an extension of the tasting trend. Being surrounded by bottles of fine wine makes for a recherché ambience, but it also "gets people in and it creates a lot of loyalty". The Vineking, which operates five shops in Surrey, teams up with chef Maxwell McKenzie, who trained with Marcus Wareing, to create Michelin-standard menus in cramped conditions.

"The customers have a great evening, they have lovely wine, and it promotes the idea of matching food and wine," says Greenspan, who worked as a branch manager at The Vineking for five years. "We would offer discounts on the wines they tasted that evening, and you got repeat purchase. The conversion rate is really good. People would come back the next weekend bringing in menus asking what wine should go with it. It helped them to appreciate that rather than picking a suitable bottle off the shelf at the supermarket, there is a science behind it."

Brexit pressure

Still, challenges remain. Not so much fake alcohol, which has plagued c-stores and corner shops in recent years (see box, right). And it's less of a problem for the new breed of bottle shop. A fraudster would head to a "little corner shop who isn't going to know and doesn't really care, he's just looking for a deal," says one independent owner of a small chain of indies. "If you're offered a case of Smirnoff for £20 cheaper than a wholesaler those guys will take it. For me it will ring alarm bells and I wouldn't touch it."

Brexit has been touted as a new weapon in the war against alcohol fraud, thanks to the potential for increased security at borders, but, for now at least, Brexit is causing trouble.

"The wine trade is nervous and apprehensive," says one independent. "We import 99% of everything. Prices have already increased, wholesalers can't absorb everything, they have to pass them on. We have no idea what's going to happen with trade agreements, or how the pound will fare. I have had several suppliers reissue a price list. Some have increased their minimum orders to reduce distribution costs as a way of getting around it. So they are trying to absorb those increases but since June the increase has neared 7%. Which is significant."

In the light of Brexit-related pressures, and others like business rates and high street rents, Greenspan says the "buoyancy" of the independent sector is typified by collective buying group the Vindependents ("the wine trade loves a pun"), which is made up of 25 indies based up and down the UK who "buy as a collective so they can increase volumes and generate higher margins. They are all seeing growth year on year."

He also says since the 2008 banking crisis, "more and more people stayed in and enjoyed a good meal and a nice bottle at home, rather than go to a restaurant and spend £35 on a bottle that could have cost them £15. And we are still seeing that in 2016. And they get the luxury of coming to a place like this."