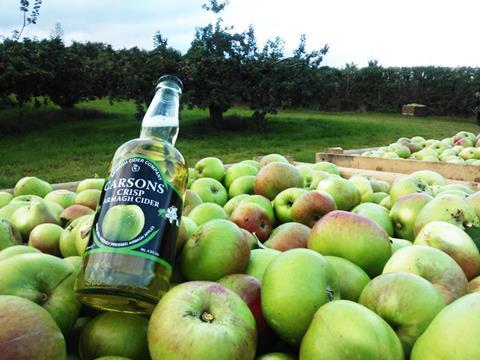 Northern Ireland's Armagh Cider Company is gearing up to expand beyond the province.

The producer, which made its first cider in 2006, plans to launch its Carsons and Doyles brands across the rest of the UK next spring.

Doyles, targeted at 18 to 35-year-olds, comprises Dry, Medium, Sweet and Honey variants, plus flavoured duo Summer Fruit and Autumn Berry. Carsons Crisp is pitched as a "refreshing traditional" cider.

Free from artificial colours and flavours, the drinks are made exclusively with Bramley apples that are from Armagh's own orchards and carry PGI status.

In their homeland, the ciders are available in a 500ml bottle, but the producer said it would be "flexible to retailers' needs".

Armagh, which has appointed distributor Beer Britannia to "manage the potential growth", said it had invested a six-figure sum in production facilities to allow it to make cider in the traditional way but enabling it to "supply the growing demand".

"We are confident drinkers are ready to enjoy the fruit of Northern Ireland's cider-making expertise," said owner Helen Troughton.