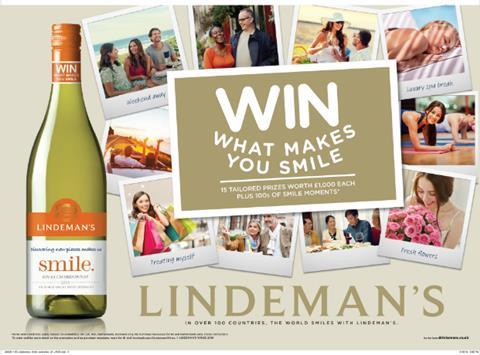 Treasury Wine Estates is hoping to put a smile on shoppers' lips with a new on-pack and online promotion for its Lindemans wine brand.
The 'Win What Makes You Smile' push, running now, comprises mobile, in-store and social media advertising designed to encourage Facebook users to write in 10 words or fewer what makes them grin. The campaign is also highlighted across all Lindemans Bin SKUs.
A total of 15 winners will have their statement 'brought to life' up to the value of £1,000, with hundreds of runner-up prizes worth up to £50 that will include bouquets of flowers and Amazon vouchers.
The activity was a "modern interpretation of Lindemans' positive philosophy", which was first expressed by founder Henry Lindeman in 1843, and had been a consistent value of the tipple ever since, said Caroline Thompson-Hill, head of marketing UK & Western Europe.
The promotion forms part of the brand's global 'The World Smiles with Lindemans' campaign, launched with the unveiling of new TV and digital advertising last month, celebrating the heritage of the brand.