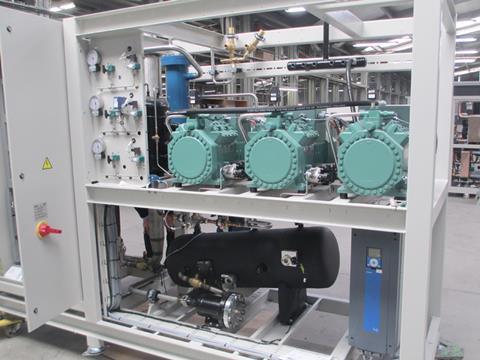 Aldi is set to switch its fridges to a new CO2 based natural refrigeration system across its entire UK estate.

The discounter will convert 100 stores to the new system by the end of 2018 at a cost of about £20m. It has already rolled out the units across some of its estate, such as its new branch in Nuneaton, which opened last month. Post-2018 it will roll out the system at a rate of 80 stores a year.

Aldi claimed that by using CO2 it could reduce its carbon emissions from its use of refrigeration by 99%, representing an annual average decrease of over 15,000,000 GWP (Global Warming Potential).

The retailer said the new system would reduce emissions to significantly below the levels required by the EU F gas regulations, which will come into effect in 2030.

"By choosing natural refrigerants, we are reducing our impact on the environment while also assuring our stores are future-proofed for years to come," said Aldi UK communications director Mary Dunn.

Aldi said carbon was a natural refrigerant with a GWP of one, whereas the previously used F gas - still widely used across the industry - had a much higher GWP.

The British Refrigeration Association said this reduction in emissions would result from both the change in refrigerant and increased energy efficiency of the refrigeration systems.

It welcomed the move but added that Aldi was simply following a wider supermarket trend over recent years, as the most recent update of the EU F gas regulation in 2015 prompts the phasing down of high GWP HFCs.

Last month Aldi said it planned to install 96,000 solar panels across its stores by the end of the year. In addition, in 2015 the discounter commenced a three-year plan to replace all its chest freezers with more environmentally friendly models.