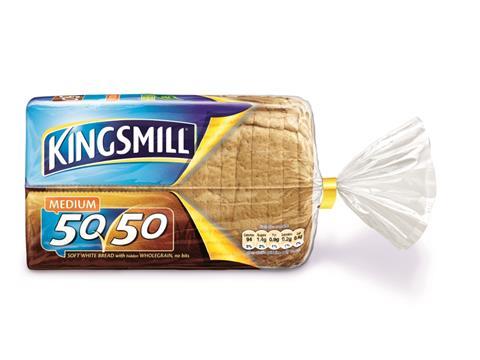 Sales of Kingsmill loaves have soared in the past year - bucking the long-term decline in the bread market.

The slump in sales of traditional sliced bread - particularly white loaves - has led to UK shoppers buying 87 million fewer pre-packed loaves in the past 12 months [IRI 52 w/e 1 March 2014].

Sales of Warburtons, Hovis and own-label loaves have all fallen in value and volume. Yet sales of Allied Bakeries' Kingsmill bread have risen 12% to £387m on volumes up 9.8%.

A major factor in the growth was The Co-op Group's decision to switch supply from Hovis to Kingsmill in a new contract that Allied Bakeries began fulfilling last April. Hovis, conversely, saw its value sales crash 19.2%.

Even without the contract win, Kingsmill would have been in growth, claimed Allied. "We are seeing growth as a result of this, but even if we strip out The Co-op we are still seeing growth among the other retailers," said category director Martin Garlick.

Smaller Kingsmill loaves had performed well, he said, and growth had also been driven by the brand's 50/50 loaves. "This is the first choice for families," he said, citing Nielsen data to 1 March that showed sales of the sub-brand up 21%.

Garlick also claimed the recently launched Great White loaves had secured an 8% share of the white bread market in their first 11 weeks. "It has surpassed our internal forecasts," he added.

Another success story had been Allinson, which following a relaunch and ad campaign last year had seen value and volume grow more than 50%.

Sales of other Kingsmill baked products - such as rolls and crumpets - have risen £10m, though this is eclipsed by the £45m rise in sales of Warburtons' non-bread lines.