Powerseed bread, probiotic tea and protein-enhanced milk and cereal… Britain's everyday favourites have been given an injection of super serum, transforming them from run-of-the-mill characters to grocery superheroes.

From Mars bars to Weetabix, Hovis and Tetley, these days you'll be hard pushed to find a category without a big player championing the functionality card. Not only does this widen their appeal, particularly to the health-conscious consumers who previously avoided them, it also moves them out of the health food fixture and into other aisles.

But brands claim their efforts are being thwarted by retailers placing too much emphasis on standard and value lines. Instead, they should be consolidating their ranges and giving more shelf space to premium offerings. With mainstream brands and smaller players jostling for space in the increasingly crowded functional food category, how can retailers and brands work together to make the most of functional?

Plus, can playing the functional card help ailing categories such as bread and tea really return to growth? Or is adding cultures to tea and seeds to bread simply a sign of desperate times calling for desperate measures?

"Shoppers are looking to stores to provide variety and something new, and the continued interest in healthy lifestyles is particularly fuelling demand for 'good for me' foods and beverages," says Alex Snowdon, senior brand manager for innovation at Tetley, who is confident Tetley's new range of vitamin-enhanced 'super' teas can help return the struggling tea category to growth.

In January, the brand's super green and super fruits teas were included in a specially created 'hot spot' of healthier food and drinks in Asda, and Tetley says over the course of the one-month promotional period sales of its super fruits outstripped its nearest competitor's entire range of fruit, herbal and green teas, positioning Tetley as the bestselling green tea brand.

"Tea is an excellent fit with shopper desire for a healthier diet and lifestyle and yet it's not presented in this way in store," says Snowdon. "Tastes in tea have changed but aside from a larger jumble of products these changes are not being reflected in the tea aisle."

They're not being reflected in sports & energy drinks, either. Red Bull predicts the sector could grow by more than £600m in the next five years, but ranges must be consolidated to maximise this opportunity.

"Many stores have placed increasing importance on standard and value tier brands, providing them with more shelf space, resulting in a negative impact on category value," says Red Bull head of category marketing Gavin Lissimore. "We advise retailers to allocate the relevant space on shelf by consolidating their range and encouraging shoppers to trade into the premium brand tier to generate the highest revenue."

At the same time, Red Bull has reduced the rsp of standard 355ml cans of Red Bull from £1.59 to £1.49 to further drive sales. It's working - sales are up 6.7%, on volumes up 7.5% [IRI 52 w/e 26 March 2016].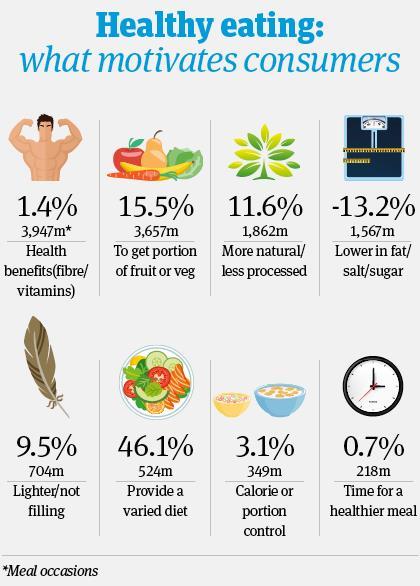 The above image shows how health-related motivations for choice of food & drink have changed between the 12 weeks ending 26 May 2013 and the 12 weeks ending 22 May 2016, based on Kantar Worldpanel usage data.
Over this period, general health as a reason for choice has grown from 29.2% share of meal occasions to 30.2%. That's 7.8 billion meals eaten because consumers believed what they were eating was better for them.
The data also shows how concepts of what constitutes healthy eating are changing. The only health-orientated motivation in decline is low fat, sugar or salt, which has fallen 13.2% to nearly 1.6 billion meal occasions.
The fastest growing motivation is to ensure the food we're eating provides a varied diet, with 524 million meals consumed for this reason, a rise of 46.1%.
Next fastest rising priority for consumers is making sure they get their recommended intake of fruit & vegetables, perhaps in reflection of the government's 5 a day initiative. This has risen 15.5% to nearly 3.7 billion meal occasions.
Also of significance is the growing importance of food & drink chosen because it's perceived as being more natural or less processed. There's been an 11.6% rise in meals consumed for this reason to just shy of 1.9 billion occasions.
According to Kantar Worldpanel, health is a more important motivation of choice of food at the beginning of the day, with its importance waning as the day progresses. It's also more significant for the main meal choice than for snacking.
Choice at fixture

Much of the soft drinks market is struggling due to the war on sugar and the planned sugar levy, but functional drinks fortified with ingredients such as vitamins and minerals are flying. Glacéau Vitaminwater is now worth £12.2m, according to owner Coca-Cola, making it the UK's number one functional water brand, accounting for nearly two-thirds of a functional water market worth £18.8m.

"While the growth of functional water isn't as rapid as the wider bottled water sector, the increased popularity is evident as consumers look for more choice when shopping the water fixture," says Caroline Cater, operational marketing director at Coca-Cola European Partners.

But going down the functionality route isn't paying off for everyone. Despite completely revamping its Essentials range with the introduction of three new fruit and vegetable blends featuring beetroot, pumpkin and carrot, PepsiCo's Tropicana has seen value sales slump 8.9% to £247.7m, on volumes down 10.1% [IRI 2 January 2016].

"The fruit juice debate in the media has bombarded us with differing, and often conflicting, dietary advice, making something that should be simple to understand seem very complex," says PepsiCo marketing director Jeremy Gibson. "Headline grabbing claims that a glass of fruit juice is 'unhealthy' are untrue, unhelpful and counterintuitive."

It could be time for another redesign for Tropicana. "Design can really help to communicate the benefits of a product when for regulatory reasons you can't state on the packaging what that benefit is," says Lisa Desforges, strategy director at branding agency B&B Studio. "Revitalising juice drinks brand Firefly does a great job of combining photography, illustration and wording to get across a very clear health message without a specific claim."

And it's unsurprising that consumers are confused between what's healthy and what's not when it comes to soft drinks. "The soft drinks market is in a conundrum at the moment," says Ed Woolner, founder of functional water brand POW energy water, which won a Sainsbury's listing earlier this year and has since secured further listings with P&H, Spar and Nisa. "Consumers are confused and are showing suppliers and retailers their intentions through the significant growth in water and water-based products."
Fava Mill Granola

Launched: July 2016 
Manufacturer: Verso Food Oy, Finland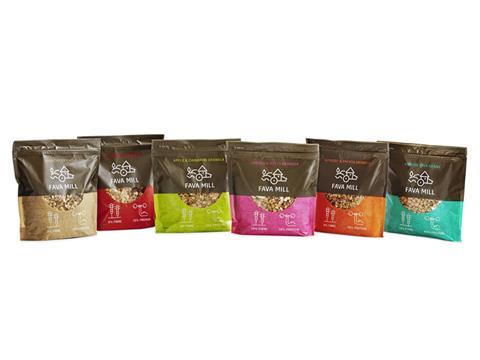 Cereal has taken a knock of late, as shoppers seek more wholesome breakfast options. But brands are fighting back with protein-laden choices and Fava Mills is one such example. Hailing from Finland, its granola has more protein per gram than an egg and hits UK shelves this month. If high protein content wasn't enough, it also has 9g of fibre per 100g and is low in sugar and salt, with flavours including apple & cinnamon, apricot & papaya and berries & beets (rsp: from £4.49/350g).
Nutripots

Launched: July 2016

Manufacturer: LighterLife Nutrition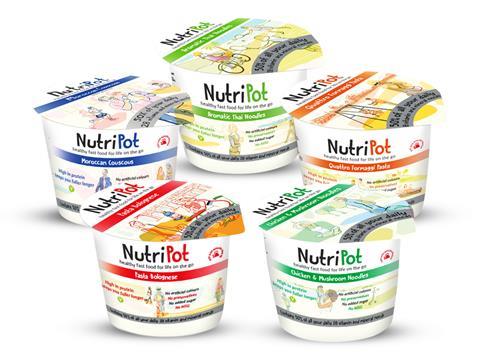 'Healthy fast food for life on the go' is the strapline for LighterLife Nutrition's debut pot meal range Nutripot. The five-strong range of pot meals (rsp: £2.49/pot) comes in flavours including Moroccan couscous, pasta bolognese and aromatic Thai noodles, which contain half of an adult's 28 daily vitamin and mineral needs.

Boka Bar

Launched: April 2016

Manufacturer: Brighter Foods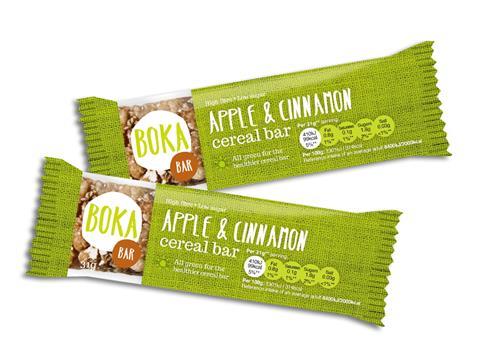 Boka Bars keep you 'fuller for longer', claims founder and former chef Franco Beer, as each bar has a quarter of an adult's recommended daily amount of fibre. With fewer than 100 calories per bar and all-green nutritional traffic lights, the high fibre, low sugar bars come in apple & cinnamon, caramel and strawberry (rsp: 89p/31g).

Mars & Snickers Protein

Launched: May 2016

Manufacturer: Mars Chocolate Drinks & Treats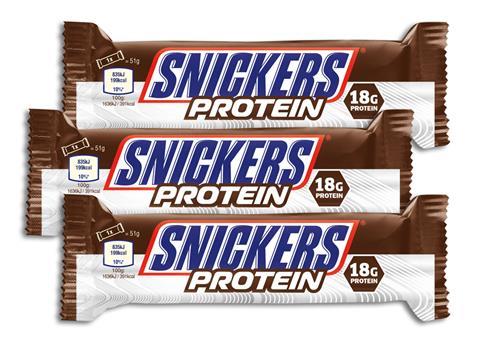 There can be no surer sign that high protein products have made the mainstream than these new lines from the world's biggest confectioner. Snickers and Mars Protein contain 18g and 19g of protein respectively and carry a hefty rsp of £2.19 per bar. The products went on sale through Amazon in May.
Friendly bacteria
Probiotics are another burgeoning sector, despite the EU clampdown on health claims, and its new players that are increasingly making their mark. Probiotic milk drink brand Bio-tiful Dairy says it enjoyed value growth of 921% in 2015 thanks to its kefir smoothie range, a yoghurt-like drink filled with gut-friendly bacteria.

"The global probiotics market growth is 7% and is expected to reach $15bn in US sales by 2019," says Bio-tiful MD Natasha Bowes. "With the war on sugar, it is important for brands to get the balance right between health and a product that tastes delicious."

Ice cream manufacturer Yorvale also entered the kefir market in June with a three-strong range of Yorlife kefir drinks developed in conjunction with the natural fast food restaurant chain Leon.

Probiotics aren't the sole preserve of dairy drinks. Former Clipper Tea executives Mike Brehme and Tony Revill-Johnson joined forces to launch Daily Cultures breakfast tea in September 2015, boasting one billion heat-resistant cultures in every cup and claiming to be 10 times more effective than 'most' dairy cultures.

While it remains to be seen whether probiotics have what it takes to get tea out of hot water, bread is pinning its hopes on chia seeds and protein to alleviate some of its woes. That's a big task - the category's value sales fell 8.9% on volumes down 1% [Kantar Worldpanel 52 w/e 31 January 2016].

Hovis, one of the hardest hit in bread, was the first major bread brand to tap the chia trend with the February launch of Seed Sensations chia bread alongside a limited-edition protein-rich sunflower & pumpkin seed loaf. It also claims its Good Inside range featuring omega-3 from seeds, wheatgerm and fibre is the healthiest bread on the market.

Warburtons' free-from sub-brand Newburn Bakehouse added a two-strong range of Mighty Mini Loaves in April, including a variety with high-fibre sunflower seeds, linseeds, millet seeds and poppy seeds.

If the success of US bread brand Dave's Killer Bread is anything to go by, Hovis and Newburn Bakehouse could be on to a winner. Owner Flowers Foods says retail acceptance of Dave's Killer Bread, which includes 'Powerseed' and 'White Bread Done Right', has been "nothing short of remarkable" after it rolled out to 9,000 US stores in April, with 2,000 more listings to follow this summer.
Tetley Super Everyday Tea

Launched: July 2016 
Manufacturer: Tata Global Beverages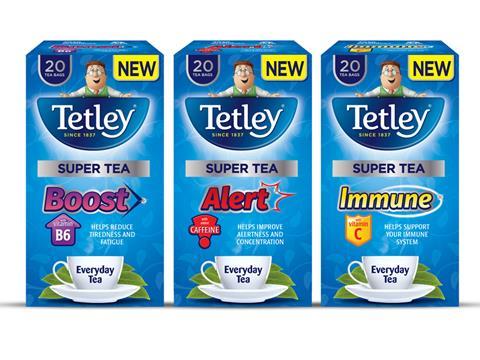 Tetley reckons functional tea will help return the tea category to growth and is tapping the trend with the launch of a three-strong range of 'super' teas. Tetley Super Everyday Tea (rsp: £1.59/20 bags) comes in three varieties: 'Boost' with vitamin B6 to help combat tiredness and fatigue, 'Immune' with vitamin C to help support the immune system and 'Alert' with extra caffeine to match a medium cup of coffee. The launch is being supported by a £5m marketing campaign from September.

Nurture Fruity Water+

Launched: May 2016

Manufacturer: Natural Immune Products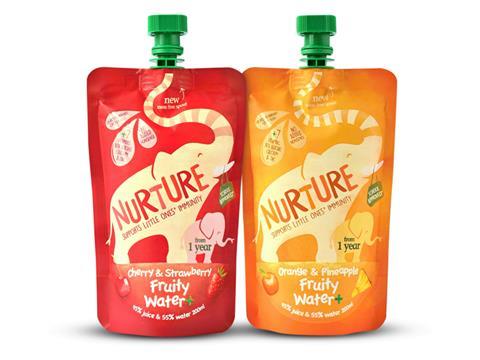 Natural Immune Products has spotted a gap for functional drinks for young kids. Enter Nurture Fruity Water+ (rsp: from 99p/200ml) and its star ingredient Wellmune - a beta-glucan that bolsters white blood cells. Available from Ocado, Whole Foods and Holland & Barrett, flavours include cherry & strawberry and orange & pineapple.

Tranquini

Launched: June 2016

Manufacturer: Tranquini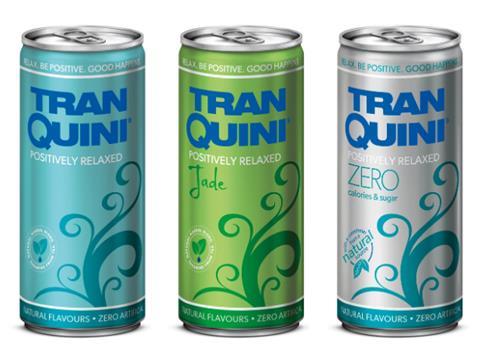 Forget energy drinks, the folks behind Tranquini reckon the future belongs to relaxation drinks. The range contains a variety of supposedly calming ingredients, including green tea, chamomile, lavender and lemon balm. Variants (rsp: £1.29/250ml) include a low sugar tea drink and a product with a beer-like taste derived from malted barley.

Naked Berry Veggie

Launched: June 2016

Manufacturer: PepsiCo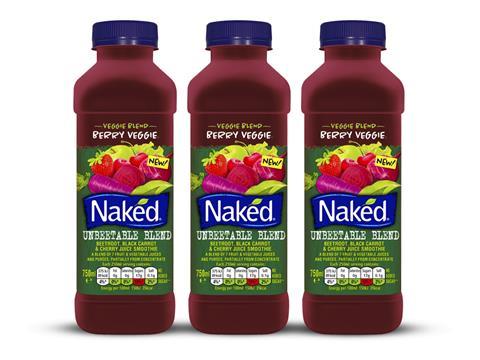 Beetroot, black carrot & cherry juice combine to form Naked's latest Berry Veggie smoothie (rsp: £2.36/450ml and £3.49/750ml). The smoothie contains 60% vegetables and blends seven fruit and veg juices and purées. The year the brand has launched its first ever above-the-line ad push in the UK with the slogan 'Worth its weight in good'.
The next big thing?
Seeds, chia or otherwise, are undoubtedly the superfood of the moment but the hunt is always on for the next superfood. Coconut milk yoghurt brand CoYo says coconut products will continue their meteoric rise.

Weight management brand Slim-Be, meanwhile, is hedging its bets on natural root extract konjac, which swells in the stomach to provide a feeling of fullness, having added a 'magic' porridge pot to its range in May featuring the ingredient.

With any new superfood and the products boasting their powers, communication and execution are key, says B&B Studio's Desforges. "Consumers are now looking for natural-plus. It won't be enough to imply goodness - brands will need to demonstrate a clear and specific benefit."

With many major brands only recently gaining their functional powers, the results remain to be seen. But the wider grocery sector will be hoping they use these new found superfoods for the greater good.