It's hard to think of a more commoditised market than oils - and for yet another year the category has suffered at the hands of intensive promotional activity from the leading brands.

Both vegetable and olive oil are in decline, with the biggest names "jostling for growth in a static market", reports Nielsen senior client manager Simon Kershaw.

The retailers' own lines, which are unable to compete with the brands' on-deal prices, are in value and volume decline, pulling the category into the red as their branded counterparts stay buoyant.

"Own label is suffering as essentially consumers realise oil is oil," explains Kershaw. "Heavily promoted branded offers are attracting consumers at the expense of own label."

Take Filippo Berio, which has increased deals by 31% and was the biggest promoter in the category in the year to 13 October 2012 [BrandView.co.uk]. In July, it posted its highest-ever monthly sales - something it attributed to the impact of an intensive TV and print advertising push focusing on the versatility of olive oil, rather than intensive promotions, which it concedes are unsustainable and says it is working to pull back on.

Despite this success, second-placed Napolina, which has promoted less but offered significantly deeper deals, has been able to close the gap, with value growth exceeded by a 39.2% increase in volume sales. The average price per litre of Napolina "has been cheaper than own label in the last year", says Kershaw - and indeed, at an average of 41.2%, its depth of cut far outstrips Filippo Berio's 29.6% [BrandView.co.uk].

Below Napolina, every one of the brands has grown value sales ahead of volumes, and in some cases instead of. Cargill, for instance, is in volume decline despite respectable growth in value sales. Lesieur, meanwhile, has roared into the top 10 from nowhere, having grown value sales by 480% and volumes by marginally less.

It's a trend that reflects the impact of price inflation in the market. Although the cost of olive oil has been unusually low, with a large EU crop in 2011 keeping a lid on prices until as recently as July and August, standard oil has recorded commodity price increases over the past year.

To some extent these are masked in retail prices by heavy promotions, which are as much an issue for vegetable oil as for olive Kershaw points to aggressive deals pulling consumers in to brands such as Crisp 'n Dry, Flora and KTC.

In a market where cost is so important, it's no surprise consumers have been slow to embrace healthier oils. Although spray format FryLight has held firm in fifth place and achieved double-digit value and volume growth, in general "the expected move to healthier olive oil has not materialised", says Kershaw. "In times of austerity, £1.50 per litre is a lot more attractive than £4.40."

But with the cost of olive oil set to rise thanks to drought limiting the 2012/13 harvest, the gap between 'standard' olive oils and healthier alternatives may be eroded somewhat in the coming year.
TOP LAUNCH 2012
Hojiblanca Single Marketing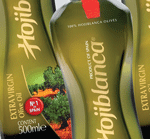 Hojiblanca is that rarest of species: a single-variety extra virgin olive oil that's cheap enough to cook with. At least, so says UK distributor Single Marketing, which claims the premium price of most comparable products means they are only used for special occasions. With an rsp of less than £5 per 500ml bottle, Hojiblanca is seeking to show UK consumers extra virgin olive oil can be an everyday product - and with a Tesco listing already in the bag, who's to say it won't achieve its aim?