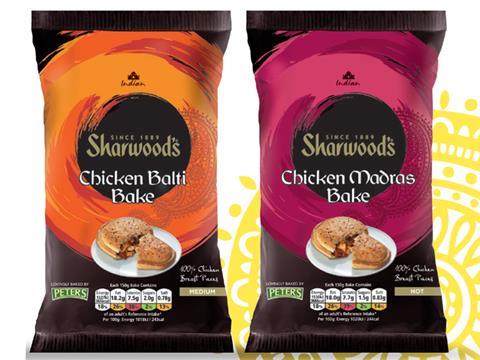 Peter's Food Service - producer of Peter's Pies - is launching Sharwood's-branded pastry bakes after securing its first licensing deal with Premier Foods.

Rolling out from this month, initially into Asda, the range of 150g bakes (rsp: £1.50) are made from puff pastry but have a teardrop shape and are sprinkled with cumin seeds to reflect a naan bread. They will be available in four flavours: Chicken Tikka Masala, Chicken Madras, Chicken Balti and Chicken Korma, and can be eaten hot or cold.

"We believe the rich flavours of the Sharwood's curry sauces, encased in a naan-shaped pastry bake, will resonate with chilled pastry consumers and new consumers alike," said Peter's Food Service marketing director Clare Morgan.

Sharwood's marketing controller Delphine Grauf added the strong equity of the Sharwood's brand made Premier confident the products would have "wide market appeal and attract new consumers to the chilled pastry category."

Peter's also produces a Heinz pastry range which includes Heinz Beanz Slices and pork rolls with Heinz Tomato Ketchup and HP Brown Sauce.

"Licensing remains a key business focus for Peter's," added Morgan. "We will be exploring other relevant opportunities in the future."

The Sharwood's brand line-up includes cooking sauces, naan breads, crackers, noodles, poppadoms and mango chutney. Kerry Food produces frozen Sharwood's ready meals, and is this month rolling out six frozen rice dishes under the brand.