Soup is simmering again. Last year The Grocer reported soup was in value and volume decline, but over the past 12 months it's warmed up. Value growth across the category has risen 1.5% to £610.4m [Kantar Worldpanel 52 w/e 19 July 2015].

Fresh soup, in particular, is being ladled into bowls at an ever-increasing rate, with value increasing 8.6% and volumes up 14.8% [Kantar]. But not all categories have seen a similar resurgence, with dried soup sales falling in value by 1.4% [Kantar].

So overall, what has caused the category to heat up? Why are some rising and some sinking? And is the soup bubble sustainable?

The big supermarket winners reflect the polarised shopping market. At the premium end, Waitrose and M&S have seen value increases of 13.5% and 18.1% respectively. The value end has also seen healthy growth. Iceland has seen a value increase of 16.8% and Aldi enjoyed the biggest boost of any retailer, with value sales soaring 22.7%.

"The increase in sales of our own-label soup range has largely been driven by the quality and value of our offering, with prices starting at just 39p," says Jonathan Neale, joint MD of corporate buying at Aldi.

He adds Aldi has also invested in redesigning its packaging to make it more appealing, which had a "positive impact" on sales.

As the growing success of the discounters suggests, price is a key consideration in soup now. Own-label soup prices have fallen by 3.1% over the past year, while branded soups are showing a drop of 1.7% year on year. Even fresh soup isn't immune, with a fall of 4.4% [Kantar]. The drop reflects the supermarket price war. And to compete with own label, many brands are relying on promotions.

The entire range of Baxters soups is on promotion "60-70% of the year" says Gillian Duffy, assistant brand manager at Baxters. "Consumers expect value for money."

Glorious! agrees. Marketing controller Gavin White says it has found the "best way to encourage trial" is via "price reduction mechanics", particularly when the brand is "new to a store".

The trend continues at Crosse & Blackwell. Marketing director Chris Wright says promotions are a "key part" of the branded soup market, so it offers a combination of "trial price for light and new shoppers to the brand, and multibuy activity for existing and repeat shoppers".

New Covent Garden plays it differently. It doesn't see own label as "competition" but "works alongside own label to grow the size and value of the category".

Other brands are bucking the price war by focusing on the premium end of the market, concentrating on provenance and better quality ingredients to justify their higher rsp.

"Yorkshire Provender attracts shoppers interested in finer foods who are willing to pay a small premium for a better quality and better tasting product," says Belinda Williams, MD of Yorkshire Provender.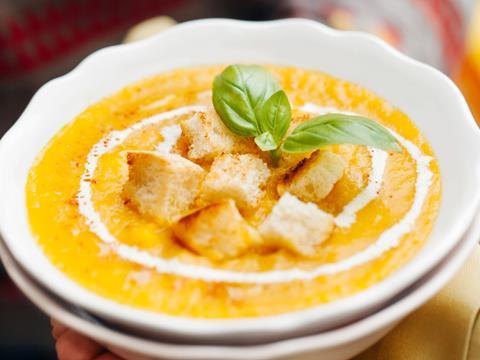 Soup is in value growth as shoppers engage more frequently in the market. Volume has grown ahead of value as a result of average price declines caused by retailer price wars, with fresh soup and private label experiencing the steepest. Lower prices are encouraging shoppers to buy more often, with the average shopper now buying over 13 times a year.
Fresh soup's growth has been driven by attracting over 875,700 more shoppers. However, fresh still holds less than half the shopper numbers of wet ambient. Recent premiumisation in wet ambient could affect fresh.
The longstanding traditional flavours are still the top sellers. The most popular flavours in fresh include tomato & basil and carrot & coriander, the former of which is growing at 14.3%. In ambient, lentil & bacon has contributed the greatest value to the market in the latest year.
Holly Crowther, Kantar Worldpanel
Health appeal
With healthy eating high on the agenda, premium credentials equal healthy ingredients for many consumers, especially in fresh soup. "Increased desire for inherently healthy foods made from natural ingredients without artificial colours or flavours" is a key driver in sales of fresh soup, says White at Glorious!, which has seen value sales increase by 18.4% and unit sales increase by 21.8% [IRI 52 w/e 15 August 2015.]

New Covent Garden has also seen value sales increase 4.2% while unit sales are by 12.2% [IRI]. Some of this will be attributable to the brand's relisting in Tesco, as reported in The Grocer's Focus on Soup last year, but Jeremy Hudson, CEO of Hain Daniels, also puts the success down to New Covent Garden Soup Company's foundations, which he says are built on "great ingredients that speak for themselves".

The trend for 'healthy' isn't limited to chilled soup. Wet ambient soup is also promoting its health credentials. Heinz has launched a Balance addition to its Classic range with 25% less salt. "Heinz has already had a great response to its recent reduced salt and sugar ranges across Tomato Ketchup and Beanz and we hope to see continued success for our new reduced salt soup," says Marco Marioni, assistant brand manager at Kraft Heinz.

And across all subcategories, free-from ranges are growing in popularity, including gluten-free, vegan and dairy-free, says White. "To cater for the growing number of customers looking for alternatives, Aldi is launching our first-ever range of skinny soups this winter," adds Neale.
New Covent Garden Taste of Health

Launched: September 2015 
Manufacturer: New Covent Garden Soup Company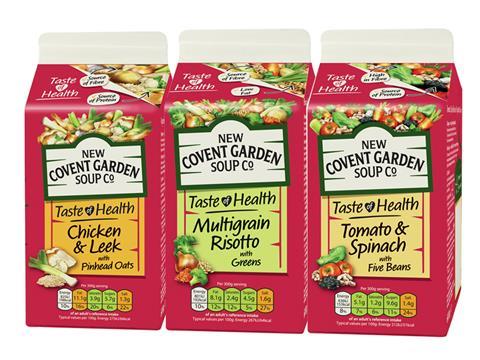 New Covent Garden Soup Company has just launched its fourth range of soups called Taste of Health. This range taps the growing consumer trend around health-conscious eating and aims to deliver a simple and convenient way for consumers to get 'more superfoods and alternative proteins'. Taste of Health has launched in three flavours: Chicken & Leek (with pinhead oats), Multigrain Risotto (with greens) and Tomato & Spinach (with five beans). Rsp: £2.00

Yorkshire Provender - Xmas Turkey

Launched: November 2015

Manufacturer: Yorkshire Provender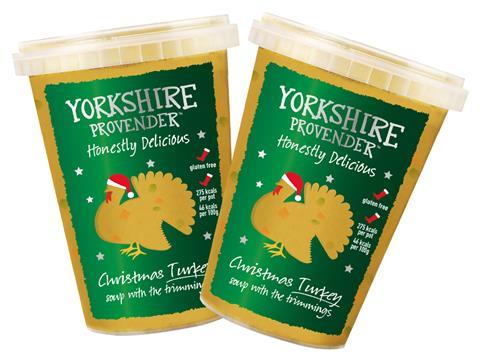 This Christmas, Yorkshire Provender is inviting consumers to enjoy Christmas dinner in soup form with its Christmas Turkey and all the Trimmings soup. "Seasonal SKUs allow Yorkshire Provender to refresh its range on a regular basis with fresh ingredients," says Belinda Williams, MD of Yorkshire Provender. Rsp: £2.49.

Scotty Brand

Launched: May 2015

Manufacturer: Scotty Brand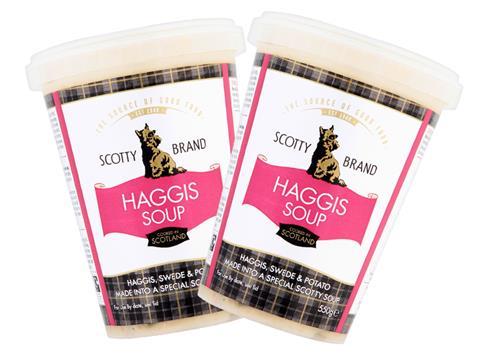 Scotty Brand Haggis soup is a rich soup marketing itself as "bursting full of the most traditional Scottish flavours". Made in the traditional fashion, with "haggis, neeps and tatties", it is a Burns supper in a bowl that can be enjoyed all year round. "We believe this to be the first fresh haggis soup," says head of marketing Michael Jarvis. Rsp: £1.70.

New Glorious! soups

Launched: September 2015

Manufacturer: Glorious Foods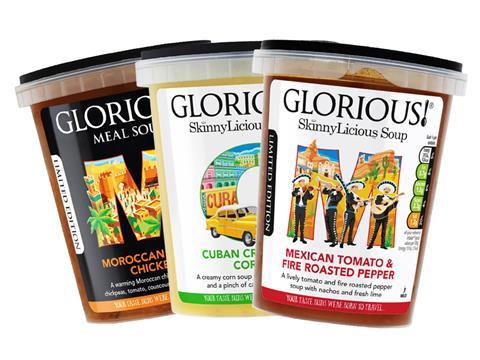 Adding to its world flavours pedigree, Glorious! has released three new flavours - Mexican Tomato and Fire Roasted Red Pepper, Cuban Creamed Corn, and Moroccan Spiced Chicken. The former two flavours also fall within its SkinnyLicious range, with under 150 calories per serving and under 2% fat. Rsp: £2.35.
Exotic flavours
Away from health, exotic flavours are a key theme in soup NPD. As The Grocer reported in its Focus on Rice & Noodles (15 August p41), Brits are turning Japanese when it comes to rice and noodles, and Eastern flavours are also a growth area for soup.

From Glorious!'s limited-edition Mumbai Lentil & Chickpea flavour ("so successful we moved it into our core range") to Miso Tasty, which specialises in "authentic" miso pastes, Eastern flavours are in vogue.

"Japanese food is becoming an important part of our customers' diets," says Bonnie Chung, founder of Miso Tasty.

Another Japanese brand, the Yutake Miso Soup range, reports sales up 30% year on year. "A product once seen as speciality is now a staple for many health-focused foodies," says Gareth Banton, Yutake head of grocery at Tazaki Foods.

Wet ambient soup is also jumping on the bandwagon, with Baxters and Heinz firing up their taste buds over the last few years. Flavours like Baxters' Butternut Squash and Sweet Potato Soup with Chilli & Lime, or Heinz's Carrot & Coriander with 'warming' Moroccan spices, reflect the trend.

Yet despite the rise of exotic flavours and ingredients, old favourites still top sales charts. Propelled by the patriotic fever surrounding the Rugby World Cup and the continuing 'Kate and Wills' effect, classic flavours are fighting back.

"The most popular flavours in fresh soup include tomato & basil and carrot & coriander, the former of which has been growing 14.3%," says Kantar analyst Holly Crowther.

The supermarkets have been typically quick to catch on, introducing traditional flavours with a premium twist. "Our own-label range of soups includes a wide range of flavours, including our Aldi Specially Selected Vine Ripened Tomato & Lentil Soup," says Neale (the flavour won a Grocer Own-Label Gold Award in 2014).

Crosse & Blackwell plans to promote its range and its British provenance over the next 12 months with TV and radio advertising. "Our findings and research show that consumers respond more favourably to more traditional recipes, but made better with better ingredients," says Wright.

And Baxters rebranded its luxury Chef Selections range in August to highlight the provenance and heritage of its Scottish ingredients and heritage.

Dried soup

While there is much to be positive about in wet soup, dried is looking more challenged. But suppliers insist they can get sales to recover. How? "Innovation," says Jonathan Evans, MD of Manflu, newcomer to the category. "Manflu Soup A Hero is a first-of-a-kind 'wellness' soup enriched with 13 vitamins and minerals, while offering Efsa-approved immune support. It's something completely new. It is a true innovation."

Heinz is also innovating, adding NPD to its dried range with four new Classic and three Black Label (traditional soups with a twist) recipes added to the format in July. Such activity suggests that although the dried soup category is languishing on its sick bed, the prognosis looks promising.

A topsy turvy year for soup, then, with new entrants and exotic flavours heating things up, and a price war leaving value numbers tepid. Despite this, as Hudson says, soup is "still such an emotional food in the UK". And as winter draws in, shoppers will always be looking for something to warm them up.
Chef Selections

Launched: August 2015 
Manufacturer: Baxters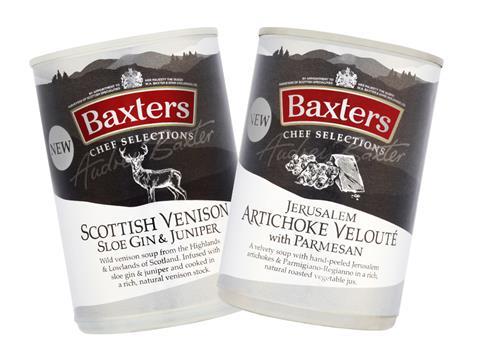 Baxters is relaunching its premium soup range for the 2015/2016 season. Previously called Luxury, the range is being repositioned as Chef Selections. It aims to attract younger, foodie consumers (ABC1 female 35+ years) while still appealing to its core audience (ABC1 female 45+ years). Chef Selections is sold in nine different recipes, in two differently priced tiers (£1.69/£2.69), and includes Scottish Venison, Sloe Gin & Juniper and Jerusalem Artichoke Veloute with Parmesan.

Miso Tasty cooking pastes

Launched: Sept 2015 online/supermarkets early 2016

Manufacturer: Miso Tasty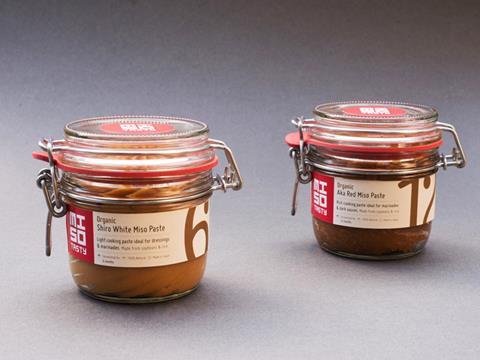 Following a very successful first year, Miso Tasty has launched its first range of organic cooking pastes aimed at adventurous home cooks, enabling them to create Japanese-inspired meals. The fermented soybean paste from Japan is prized for its rich, complex umami flavours alongside its health-giving properties. Rsp: £8.00.

Manflu - Soup A Hero

Launched: September 2015

Manufacturer: Manflu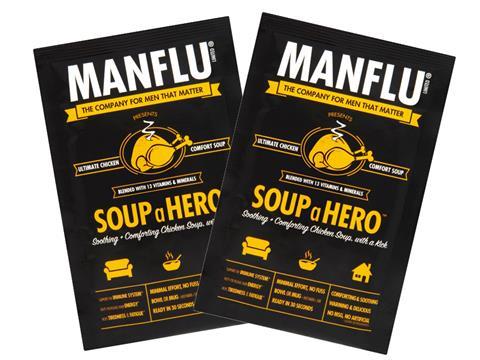 Manflu Soup A Hero launched in September in 390 Boots stores nationwide and has listings with health food stores up and down the country. Soup A Hero markets itself as a comforting chicken soup with a kick, 'packed full of extra vitamins and minerals', with no MSG, artificial colours or preservatives. Rsp: £1.50 (27g sachet).

Heinz - Heinz Balance

Launched: August 2015

Manufacturer: Heinz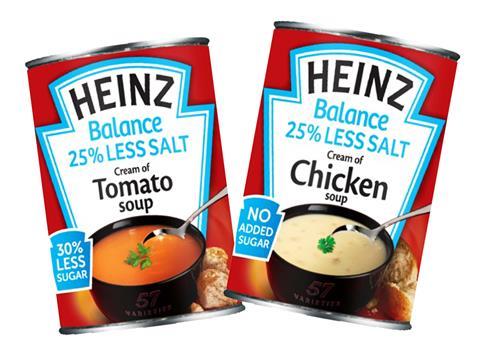 Heinz Balance, with 25% less salt, follows the introduction of Heinz Tomato Ketchup 50% Less Sugar and 50% Reduced Sugar to its beans. These new recipes meet the voluntary DH Responsibility Deal 2017 salt targets. They will also offer no added sugar, with the Cream of Tomato recipe providing 30% less sugar. Rsp: £1.50 (27g sachet).