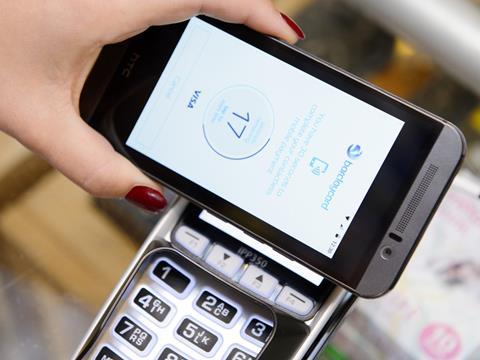 A little under a year ago, I wrote for The Grocer about how Apple Pay was hoping to go from zero to hero in the UK after success in the US. With news this week of a rise in contactless payments since the transaction limit was raised to £30, it's a good time to revisit my prediction that Apple Pay would struggle to gain traction in a country where contactless was already widespread.
Early signs suggest an alternative career as a psychic cannot be ruled out for me just yet (despite the dress code not really being my style). Apple has remained tight-lipped on transaction figures for the UK to date, but Transport for London has just stuck its oar firmly into the middle of the debate, offering figures for journeys made with Apple Pay.
According to this piece in The Memo, it's 0.4%. 0.4%! It's only slightly more likely that a traveller will use Apple Pay for their journey than it is Aston Villa won't be relegated. Indeed, even though there are Apple Pay signs all over the high street, when was the last time you saw someone pulling out their phone to pay?
I've seen someone use their phone to pay once, at a Tube barrier, and even then they held up the queue of furious Londoners by going through the rigmarole of preparing their phone to switch into Apple Pay mode, a security feature required before it can be held against the payment system. Contactless cards, on the other hand, simply require a gentle waft in the direction of the reader.
According to a survey conducted by an American consulting firm featured in Beta News, even in the US – a market so successful Apple decided there should be a wider release of Apple Pay there – only 3% of Apple users have loaded a card on to their phone and use the system regularly. Eighty per cent of iPhone 6 users have never even used the service at all.
The suggestion that Apple Pay hasn't chimed with the UK market at all comes at a time when contactless is performing beyond all reasonable expectations. Visa Europe reports that, since the £30 limit was introduced last year, contactless transactions have risen a staggering 237% year on year. "In supermarkets, where the average supermarket basket is £25, the data shows a 100% increase in contactless transactions compared with the six months before the £30 limit was introduced," says Kevin Jenkins, managing director for UK & Ireland at Visa Europe. Bars and pubs are posting a 30% weekly increase for contactless transactions between £20 and £30.
Even worse for Apple, market leader Android, which has a 51.9% share of UK phone operating systems compared with Apple's 38.6% [Kantar 3 m/e December 2015], has taken this opportunity to roll out Android Pay. While this system will, presumably, suffer from the same accusations of needlessness that Apple Pay has struggled to overcome, it will have wider availability than Apple, with any phone running an OS 4.4 or better able to run it.
Meanwhile, individual supermarkets are hitting back too, with their own contactless payment apps offering far higher transaction limits and built-in loyalty cards when used in store. Come back to thegrocer.co.uk on Friday for a full analysis of the opportunity for supermarkets to capitalise on the contactless revolution.