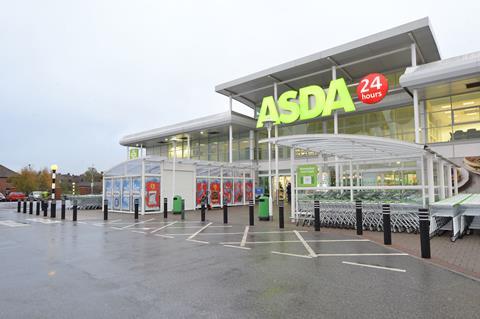 Asda will transform every one of its 170 superstores to its new 'store of the future' format, spending £1m on each store, after successful trials in Grantham and Coventry, the retailer announced today.
The two pilot stores were designed to meet "the changing needs of today's customer" and provide a blueprint for the Asda superstore estate, though features will vary slightly store to store, and come as part of the retailer's five year strategy to redefine value shopping.
"We're re-inventing the large store," said chief executive Andy Clarke. "It's about three factors - growth of online shopping, growth of health and wellbeing and growth of fresh food."
As a result, the Grantham store has a new click and collect area outside and "endless aisles" instore thanks to ordering screens giving shoppers access to Asda's full non-food range.
For food, Asda's biggest move was creating 30% more shopfloor space for fresh food, health and wellbeing categories, after making cuts to television and video games areas. The retailer says, across the estate, this will result in an average of 5% of store space switching from technology to these categories. Asda also cut into warehouse space to increase the shopfloor area and revamped the look of its George fashion and George home sections.
These changes are delivering clear results. Grantham is currently the best performing remodel the company has ever had, in terms of customer numbers since refurbishment works finished (which for Grantham, was mid-November).
Sales have also increased. Asda is currently up 0.8% week-on-week at Grantham, accompanied by rising footfall and average basket spend. One of the best performing categories is homeware, with sales up 90% when compared to pre-refurbishment figures. Elsewhere, trebling the free-from range has delivered a 59% boost to free-from sales, whilst bakery sales are up 4.8% compared to the Asda chain.
Grantham's refit also allows the retailer to test its new look before using it to conquer the south. Next the retailer will upgrade its Hatfield store in May, followed by seven other planned refurbishments at High Wycombe, Carlisle, Gravesend, Blackburn, Norwich, Cwmbran and Bridge of Dee. Clarke said there was no target date for completing the entire estate-wide conversion.
Grantham was not seen by the retailer as perfect yet, but it was a "scalable, rollable solution", Clarke said. The refurbishment works took eight weeks, during which time the store never shut. Further changes due at Grantham include Asda adding scan and go devices by March, with mobile payment devices ready within the next year.
"It's no secret that the way customers shop is changing – they're leading the charge and it's only right that we respond to them. They're telling us what they want from big stores and we're weaving that into our offer."
Tackling the problem of superstores in an age where convenience is increasingly popular, the retailer has put a kiosk on one side of the main entrance, with a self-service food to go 'shop within a shop' on the other side. There is also Asda's first ever Food for Now café at the store front, selling most items for £1 and serving twice as many customers as its predecessor.
Grantham store manager Dean Parker said the refurbishment was great for staff morale and said his team were "very proud" of their new store.