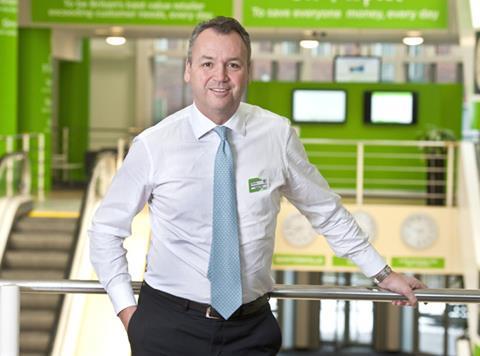 Here is the full text of Asda boss Andy Clarke's memo staff on changes to the retailer's management structure:
Redefining Value Retail – Fit For the Future
Following my email earlier this month, I wanted to update you on my promise of bringing clarity and certainty by the end of March.
Last year and at YBM this year, I shared with you the details from the strategic review we conducted during the first half of 2013. To grow we must continue to put our customers at the heart of everything we do by improving our core business, increasing our access and reach, and expanding into new markets so that we redefine value retailing in the UK. For further reinforcement of our strategic direction the news from our competitors in recent weeks highlights that the trends we identified at the end of 2012 signaled a permanent structural change in the market.
In order to deliver our strategy we need to have an organisation structure where accountabilities are clear, duplication is removed, and decision making is swift and decisive. It's important to me that we lead the design of this structure right from the top of Asda. That's why last November I shared with you the changes I was making in terms of the accountabilities within my Executive Team and in turn the accountabilities of their direct reports to ensure we are a business fit for the future.
It is also clear to me that going forward we will need to continually review and evolve our organisational structures to make sure we are able to respond quickly and effectively to the changes taking place in the market. I am committed to leading change from the front by making the right decisions at Executive Board level so that we can grow our business with agility and pace.
Executive Board Changes
Today, I want to share with you some further changes I am making within my Executive team to bring even greater alignment and clarity to how we run Asda.
I am therefore re-organising my Executive team to create fewer, bigger roles in the same way that we have re-organised across all levels within the business. As a result of this, my intention is to strategically align Property into the Finance Function and Format Development into Customer & Marketing. As a consequence of these decisions, Karen Hubbard's role will no longer exist. As many of you are aware, Karen has played a significant role in the formulation of the strategy, having led the retail work streams for Formats, Multi-Channel, and Estates, and therefore has been involved in this decision.
Karen has been assessing the option of an international role with Walmart but has elected for personal reasons not to pursue an international posting. It is therefore with a degree of regret that I advise that Karen's last day with Asda will be Monday 31st March.
Karen has been with Asda for 5 years and originally joined us to develop our supermarket format which as you know has subsequently led to our successful integration of the Netto business. This integration took us from a supermarket business that was £200m to £1bn in a period of 26 weeks.
Karen was consequently promoted to the Executive Board with accountabilities for Property, Format Development, Space Planning, Design and Multi- Channel. In addition to her operational role, she has also been influential in leading our Women in Leadership programme which I know, together with her mentoring, has had a positive impact on many colleagues.
I would like to thank Karen for her on-going support and contribution over the past five years, and I would like to extend to her our best wishes for the future.
Karen will remain until the end of March to help transition her accountabilities, and ensure a smooth transition for her team.
Executive Board Responsibilities
With Karen leaving the Executive Board, I am taking the opportunity to allocate the accountabilities for Property and Format Development so that we deliver on the dual strategic priorities of growing our core business and extending our access and reach. Therefore I am announcing that Estates and Acquisitions, Construction, and Market Evaluation will move across to Finance under the leadership of Alex Russo. Large Formats, Small Formats, Macro Space, and Store Planning will move across to Customer and Marketing under the leadership of Steve Smith.
The movement of the Property accountabilities across to Finance will allow us to put more emphasis on property pipeline management and will allow us to also apply strong financial planning to future site selection / acquisition decisions. A close tie between Finance and Property will become increasingly more important in ensuring that newly acquired sites drive the right levels of footfall required to justify the investment. With this move of accountabilities, and with Alex's broader role, he will continue as SVP - Chief Financial Officer.
The movement of the Format Development accountabilities across to Customer & Marketing will enable us to move closer to being a truly customer centric omni-channel business, in which all growth strategy and proposition related decisions will be made with the customer at the heart. It will also allow store "look and feel" to be owned in one place. With this move of accountabilities, Steve's broader role will now have the title of Senior Vice President (SVP) - Chief Customer Officer.
In addition I will be making some changes to Barry Williams and Mark Ibbotson's roles. These changes involve the movement of the areas of accountability of Supply and New Product Development to different Executive remits.
Going forward, Supply will move from Food Trading into Operations and will therefore now fall under Mark's remit. Mark, who has made an excellent contribution to my Executive team since he joined the Board as Retail Director in Jan 2013, will continue to have accountability for all of his existing areas, but will now also take on the additional accountability for Supply. As a result of this, Mark's role going forward will therefore have the title of SVP - Chief Operations Officer.
Barry will continue in his role as SVP - Chief Merchandising Officer, Food, and going forward will be responsible for a broader accountability as he incorporates into his remit the area of New Product Development therefore bringing together our quality agenda alongside our price strategy.
The final change to my Executive Board regards Andrew Moore. Andrew will continue in his role as SVP – Chief Merchandising Officer – George & GM, and from this point onwards will add the accountability for Strategy and the Programme Management Office (PMO) to his remit.
The accountabilities of Hayley Tatum, SVP – People will remain as announced in November.
Rebecca Lythe, VP - Chief Compliance Officer, and Alex Simpson, VP - General Counsel, will continue in their roles with unchanged reporting lines.
These changes, which take effect from Monday 7th April, will ensure we are a business fit for the future and will allow us to retain and increase our focus on the customer and sales at the same time as improving our ability to make decisions at speed and act at pace.
More on this story: