Asda this week put a cork in its 3-for-£10 offer, and with exclusive research by The Grocer showing none of the big five supermarket currently running 3-for-x wine offers - at any price - the mechanic has effectively been consigned to history.
The findings represent a dramatic shift in the wine pricing landscape. Analysis of activity on 20 January 2011 shows 3-for-x offers accounted for 18.4% of promotional activity across the big five, and was the second-most popular promotional mechanic after straight money-off deals.
Asda introduced the 3-for-x in 2007, and it has dominated the retailer's wine offers - making up an incredible 89.2% of its total wine promotions in 2011. Waitrose and Sainsbury's had already abandoned the mechanic by that time, but it still accounted for 25.3% of Tesco's promotions at the time.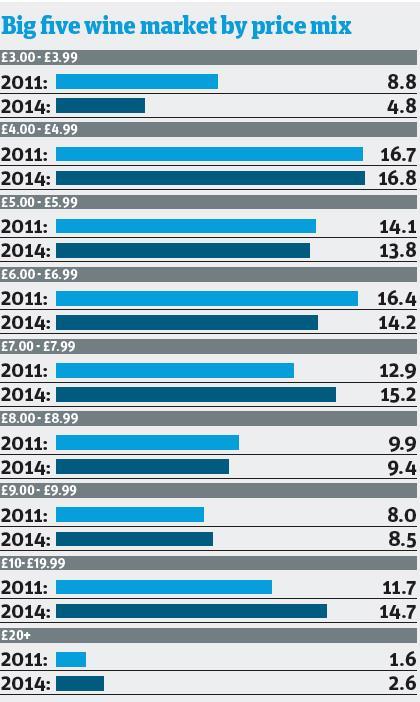 The wine trade has long argued this mechanic was unsustainable in light of rising duty and costs. "There's no margin in it - rising duty has put 3-for-£10 deals beyond reach," said one wine industry expert.
But retailers are pulling away from these deals not only because there is another round of duty hikes looming in the next budget, argues Paul Shelton of supplier PLB, but also because of the OFT guidelines on pricing and promotional practices released in February 2012. "OFT guidelines are being taken seriously and retailers are looking at different mechanics," he says.
Three-for-x deals may be no more, but in line with the market, the number of wine promotions in the big five has soared from 397 in 2011 to 741 this year - although the average depth of cut fell from 30.5% (£2.27) in 2011 to 27.6% (£2.44) in 2014.
See the table: Supermarket wine by price band
With the disappearance of the 3-for-x deal, the 2-for-x offer has become more important and now accounts for 10% of all promotions, up from 5.3% three years ago.
The demise of 3-for-x has, not surprisingly, had the biggest effect at Asda, replacing it with rollback offers, which made up 99.3% of its promotions this week compared with just 8.1% three years ago.
By far the most popular mechanic across the board is still the straight money-off deal, accounting for 37.6% of all promotions. 'Save a third' has risen from 3.8% to 5.9% while the 'half-price' mechanic has fallen over the past three years from 6% to 3.6%.
A reason to pay more
That is still too much for one senior wine supplier, who says that until half-price and similar offers are abandoned, consumers can not be weaned away from buying purely on price.
Speaking at a recent wine conference, Tesco group wine director Dan Jago said he wanted to see consumers pay more for a bottle of wine - but added that it was important to give them a reason to do so and find different mechanics to engage consumers. "They are increasingly sceptical about the concept of value," he said.
PLB's Shelton believes consumers have become "programmed" to shop on the gondola end, but largely because it makes decision making easier. "It's not about the discount, it is about making it easier to pick up the bottle off the shelf," he says.
Key to making wine more attractive to shoppers is ranging - and our research also reveals how the pricing mix has changed over the past three years. Taking the big five as a whole, the proportion of wines priced below £3.99 has almost halved, while levels have been relatively static across other price bands (see table). But looking at individual retailers shows a more mixed picture.
In the case of Asda, nearly a third of its wines are under £5, and it has this month added sub-£3 British wines to its range. The launch was a clear indication of its promise to "invest in lowering prices across a wider variety of wines day in and day out", despite previously admitting it overtrades in the value end and has "neglected" its premium wines.
Asda intends to address this with its new online wine shop, and its £8-£8.99 range has doubled in size to 10.7% of its total offer.
Other retailers have shifted away from the low end of the market, particularly Sainsbury's, where sub-£4 now makes up just 2.2% of its offer compared with 10% in 2011. It is looking to add value by carrying a greater number of wines in the £6-to-£7.99 bracket, although it has shifted away from wines priced higher than that.
Tesco, meanwhile, is paying more attention to pricier wines - with those priced from £10 to £19.99 accounting for 18.7% of its offer, up from 12.8% in 2011.
Retailers are approaching the category in different ways, but carrying the right range at the right price will help steer shoppers away from buying on deal. As M&S head of trading, grocery & drinks Andrew Bird recently said: "The gondola end is a last resort."