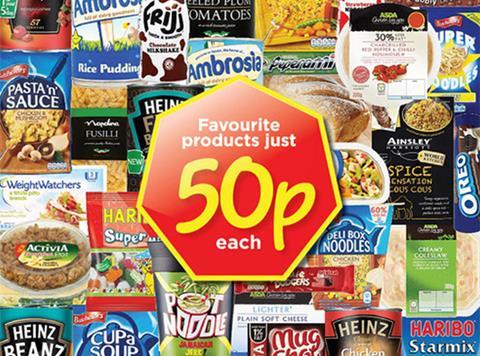 Asda has defended its big January 50p rollback campaign this week - as new research revealed it raised the prices of many products just weeks before bringing them back down in price.

The Walmart-owned retailer ran a major TV and press advertising campaign highlighting the number of prices it had reduced to 50p as part of a £50m investment to lower prices during the first quarter.

However, an investigation by pricing specialists BrandView.com shows that although Asda reduced the price of 246 lines to 50p on 1 January, of the 155 that were comparable with Tesco and Sainsbury's lines - 120 had gone up in price since 16 October, while the average price across the 155 had shot up 46% from 63p to 92p ahead of the new campaign. It also found 57 of these items have now returned to their full price.

Items pushed up in price included Batchelors Deli Box and Pot Noodle, which increased from 50p to £1.19 and £1 respectively on 30 October before coming back down to 50p on New Year's Day. Another big riser in October was Oreo vanilla biscuits, which climbed from 50p to £1.08 on 23 October.

"This type of strategy - of raising prices to make a promotion look more lucrative - is commonplace among all the supermarkets," said Kantar Retail's insight director Bryan Roberts. "But it isn't necessarily the right thing to do and Asda is not being as transparent as it could be with its shoppers."

An Asda spokesman said it would "never deliberately mislead" its customers. "We take pricing incredibly seriously, so much so that last year we formed a pricing integrity group that monitors every aspect of our pricing," he said.

"Last year, we invested over £130m directly into lowering prices and holding down the cost of living for our customers. We've now got more 50p lines than any other supermarket."

Reporting its Q3 results in November, Asda pledged to invest £1bn in lowering prices over five years to widen the gap with rivals and compete with the discounters.