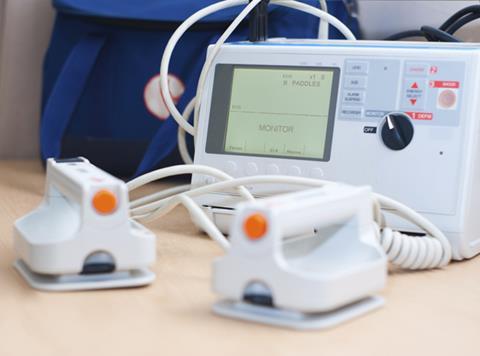 Asda has announced it is rolling defibrillators out to 600 stores, just days after The Grocer flagged up calls for more defibrillators in supermarkets.
The retailer has partnered with the British Heart Foundation (BHF) to install public-access defibrillators across its estate, depots and offices by the end of the year, starting in London today. It has also committed to having CPR-trained staff in every store.
Asda said it was proud to invest more than £500,000 in providing the defibrillators, which can be used by a member of the public to deliver an electric shock to the heart when someone is having a cardiac arrest.
"It can take a number of minutes for an ambulance to reach one of our stores in response to an emergency like a cardiac arrest," said Asda head of community Dawn Clements. "The commitment we're making could significantly cut the amount of time a cardiac arrest sufferer has to wait for life-saving CPR and defibrillation, giving them the best possible chance of survival."
Only one in 10 people survived cardiac arrest in the UK, and survival rates could be greatly improved, said BHF chief executive Simon Gillespie. "Asda's commitment to become the first large retailer to have CPR-trained staff and public-access defibrillators in every store will be instrumental in helping communities up and down the country access the life-saving support they need in an emergency."
The BHF will work with local ambulance trusts to train 12,000 Asda staff in how to use the defibrillators.
News of the Asda rollout comes less than a week after The Grocer revealed the wife of footballer Fabrice Muamba – who suffered a cardiac arrest in front of millions of TV viewers – had called on more supermarkets to install defibrillators.
Shauna Muamba has launched Caribbean sauce brand, Mrs Muamba's, which she hopes can help to raise awareness of sudden cardiac arrest after her husband was treated with a defibrillator at the White Hart Lane ground where he collapsed during a match in 2012
"A defibrillator saved my husband's life and I would like to see a defibrillator in all supermarkets," she told The Grocer last week.