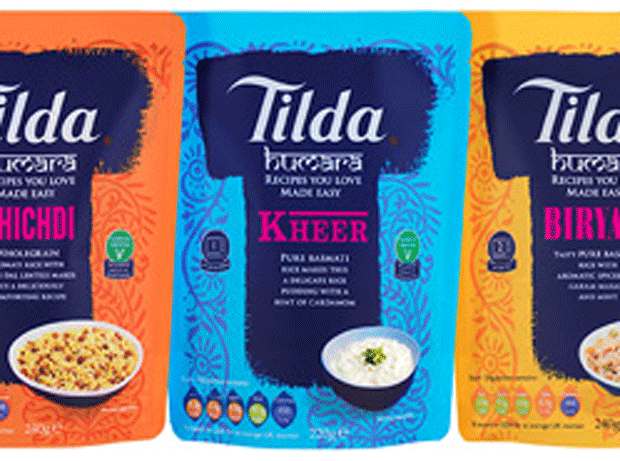 How do you sell microwave rice to an Asian community used to cooking rice in a pot? You target the time-poor younger generation who have lost the recipes and skills of their elders.
That's the thinking behind the June launch of Tilda's five-strong Humara range, which is designed to give young Asians a taste of their mums' cooking - and sustain the brand's impressive 23.7% growth in microwaveable rice on volumes up 22.6% over the past year [IRI].
The range includes khichdi, a traditional Indian comfort food that Tilda hopes young professionals will remember eating as a child when they were ill. "Based on traditional recipes, they appeal to a variety of consumers, including those from Asian backgrounds and adventurous cooks looking for an authentic but high-quality meal solution," says Camilla Sheeley, senior brand manager at Tilda. "The range includes the first-ever sweet offering, a traditional 'kheer' or rice pudding."
The ready-to-heat pouches include three variants made with wholegrain rice and two with basmati rice, and can be cooked within two minutes in a microwave or wok. "We are reactive to consumer demand matching the right product, at the right time and price and in the right format," says Sheeley.
The launch is set to give rival Veetee and its Dine In microwaveable range a run for its money. While this range comprises a greater variety of cuisines, from Mexican to Indian, its marketing also centres on convenience, authenticity and quality.
With sales of Veetee's microwaveable rice products up just 1.1% on volumes up 1.6% [IRI], the brand is hoping to pep things up later this year with the launch of new varieties. "There is still a lot of opportunity for the category in terms of the growth potential as household penetration of microwave rice is 27% lower than dry," says Veetee CEO Vikas Magoon.
Focus on rice & noodles: the challenge for brands
1

2

3

4

5

6

7

8

Currently reading

Asian turns convenient for younger generation

9