Breakfast is going mobile. As more and more Brits run out the door in a flurry every morning, breakfast is going with them. One in 10 breakfasts are now eaten on the hoof, with a 15% increase in the amount carried out of home over the past year [Kantar Worldpanel 52 w/e 27 March 2016].

"Consumers are finding themselves shorter of time in the morning and they're now finding ways to have breakfast on their own terms," says Chris Dubois, head of global insights at Weetabix. "Breakfast is coming along for the ride rather than people having to make specific time for it."

The good news is, despite being rushed in the morning, more people are tucking into the most important meal of the day. There were 21 billion breakfast occasions last year - an increase of 0.7%. "This year there were 600,000 fewer consumers who skipped breakfast in an average week," says Kantar analyst Chris Russell. "As more manufacturers and channels offer breakfast solutions, there is increasingly a product to meet everyone's needs."
How are British breakfasts changing?
Breakfast is big business. But the category, worth £2.0bn, is in decline with sales down 2%. This was driven by ready-to-eat cereal.
Non-cereal-based products, such as breakfast biscuits and cereal bars, saw strong growth.
We have 21 billion breakfasts a year within the UK. As an occasion it is the largest, accounting for 27% of all food & drink in the home and carried out.
Although in-home breakfasts still dominate with 90% of occasions, carried out and out of home are growing quickly with 15% and 6% growth, respectively. The growth in these channels has been driven by consumers skipping breakfast less.
Breakfast behaviour is very much dictated by demographics. Younger consumers (16 to 34s) are most likely to skip breakfast, whereas those aged 25-44 are strong in carried out breakfast.
Consumers demand a lot from breakfast. As an occasion it is the most likely to have consumers tick all three needs - health, enjoyment and practicality.
Concerns around processed meats aren't having a drastic impact with cooked breakfast with eggs, bacon and sausages all in strong growth. Healthier options, such as fruit, nuts and fromage frais, are also doing well.
Traditional breakfast staples like cereals and bread have had a more challenging time, as have cereal & fruit bars.Top 10 breakfast food & drinks ranked by number of breakfast occasions (m) they appear at. Source: Kantar Worldpanel 52 w/e 27 March 2016
Chris Russell, Kantar Worldpanel
So, what are time-poor Brits eating in the morning? How does this differ from what they're eating at the breakfast table? And, can traditional breakfast options, such as cereal and toast, tap this on-the-go trend?

Health is a key consideration. "Consumers' options for a filling on-the-go breakfast are still quite slim," adds Dubois. "People want a proper breakfast with protein, fibre and energy to allow them to have an on-the-go breakfast they can feel good about rather than a compromise."

For Weetabix this means breakfast drinks, sales of which have increased 73.5% to £14.1m [IRI 52 w/e 21 May 2016]. Weetabix On The Go accounts for £10.4m of this. And, breakfast drinks are about to get busier as For Goodness Shakes rolls out a Potein & Oats shake designed specifically for breakfast which the brand claims tastes like breakfast in a bottle, rather than a milkshake. Designed to be the first protein shake of the day, it's got 25g of protein, slow-releasing energy from finely ground oats, complex carbs and a vitamin & mineral mix.

But there's still a long way to go in convincing consumers a drink is a filling breakfast. "We know from other countries that it can be hugely successful," says Dubois. "The breakfast drink category in Australia has been around for 15 years. The success really comes from trial and awareness and growing the product in store. At the moment we have a shelf or a couple of shelves, but Up&Go in Australia has bays and bays - you can't miss it as it really grabs attention."
Sugar poses challenge to granola health halo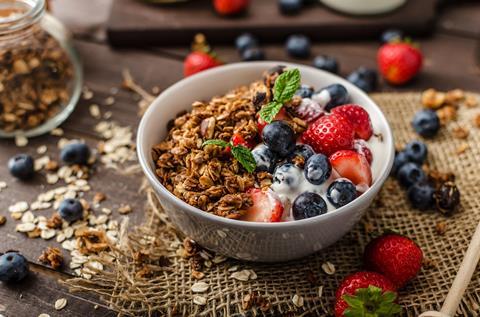 Brits are going nuts for granola. As cereal sales go stale - the category lost £47.3m this year alone [Kantar Worldpanel 52 w/e 24 April 2016] - granola steams ahead.

Sales of this breakfast option are up 14% [IRI 52 w/e 21 May 2016]. So why is it outshining its cereal comrades?

Versatility is one reason. "It can be enjoyed with milk; as a topping on fruit or yoghurt; blended into homemade smoothies; or enjoyed simply on its own as trail mix," says Victoria Hughes, UK brand manager for Nature's Path. Sales of its Mixed Berry Granola have more than doubled over the past year, and the brand is rolling out a new four-strong range.

Health is another driver thanks to granola's inclusion of wholesome ingredients such as fruit, nuts and seeds. But with many cereals' sugar content under scrutiny, some believe granola's healthier profile is misplaced.
"Granola successfully plays on the healthier trend," says Mike Prince, senior insight manager at IRI, "which is interesting as often the products are far from healthy."
Granola brands are insistent they use natural ingredients and not added sugar to sweeten their products. "Rather than refined sugars, we often use organic ingredients such as fruit juices, maple syrup, molasses and honey for their sweetening properties," adds Hughes.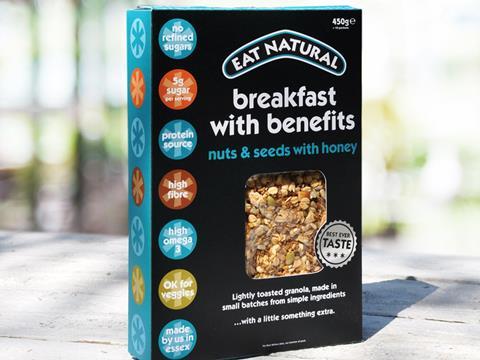 Many are also working to reduce their sugar content or cut it out altogether. Eat Natural's new granola Breakfast with Benefits is made with oats, nuts, seeds and a dash of honey. "Our new Breakfast with Benefits contains zero refined sugars and will be one of the lowest-sugar granolas on the market," explains co-founder Praveen Vijh.

Eat Natural's offering has 5g of sugar per 45g serving.

Rollagranola's new Healthy Hazelnut Granola also boasts no added sugar, with 34% nut content with a fruity note of dates and apricots and 5.7g of sugar per 40g serving.

That's certainly Up&Go's plan for the UK although it's got a long way to go. Sales are rising rapidly, albeit from a small base, hitting £0.9m [IRI]. "Up&Go is Australia's number one breakfast and over 18 years we have created a category worth over £100m," says James McMaster, CEO of Life Health Foods, which owns Up&Go. "The opportunity is even bigger in the UK and by 2020 we believe the UK category will grow to £100m."

But first, retailers need to take a leaf out of their Aussie counterparts' book. "Retailers need to respond to these changing dynamics - especially in impulse and convenience - and start creating breakfast category and mission-based solutions," says McMaster.

Fuel10k is making progress on this within the cereal aisles with its Protibricks and Protiflakes to help consumers better understand the offerings. "We recently managed to persuade Asda to merchandise all the protein ready-to-eat cereals together, which has been a big step in helping consumers to find and understand what is available to them," says Barney Mauleverer, Fuel10k co-founder. "We are encouraging other retailers to follow suit in block-merchandising protein areas in breakfast - much like free-from or organic. Asda has also pioneered the 5-for-£4 promotional mechanic with its impulse lines and is trailblazing this area of the fixture."

Asda's dedicated protein fixture will need bulking out soon enough as more players enter the market - most notably Nestlé, which is launching Shreddies Max.

Cereal decline

Cereal manufacturers have to do something to inject value into the market as sales plummet by £50.1m [Kantar Worldpanel 24 April 2016]. The brunt of this was borne by ready-to-eat branded cereals, which accounted for £37.2m of this loss. Notably, overall volumes are relatively flat and the number of occasions cereals feature in is only down 0.7%.

"Cereal is actually in relatively good health from a consumption point of view - it has a 60% share of breakfast," says Weetabix's Dubois. "The big issue is deflation in the market. Consumers are switching to the discounters, namely Aldi and Lidl, for their cereals and the main grocery mults are trying to counteract that by closing the perceived price gap. We're seeing more promotional pressure and lower prices year on year."

Average price is down 3.3% in RTE cereals as a result. With the discounters successfully focusing on own label - sales are up 8.3% and 14.4% in Aldi and Lidl, respectively - brands are struggling [Kantar].

Kellogg's suffered a massive £34.1m loss across its portfolio, while Nestlé's lost £9.9m. [IRI]. For Kellogg's, Special K took the biggest hit, with sales down £10.2m, followed by Crunchy Nut and Corn Flakes. But there are a few bright spots in the cereal behemoth's portfolio, namely of the chocolately variety.

Coco Pops, although in value decline, did see volume growth of 0.3%, which is more than many others in the category. Krave, meanwhile, knocked it out of the park with sales up 11.8% on volumes up 24.1%. Hoping to add value, Kellogg's added a Crunchy Nut Porridge and All-Bran Muesli to its range. The former is now worth £1.3m, hot on the heels of Coco Pops Porridge at £1.5m.

Elsewhere in RTE cereals, Weetabix is the only top 10 RTE cereal brand in growth with value up 2.6% on volumes up 5.3% [IRI], which Dubois attributes to its protein launches and increased media spend. "Our Weetabuddies campaign ran for a second time this year. It's a great campaign as it encourages kids and adults to eat more fruit and get on their way to five a day," Dubois adds.

Weetabix Original has the added bonus of being low in sugar, says Dubois, with 1.7g of sugar per two biscuit serving or 4.4g per 100g. Kellogg's Corn Flakes are slightly higher at 2.4g per serving (or 8g per 100g) and Shreddies comes in at 14.9g per 100g.

"Consumers are increasingly worried about sugar in their diets and we do understand these concerns and are actively committed to reducing the sugar in our cereals so we meet WHO guidance on sugar intake," says Toby Baker, marketing director UK & Australia for Cereal Partners Worldwide.
Sales slump as cold cereal loses appeal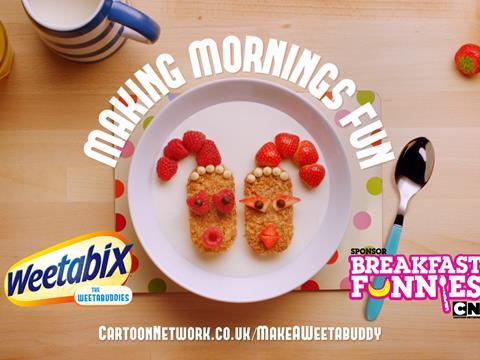 Cold cereal sales have gone soggy. Kellogg's saw £34.1m wiped from across its portfolio with all except Krave in value decline.
Rival Nestlé, which holds three of the top 10 spots, suffered £9.9m losses as Brits chomped 2.9 million fewer kilos of its cereals.
A notable exception is Weetabix, which is the category's shining star with £2.8m added to sales. "Most manufacturers have cut their media spend but Weetabix has actually increased it," says Chris Dubois, head of global insights at Weetabix.
Weetabix's Protein launch also helped - it's now worth £2.5m, according to the brand.
COLD CEREAL BESTSELLERS
IRI:52w/e 21 May 2016
VALUE
VOLUME
AVERAGE PRICE
£m
y-o-y%
kgs
y-o-y%
£/kg
y-o-y%
Weetabix
£113.1
2.6
25.9
5.3
£4.37
-2.6
Kelloggs Crunchy Nut
£74.2
-10.8
19.9
-11.0
£3.73
0.2
Kelloggs Special K
£58.1
-14.9
10.8
-10.1
£5.37
-5.3
Kelloggs Coco Pops
£53.1
-4.9
13.1
0.3
£4.06
-5.1
Kelloggs Corn Flakes
£49.8
-11.1
16.4
-7.5
£3.03
-3.9
Nestle Shreddies
£47.4
-6.7
13.9
-7.3
£3.42
0.7
Nestle Cheerios
£45.9
-6.0
10.6
-8.6
£4.31
2.8
Kelloggs Rice Krispies
£38.8
-7.4
8.3
-5.4
£4.69
-2.1
Nestle Shredded Wheat
£34.1
-9.5
9.4
-8.3
£3.64
-1.3
Dorset
£30.9
-3.9
7.5
-5.9
£4.10
2.1
BREAKFAST DRINKS BESTSELLERS
IRI: 52w/e 21 May 2016
VALUE
VOLUME
AVERAGE PRICE
£m
y-o-y%
litres (m)
y-o-y%
£/ltr
y-o-y%
Weetabix On The Go
£10.4
77.1
2.4
60.9
£4.31
10.1
Fuel
£2.3
27.2
0.7
30.2
£3.36
-2.4
Up & Go
£0.9
1049.2
0.2
1099.9
£4.22
-4.2

"We are also trying to talk about the positives. Wholegrains are a really important part of people's diets and we know people who eat cereals with wholegrain have a healthier body weight, better intake of vitamins and more fibre."

Nestlé guarantees 8g of wholegrain per 30g serving and is increasing its focus on grains with new Shredded Wheat Multigrain boasting ancient grains such as spelt, rye, quinoa and barley.

Shredded Wheat was the hardest hit within Nestlé's portfolio, with sales down 9.5% on volumes down 8.3% [IRI]. "It's been a really tough trading environment and we've not been immune to those pressures," says Baker.

Hoping to soften the blow, Shredded Wheat is the first in the Nestlé camp to get a makeover with new packaging and a new campaign rolling out this month. "The new packs talk up the ingredients and provenance, focusing on the fact it's 100% wholegrain and reflecting the fact that it's one of the healthiest breakfast cereals in the market place," Baker adds. "In a health-dominated agenda where consumers are picking up healthier products, Shredded Wheat is in an absolutely brilliant position to offer that."

The campaign supporting the new pack talks about how 100% wholegrain Shredded Wheat fuels you for the day to 'shred life'. Shreddies is next in line for a makeover, having suffered a sales decline of 6.7% on volumes down 7.3%. And over the next year, Baker says Cereal Partners will be increasingly focusing on the on-the-go trend.

"Will we be going into bars and drinks? No," he says. Instead it is choosing to focus on packaging formats for cereal to tap the trend. "Cereals are still dominated by very big boxes that have existed in the same way for long periods of time, and there are lots of other categories that have made pack formats much more consumer friendly and more relevant to changing lifestyles. We're looking at ways to make the delivery for cereals easier."

Lessons from hot cereals

Lessons can be learned from their hot counterparts, which have successfully tapped the on-the-go market by utilising individual portions such as sachets and pots. Although, like RTE cereals, hot cereals has suffered value losses over the past year. Volumes were buoyant, though [Kantar].

Quaker Oat So Simple, the category's biggest brand, bore the brunt of value losses, with sales down £5.1m while its traditional oats were down by £0.5m [IRI]. The brand is turning to superfoods for a sales and health boost with the launch of its Super Goodness range, which capitalises on the current wellness trend. The launch will be supported with a new TV campaign and in-store marketing from September.

The wellness trend offers further opportunities for cereal, and other breakfast foods, in the form of customisation. Quaker Oats has teamed up with Instagram sensation Deliciously Ella to develop three new recipes for overnight oats.

The trend, which has taken the internet by storm, sees consumers mix uncooked oats with milk or yoghurt, fruit and other toppings of their choice into a container which they leave in the fridge to chill overnight. The result is a nutritious and convenient breakfast that can be grabbed straight from the fridge.
"Overnight oats offer the perfect solution for the summer months and mean that demand for oats is set to explode during the summer," believes Duncan McKay, senior marketing manager, Grains UK. "With a large social media following, Ella is the perfect partner for Quaker Oats and we are sure her inspirational recipes will be a tremendous hit with shoppers."

Customising breakfasts for a healthier, and more shareable, outcome is also benefiting other categories. "The 'build your own breakfast' concept is fundamental to this desire to live a healthy lifestyle, and plays a key part in the new way of eating healthily," believes Vicky Upton, marketing controller at Alpro UK & Ireland. "Inspired by the health and wellbeing Instagrammers who popularised hashtags such as #avotoast and #smoothiebowl, it's all about personalising your breakfast by opting for healthy ingredients that are aspirational, look good on camera and taste great."

With free-from's popularity online, it inevitably is a consideration for Instagram worthy (and everyday) breakfasts. Alpro focused heavily on breakfast with the Blank Canvas campaign - a TV creative featuring its Big Pot trio as the base to decorate with healthy toppings for breakfast. "We're inspiring a whole new way to use these products, and consumers are now looking 'beyond the pot' and getting creative to satisfy new ways of eating at breakfast time," adds Upton.

Big pots are a hit at breakfast, agrees Azhar Zouq, MD of Lancashire Farm Dairies, who notes the format is now used 40% of the time at breakfast suggesting consumers want an adaptable and versatile product. "Because natural yoghurt is such a versatile ingredient consumers are voting with their wallets and switching to this healthy product," he says.

Onken concurs, but has taken the health message one step further with its Wholegrain Redcurrant and Blackcurrant yoghurt, which mixes traditional fruit chunks with five different types of wholegrain - barley, oats, wheat, rye and rice. "With influencers such as Symmetry Breakfast amassing an incredible 599k followers on Instagram simply for sharing delicious breakfast snaps, no longer will a bacon sandwich cut the mustard," says Laura Grove, head of marketing at Emmi UK, which owns yoghurt brand Onken.
Multigrain Shredded Wheat

Launched: August 2016 
Manufacturer: Cereal Partners Worldwide (Nestlé & General Mills)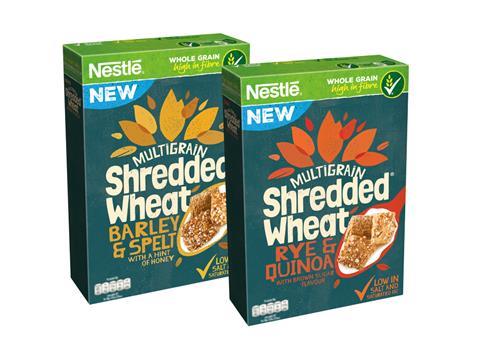 Shredded Wheat Multigrain tops bitesize versions of the breakfast classic with additional grains and flavours. They come in two varieties - Rye & Quinoa with Brown Sugar Flavour, and Barley & Spelt with a Hint of Honey (rsp: £2.49 for 475g). Both have wholegrain wheat at their core, are high in fibre, very low in salt and low in saturated fat. "Shredded Wheat is one of the healthiest breakfast cereals you can choose," says Toby Baker, marketing director UK & Australia.

Raspberry & Coconut Bircher Muesli

Launched: August 2016

Manufacturer: Moma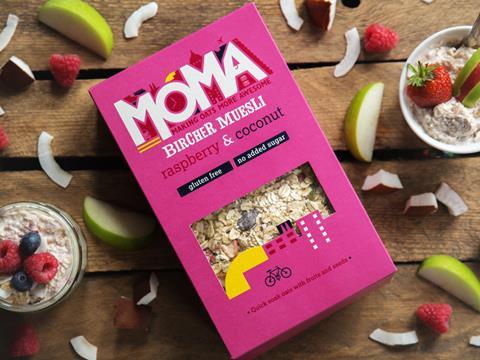 No more overnight oat soaking thanks to Moma's new Raspberry & Coconut Bircher Muesli Mix (rsp: £3.49). Made with gluten-free quick-soak oats, which absorb apple juice faster than normal oats, breakfast is ready in five minutes. It's packed full of raisins, apple, sunflower and pumpkin seeds, coconut flakes and raspberry pieces.

Nutri-Brex Coconut & Crispy Rice

Launched: July 2016

Manufacturer: Life Health Foods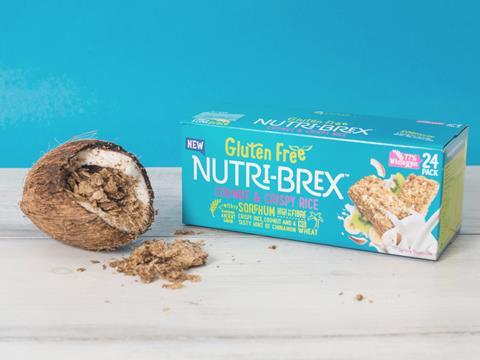 Lack of flavour and choice are bugbears for most coeliac and wheat-intolerant consumers, says Life Health Foods. It's added a new flavour to its gluten-free cereal range: Nutri-Brex Coconut & Crispy Rice (rsp £3.79). Available in Tesco, Morrisons, Sainsbury's, Ocado, and Waitrose, it's low in sugar and made with ancient grain sorghum.

Organic Granola range

Launched: August 2016

Manufacturer: Nature's Path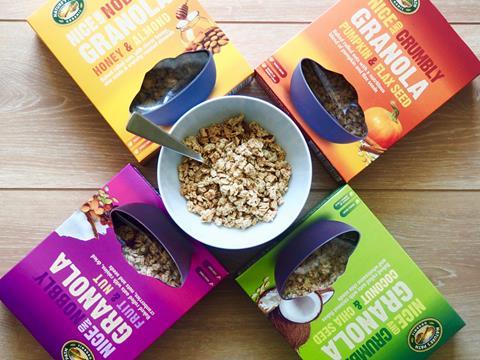 Nature's Path has created four organic granolas featuring two different textures. Pumpkin & Flax Seed and Coconut & Chia Seed have a 'nice and crumbly' texture while Fruit & Nut and Honey & Almond (rsp: £3.00 for 325g) have extra bite with a 'nobbly' texture. Each have a blend of rolled baked oats, mixed with nuts, seeds and fruit.
Resurgence of the traditional fry-up

As far as Instagram goes, perhaps not. But for early risers looking for a natural and delicious protein hit, it does. Despite a controversial WHO report that classified processed meats such as bacon and sausages as a carcinogen, bacon now appears in 14.3% more breakfasts [Kantar]. The traditional British fry up is enjoying resurgence, as sausages were also up 5.9% and beans 0.2%.

However, while beans may be slightly more popular at breakfast, the market is still struggling. "The beans market is in decline in volume and value," says Chris Wright, marketing director at Princes, who notes Branston Beans are in growth.

"Within bean meals, Branston is growing significantly ahead of the market with spend and volume up 14% and 15% respectively," he says. "Success can be attributed to increased marketing support and a change in promotional activity, as well as increased listings and off shelf promotions."

Branston targeted breakfast in June 2016 as part of a Heroes Breakfast - a cooked breakfast deal in selected Tescos featuring its Beans, in support of charity Help for Heroes.

And elsewhere for cooked breakfasts, more people are going to work on an egg with occasions up 7.1%. "Eggs have made a triumphant return to the breakfast table, with consumption growing among people of all ages, motivated by health and convenience," says Andrew Joret, British Egg Industry Council chairman. "Breakfast remains the largest meal occasion for eggs and is also showing the most growth - with egg consumption at breakfast up 18% in the past two years. Egg consumption at breakfast has grown both throughout the week and weekend."

Health is the main driver behind this, says Joret, with scrambled and poached the fastest growing choices driven by younger consumers, particularly women.

The barriers to egg consumption out of home are also being removed. In November 2015 Ocado listed The Crackin' Egg Co's hard-boiled egg snack - one of the latest attempts to crack the egg as a snack trend in the mults.

"Innovative grab and go options, such as egg protein and breakfast pots, originally popularised by foodservice outlets, are now a fixture on supermarket shelves, alongside sandwiches and other grab and go options," notes Joret.

Pret a Manger's Egg & Spinach Protein Pot, Abokado's Veggie Power Pot and M&S' Free Range Egg & Spinach Protein Pots are among recent innovations to hit the market. High street chain Gregg's is also taking note, having added a free-range omelette vegetarian option to its breakfast sandwiches.

"Breakfast is a hugely important part of the day at Greggs. We've had our famous breakfast meal deal for over six years, matching any breakfast roll or porridge with a freshly ground coffee from just £2," says Greggs commercial director Malcolm Copland. "With the rise in customer demand for a fresh and tasty breakfast on the go, we've extended our menu with new products like almond croissants, freshly prepared yoghurts and granola bars."

Bacon and sausage sandwiches remain the favourite al desko breakfast for Greggs' customers, but for the mults and their brands the on-the-go hot breakfast is harder to crack. Wall's is hoping to address this with its on-the-go Breakfast Twists for busy breakfasters, which can be eaten cold or microwaved, and which debuted in convenience channels in April. "Wall's pastry products are synonymous with on-the-go consumption; therefore, coupled with the rising trend for eating breakfast on the move, we're confident that the Wall's Breakfast Twist is going to prove a big hit with consumers," says Kim Burgess, head of markets at Addo Food Group.
Oats on top as hot cereal loses steam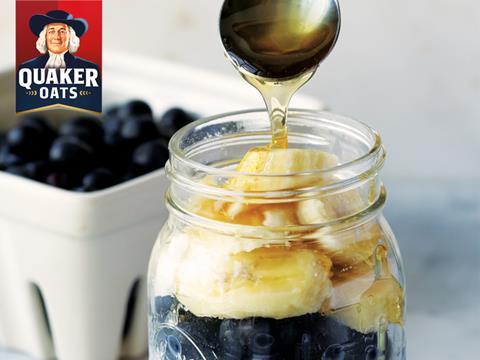 Oats are bang on trend but hot cereals sales are cooling. At least value is - it's down 1.2% [Kantar 52 w/e 24 April 2016]. Volumes, meanwhile, are healthy with 4.7% growth.
Quaker Oat So Simple took the biggest hit with £5.1m losses. Even Quaker Oats' Traditional Porridge saw sales fall. It's hoping the trend for overnight oats can boost summer sales.
Children's brand Ready Brek is hoping a makeover complete with a cute bear, NPD and a marketing push can help revitalise its sales. "Ready Brek only takes 90 seconds to prepare while also giving consumers lots of opportunity to save money," says Chris Dubois, head of global insights at owner Weetabix.
BREAKFAST BISCUIT BESTSELLERS
IRI: 52w/e 21 May 2016
VALUE
VOLUME
AVERAGE PRICE
£m
y-o-y%
kgs (m)
y-o-y%
£/kg
y-o-y%
Belvita
£70.8
6.2
12.5
4.4
£5.66
1.8
Special K
£6.5
-24.0
0.7
-22.3
£9.63
-2.2
Nairns
£3.6
10.5
0.3
1.3
£10.89
9.1
Mcvities Breakfast
£1.3
-79.2
0.2
-82.1
£5.67
15.9
HOT CEREALS BESTSELLERS
IRI: 52w/e 21 May 2016
VALUE
VOLUME
AVERAGE PRICE
£m
y-o-y%
kgs (m)
y-o-y%
£/kg
y-o-y%
Quaker Oat So Simple
£102.0
-4.7
17.0
-1.5
£5.99
-3.3
Quaker Oats Traditional Porridge
£13.1
-4.0
7.0
-0.6
£1.89
-3.4
Scotts Porridge Oats
£11.9
-0.6
6.3
2.1
£1.90
-2.7
Ready Brek
£10.2
-9.8
2.4
-15.7
£4.28
7.0
Mornflake Superfast Oats
£4.4
18.8
3.9
20.3
£1.11
-1.3
Flahavans
£3.7
36.8
1.6
30.8
£2.22
4.6
Kelloggs Special K
£3.3
-28.5
0.3
-31.4
£11.68
4.1
Mornflake Other
£2.2
8.5
0.9
-0.0
£2.37
8.5
Jordans
£1.9
-27.0
0.8
-23.2
£2.25
-4.9
Scotts So Easy
£1.6
-16.3
0.2
-12.5
£6.90
-4.4
Convenient solutions

More convenience retailers are turning their attention to grab-and-go breakfasts to tap this burgeoning market. Fuel brand Jet has recently launched a new food-to-go concept across its forecourt network in partnership with Expresso Plus.

"Breakfast to go has seen the highest increase, with 64% of consumers buying a hot drink with their purchase. Forecourts are ideally placed to capitalise on this trend," says Lauren Tyler, Expresso Plus marketing manager.

Pairing a hot cup of Joe with a pastry is a simple but effective way for c-stores to boost morning breakfast sales, according to Vincent Brook, UK retail commercial manager, Aryzta Food Solutions. "There's never been a better time for retailers to review their food-to-go range to make sure they are maximising the growing sales opportunity provided by the breakfast mission," he says.

Morning goods, such as pastries and British favourite crumpets, are growing fast at breakfast time, both in and out of home featuring in 10% more occasions [Kantar].

"Breakfast remains a family occasion with almost nine out of 10 people eating breakfast as a family at the weekends," says Zoe Taphouse, category director, Allied Bakeries. "While consumers love a slice of toast, families are also seeking out variety as demonstrated by Kingsmill bakery favourites, such as crumpets, pancakes, muffins and waffles, all growing in popularity."

But, of the major brands in the morning goods arena, Warburtons is a standout success as others struggled - its sales were up 14% on volumes up 7.7% [IRI]. New York Bakery Co's sales fell 5.8% on volumes down 3.2%, while Kingsmill took an even bigger hit with sales down 19.9% on volumes down 19.5%.
Warburtons benefits from bread boom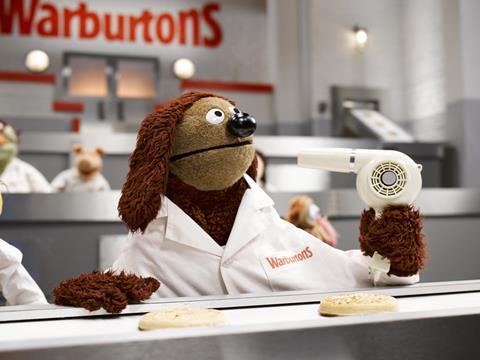 Morning goods have appeared at 10% more breakfasts [Kantar 52 w/e 27 March 2016]. Warburtons is benefiting the most from this, adding £11.9m to sales [IRI 52w/e 21 May 2016].
"Our new Giant Crumpets were a great success," says Sally Stanton, interim head of marketing. No doubt The Giant Crumpet show ad extravaganza starring The Muppets helped drive sales of the British favourite.
Rival Hovis, meanwhile, relaunched its Fluffy Crumpets in June 2016 with a new and improved recipe.
Despite endorsement from The Body Coach Joe Wicks, New York Bakery Co's sales took a tumble with a decline of £3.6m.
MORNING GOOD BESTSELLERS
IRI: 52w/e 21 May 2016
VALUE
VOLUME
AVERAGE PRICE
£m
y-o-y%
Items
y-o-y%
£/item
y-o-y%
Warburtons
£97.2
14.0
629.9
7.7
£0.15
5.8
New York Bakery
£58.6
-5.8
218.7
-3.2
£0.27
-2.7
Soreen
£32.8
-5.1
50.7
7.6
£0.65
-11.8
Kingsmill
£26.8
-19.9
241.0
-19.5
£0.11
-0.5
Brioche Pasquier
£21.7
-1.1
117.3
1.4
£0.19
-2.4
Haywood & Padgett
£10.3
2.4
94.0
-3.6
£0.11
6.3
Rankin
£5.4
14.3
13.0
11.2
£0.41
2.8
Irwins
£5.1
5.0
5.8
12.7
£0.89
-6.8
Genius
£4.7
27.2
7.4
35.6
£0.63
-6.2
St Pierre Bakery
£4.4
241.0
12.8
337.4
£0.35
-22.1

Warbies' success was partly down to NPD in the form of Giant Crumpets and a major new marketing campaign starring The Muppets. "Since launch, Giant Crumpets have gone on to become hugely popular in millions of households for a range of mealtime occasions, with consumers making the most of their versatility with a range of toppings that make them perfect for breakfast, lunch, dinner, or an afternoon snack," says Sally Stanton, Warburtons interim head of marketing.

The launch even helped bolster sales of its regular-sized crumpets, of which the brand claims to have shifted more than 43 million units in the past year.

Birds Eye, meanwhile, has also found morning goods a lucrative area - although the level of competition in the frozen breakfast arena isn't as high as elsewhere in store. "When shoppers head to the frozen aisle, typically their first thoughts aren't on breakfast," believes Steve Chantry, Birds Eye marketing director. "However, with consumers becoming increasingly disillusioned with the routine of toast and cereal every morning, frozen has an opportunity to capitalise on the growing trend for accessible, easily prepared meal options."

Birds Eye entered the frozen breakfast market for the first time in February with its quick to prepare Hello Morning range comprising Belgian-inspired waffles in plain and cinnamon flavours, croissants filled with hazelnut and chocolate cream, and classic and chocolate chip pancakes (rsp: £1.79). So far it's racked up £2.2m, according to the brand, and accounts for 22% share of the frozen breakfast category. But this is just the tip of the iceberg, believes Chantry.

"The frozen breakfast category in the US is currently worth $0.5bn and makes up 8% of the total frozen category, providing a benchmark for the UK market and a case of best practice for frozen breakfasts," he says. Brands and retailers need to work together to drive visibility, through signage and shelf execution, to ensure shoppers instinctively check the frozen aisles for breakfast options.
Quaker Oats Super Goodness
Launched: July 2016 
Manufacturer: PepsiCo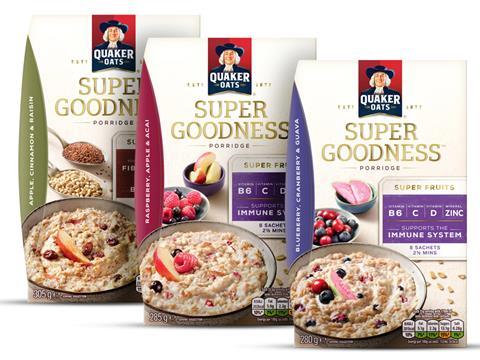 Porridge just got healthier thanks to Quaker Oats' new range of porridge sachets with enhanced nutritional qualities. The five-strong range features three Super Grains flavours with wholegrain oats, red quinoa, flaxseed and barley as well as two Super Fruits variants with wholegrain oats and real pieces of fruit (rsp: £2.99). Super Grains contains protein, fibre, and omega-3 for a body boost while Super Fruits contains vitamins B6, C, D and zinc to support the immune system.

Slim-Be Magic Porridge Pots

Launched: June 2016

Manufacturer: Slim-Be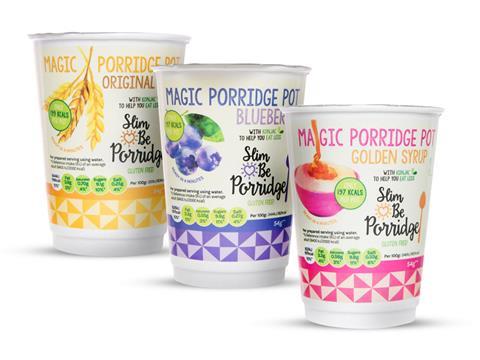 Slim-Be's Magic Porridge Pots include konjac - a natural root that swells in the stomach to provide a feeling of fullness. The 'just add water' porridge is also gluten free, has all green traffic lights and is available in three flavours - Original, Golden Syrup and Blueberry (rsp: £1.49) - with just 194 calories per serving.

Moma Coconut & Chia Porridge Pots

Launched: January 2016

Manufacturer: Moma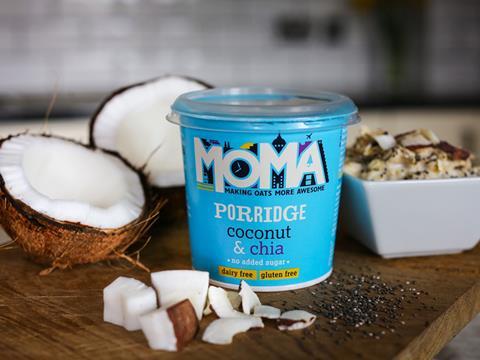 Moma has cut out gluten and dairy with its Coconut & Chia Porridge Pots (rsp: £1.30). A blend of oats, chia seeds, coconut pieces and coconut milk powder, the porridge offers consumers a unique flavour not commonly seen in hot cereals, says the brand. It also has no added sugar, tapping demand for healthier on-the-go options.

Mornflake Go! High Protein Porridge

Launched: March 2016

Manufacturer: Mornflake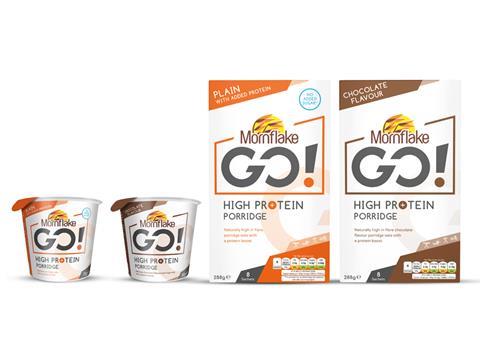 Mornflake Go! High Protein Porridge is made with plant soya protein and promises a less pungent odour and flavour than rival protein-rich products. Mornflake Go! is available in Original and Chocolate variants containing up to 22% total protein per 100g. They comes in boxes of seven sachets (rsp: £2.29) and as individual pots (rsp: £1.39).
Bread's woes worsen

With pastries on the rise, bread's woes are getting worse. It featured in 1.2% fewer breakfasts [Kantar] and is falling out of favour for a number of reasons, including health.

Like cereals, bread brands are turning to grains to highlight their health credentials. "The bread market remains highly competitive and purchasing decisions have been more considered, as consumers are continuously on the lookout for healthier options," says Sharon Barraclough, Hovis marketing director. To tap the health trend, Hovis launched its first-ever special-edition small loaf Sunflower & Pumpkin Seed in February.

That said, Barraclough believes Hovis still needs to cater to its core audience. "It is important that Hovis also caters for the latent love for everyday popular offerings such as white bread and best of both," she adds, pointing to the Best of Both packaging revamp unveiled in June.

But as bread struggles to adapt at breakfast, its traditional toppings are flying. Butter, preserves, peanut butter and chocolate spread have all seen an increase in occasions [Kantar].

Starting with the base layer, there is a key trend in butters and spreads, as Dairy Crest points out. "Within the category, there are two distinct movements: the growth of butters and the decline in spreads. Butter's resurgence has been driven both by a consumer trend towards naturalness as well as shifting retailer promotional focus towards spreadable butter and introduction of EDLP price points on own-brand block butters, which have encouraged shoppers to migrate out of wellbeing and dairy spreads," says Amy Fisher, senior shopper marketing manager, Dairy Crest.

Looking at occasions, butter is up 10.3% while margarine is down 7.3%. Peanut butter is also enjoying an increased role in breakfast with occasions up 11.5%.

"More and more people are now choosing to start their day with a pre-breakfast workout and so are looking for protein-rich foods to support their fitness regime," says Gill Green, marketing director at Wessanen UK, the owner of Whole Earth, which she says has achieved significant growth over the past year. "Retailers are also recognising the growth in popularity for nut butters and are opening up fixture space in-store to offer consumers more of the products they are now seeking. Nut butter spreads are gaining more merchandising space in-store at the expense of other breakfast spreads."
Traditional favourites get in on protein play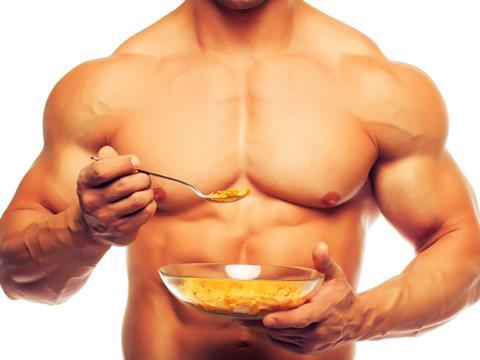 The protein war in cereals is about to get fiercer. Shreddies is taking things to the max with protein NPD following in the footsteps of Weetabix and Fuel10k.

New Shreddies Max granola - available in Oat and Cranberry & Oat - is the latest major cereal brand to bulk up. "There's an amazing rise of protein-based products, not just in the cereal category," says Toby Baker, Cereal Partners Worldwide marketing director UK & Australia.

It's not the only one. Lizi's Granola has also added a high-protein variant to its range, providing consumers with 27% of their reference intake of protein. "Protein is a key component in any diet and is no longer strictly of use to bodybuilders as older, and younger, generations would all benefit from a uptake in protein to help maintain and build muscle mass and healthy bone density," says Lizi's brand manager Nick Hilton.

But consumers don't fully get protein, believes Fuel10k co-founder Barney Mauleverer. "I'm not sure the general public really understands what protein is or does. Most have heard it's a good thing - especially in the morning." That doesn't put them off, though. "We've counted 42 products in breakfast cereals that now have protein in their name, 16 of which are Fuel10k," adds Mauleverer.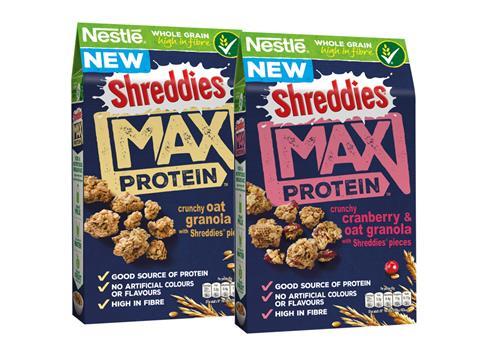 Weetabix Protein is now worth £2.5m and Protein Crunch £1.8m. "The protein segment is worth about £10m right now," says Chris Dubois, head of global insights at Weetabix. "It's growing rapidly year on year so there's plenty of scope for category growth and competitors as well."
The trend doesn't show any sign of slowing down just yet, nor should brands stop shouting about it, believes Baker. "We need to make sure when we launch new products that we are supporting them and not just moving on to the next trend or macro nutrient. Think about wholegrain and fibre - long talked about but people still don't eat enough."
The modernisation of honey

However, nut butters and other spreads aren't ideal for out-of-home consumption. "We've also seen that there are certain barriers to purchase for this younger audience, such as honey's messiness and therefore the difficulty of consuming it when on the move," explains Kirstie Jamieson, marketing director at Rowse Honey. "As a brand, we are looking to modernise honey and make it accessible for that younger audience, whilst removing those barriers to consuming honey when on the go."

For Rowse, innovation was needed in the form of its Snap & Squeeze sachets, which allow consumers a natural sweetener or topping on the move or at their desks.

This is one issue breakfast biscuits have never faced. And, as a result, sales of market leader Belvita are up 6.2% on volumes up 4.4%. "The healthy biscuit category is still relatively new, with fantastic scope for development, and we are committed to driving growth through marketing investment," says a spokeswoman for Mondelez International. "In the first half of 2016, BelVita has been supported by TV and its biggest ever sampling campaign to drive even stronger growth in the category. This will continue throughout the year."

At the rate brands are innovating in on-the-go breakfast options, those who don't jump on board could be left on the kerb.
Rowse Snap & Squeeze Honey

Launched: July 2016 
Manufacturer: Rowse Honey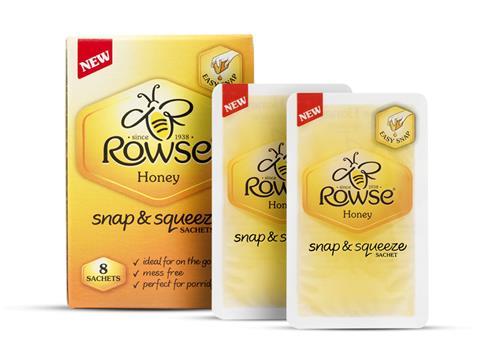 Rowse's new Snap & Squeeze Honey sachets are great for busy consumers looking for a natural topping for toast, porridge or yoghurt when away from home. Available in a convenient single-serve 15g format, the sachets contain 100% pure and natural honey (£2.59 for eight sachets). "They are the perfect breakfast addition to fit the lifestyle of a busy consumer who enjoys a healthy start to the day," says Rowse Honey marketing director Kirstie Jamieson.

Wall's Breakfast Twist

Launched: April 2016

Manufacturer: Addo Food Group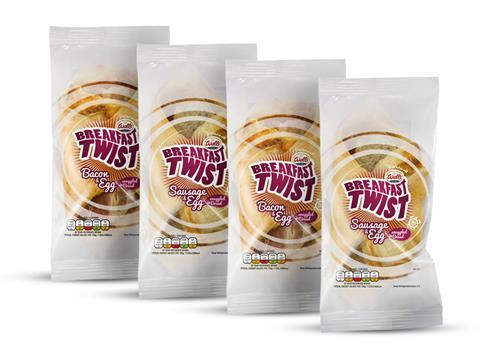 Addo Food Group has entered the breakfast category for the first time with a breakfast wrap for consumers looking for a hot breakfast on the go. The Wall's Breakfast Twist (rsp: £1.69) is available in two flavours - Sausage & Egg and Bacon & Egg - with a filling wrapped within an innovative microwaveable flatbread.

DJuiced Break Faster

Launched: March 2016

Manufacturer: GB Drinks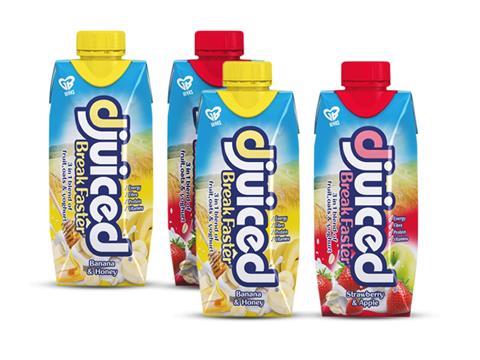 Djuiced Break Faster combines juice, yoghurt and oats for a grab-and-go breakfast (rsp: £1.89). Available in two flavours - Banana & Honey and Strawberry & Apple - it promises a slow release of energy. "Break Faster is everything you'd expect to find in a breakfast bowl in an ultra-convenient product," says MD Gary Barnshaw.

Rachel's Greek-style Breakfast Pots

Launched: May 2016

Manufacturer: Rachel's Organic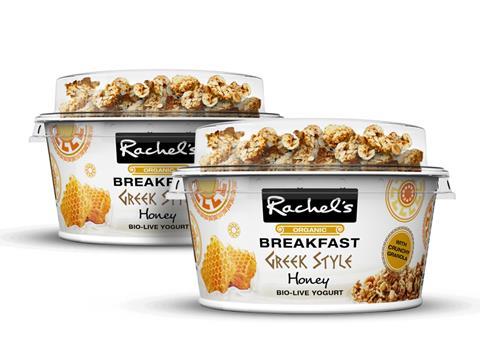 Rachel's has expanded its single-serve breakfast pot range with two new Greek-Style flavours - natural and honey (rsp: 99p). The expansion of the granola-topped pots range was in response to consumer demand for convenient and healthy breakfast alternatives. The flavours were chosen due to their success in Rachel's big pot formats.