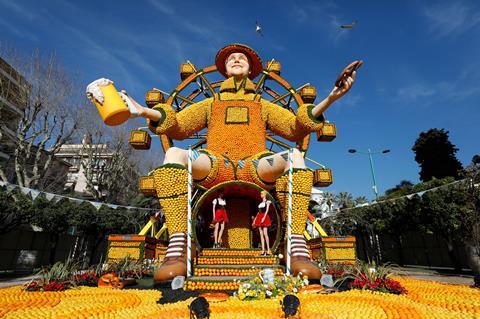 It's been a big week for fruit – though not in the way health or food waste campaigners would want.

In Menton, in the southeast corner of France, they've been holding the annual lemon festival. Local legend has it that Eve herself planted a lemon in the spot the town itself sprang up, you see.

This year's festival theme, was, imaginatively, 'World Festivals' – which enabled the town's citrus growers to present tasteful fruit-based homages (made with oranges as well as lemons) to the likes of Brazil's Rio Carnival, Ireland's St Patrick's Day and – as pictured here – the apparently terrifying spectacle that is Germany's Oktoberfest.

Over in Ivrea, Italy, meanwhile – locals spent a day pelting oranges at each other.

Some 15,000 people took part in the town's traditional organised fruit riot, coronavirus fears having been dismissed because – as Ivrea's mayor pointed out – cancelling it might have caused "public order problems". Public order problems like… thousands of people fighting?