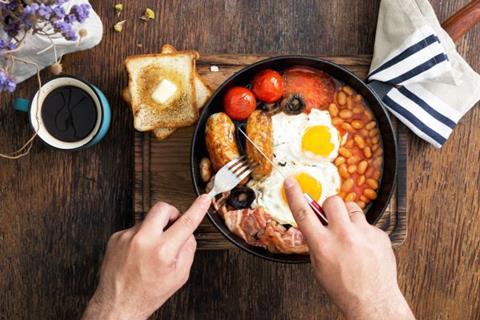 Copycat branding is a big rage generator in grocery, but in the on-trade things are more relaxed. No one cares about every other pub being called the Red Lion, for example.

A new study into the most popular names of takeaways reveals a similar lack of imagination. The unappetising-sounding 'Charcoal Grill' is #1 on the list, with 215 versions across the UK. Some 184 separate kebab shops ambitiously go by 'Best Kebab', while the almost-as-lame 'Munchies' is third, with 174 examples. It's almost as if their drunk clientele isn't that discerning!

Elsewhere, another study 'reveals' that 'the classic fry-up is still Britain's favourite breakfast dish', with 83% of Brits apparently in favour. Cereal and bacon sarnies are also popular, rounding out the top three. Who knew? (Everyone.)

Weirdly, both these pieces of ground-breaking research were conducted by hotel chains – Mercure and Leonardo respectively. But why? Does reminding people about boring/unhealthy food choices convince them to stay in and order room service? We're officially suspicious.