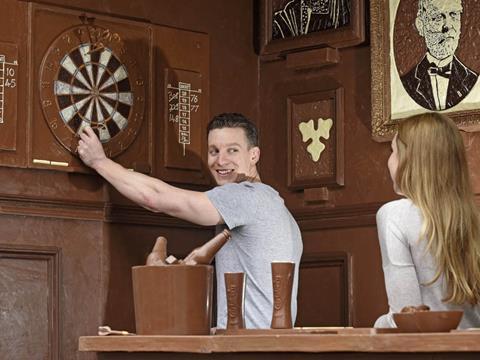 If you like chocolate and you like beer, then chocolate beer is the drink for you, right? Well, no. In much the same way that if you're a fan of, say, sex and garlic bread, it doesn't necessarily make sense to combine them.

Fortunately for those of us for whom choc beer provides the taste of disappointment, Carlsberg has only gone and made a whole pub out of the purest brown stuff.

Made from 500kg of choc by food artist Prudence Staite and her team, the 'Chocolate Bar' (what else?) took three months to build. It features a chocolate dartboard (plus darts), bar stools (best wear PVC trousers, then) and even football on the telly (quite a slow-moving match).

It's an interesting take on the 'if Carlsberg did…' theme, though obviously any right-thinking pub fantasist's ideal watering hole would feature a roaring log fire. Could you build us some kind of fireguard, Prudence?