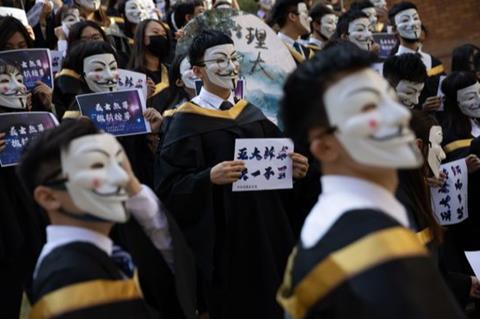 Cake competitions aren't normally the most fraught events: the most volatile thing that's ever happened at one is when that bloke put his baked alaska in the bin on the 2015 Great British Bake Off.

Until now. At Cake International in Birmingham, a Hong Kong protest-themed sponge has been disqualified. The controversial cake featured the V for Vendetta mask so beloved of protestors, as well as a hard hat-clad demonstrator. Fake tear gas emanated from tiny fondant umbrellas, while a hidden music box played 'Glory to Hong Kong'. Subtle.

Cake-maker 3rd Space claimed that, following complaints from Chinese competitors, first the music was turned off, before the cake was booted out of the competition. Political censorship, they claimed.
How is the content and message of this cake offensive? Do mean Hong Kong's fight for freedom and democracy is offensive? Do you mean the freedom of expression is offensive? Do you mean the mask from the film V for Vendetta, depicting an Orwellian UK, is offensive? Please explain. pic.twitter.com/RJsVX7yLPP

— Howie 😷 (@MinibusHowie) 3 November 2019

But organisers, plagued by social media complaints, hit back, posting a Facebook update that stated the cake had been disqualified on technical grounds. One of the umbrellas overhung the 'allowed area', as a photo seemed to prove.

But 3rd Space wasn't convinced, labelling it an "excuse".
(As with everything in life) until Paul Hollywood passes judgement, we're not sure what to believe.