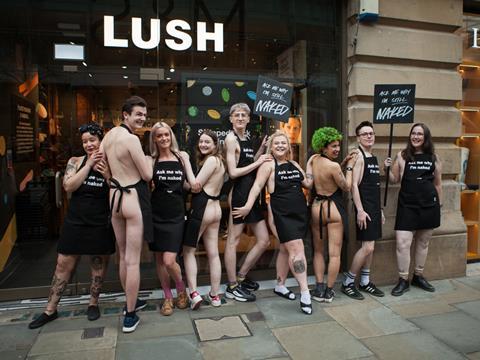 Staff at Lush in Manchester gamely stripped off to take part in a stunt for the soap maker last week. Market Street store workers spent a day wearing nothing but Lush aprons reading 'ask me why I'm naked' - even bravely stepping outside for a photocall.

Why indeed? Well, the drawer-dropping reflected the store's dropping of plastic wrapping and bottles. Soaps, shampoos and shower gels all now come in solid form, some moulded into the shapes of bottles. Simply add water and they work just like the products we're used to, apparently - though this might lead to a bemusing spectacle in the showers of Manchester, as shoppers awkwardly rub solid products on themselves.

And on that note, the Metro this week thoughtfully got a doctor to remind people not to use Lush's new aubergine emoji-shaped bath bomb as a sex aid. It doesn't count as good clean fun.