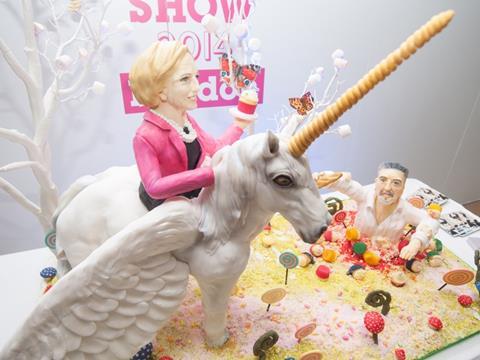 The annual Cake & Bake Show, held at London's glittering Earls Court, is a serious flour 'n' eggs expo for the bigwigs of the bakery world.

Fortunately for us, it's also an opportunity for flour fanatics to show off their cake crafting skills. And with Halloween a mere several weeks away, there was a definite horror theme to this year's highlights.

Bogof was impressed by several clowns, trolls, zombies and witches, while a decomposing mermaid showed a worrying devotion to detail.

More disturbing than all of those, however, was the cake pictured above. Bogof's best in show is this terrifying image: Mary Berry sitting astride a winged unicorn, while Paul Hollywood - who has either been buried up to his waist or sliced in half (perhaps by the unicorn's super-phallic horn) desperately waves a pasty at her.

Now that's a showstopper.