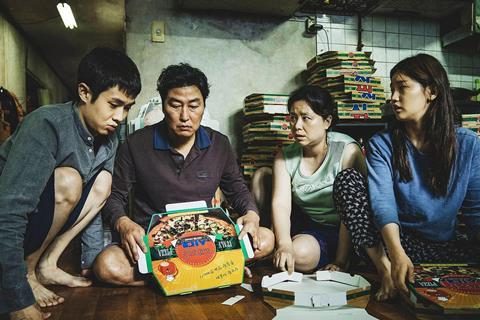 Over a month since it won the 'best picture' Oscar, South Korean phenomenon Parasite is still making a huge cultural impact.

If you haven't seen it, the film focuses on two families, and the class divide that separates them. Food is one way to signify this, and special attention is paid to a popular Korean dish called jjapaguri. Translated in English subtitles as 'ram-don', it's a budget meal: a combination of two kinds of instant noodles, mixed together to make them taste more interesting. The film's posh Park family will only eat it with a topping of super-premium Korean beef pricier than wagyu – an addition the poor Kim clan can only dream of.
And irony-deficient New Yorkers are reportedly going crazy for it, paying up to $25 for ram-don made with prime short ribs, seafood or wagyu. Some are made with instant noodles, some not.

It's a lovely real-life extension of the film's satirical message – with Korean chefs reportedly bemused but pleased at the increased interest in their nation's tucker. To be fair, if you want to try Haenyeo's 'royale' ram-don – made with lobster tail, smoked duck breast, filet mignon and a quail's egg – you'll have to get in line behind Bogof… and maybe even the Parks.