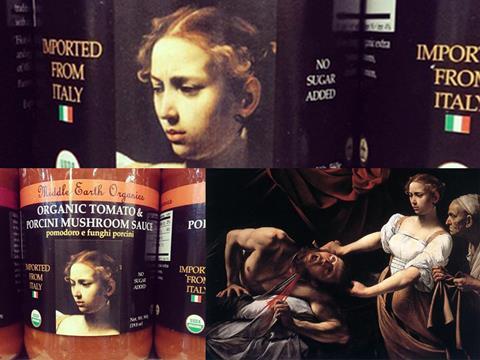 Imagine you're running a classy sauces brand in the US. It's organic stuff from Italy, and you want to reflect its authenticity, while adding a dash of highbrow prestige - and making it stand out on shelf, of course.

Look no further than the old masters. Middle Earth Organics did just that, dodging obvious Tolkien references in favour of portraits of women by some of the finest-ever Italian painters. Botticelli's Birth of Venus and Raphael's Woman with a Veil both adorned jars, for example, while da Vinci's Lady with an Ermine added mystery to the Tomato & Grilled 'Eggplant' line.

Sadly, Middle Earth fell down when it came to the Tomato & Porcini Mushroom sauce, using a detail from a Caravaggio masterpiece. Up close, 'Judith' is as just beguiling as the brand's other saucy donnas, but the full painting's title - Judith Beheading Holofernes - really ought to have tipped Middle Earth off to its rather unappetising nature (see pic, above).

Suddenly, we're not hungry any more.