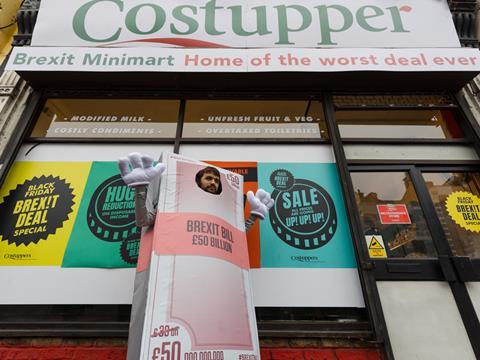 Residents of Peckham were last week given a preview of what the UK's foodscape might look like once the glorious new dawn of Brexit arrives.

'Costupper', opened as a stunt by the pun lovers behind the People's Vote movement, gave shoppers a fun glimpse into their wretched futures of penury and no choice. Lolz! On the shelves were Brexit Tomato Botchup, Bitter Pils Craft Beer, Brexit Large Porky Pies and Conman's mustard. Some needed help from a tagline - eg Brexit Tampons ('an expensive period') - but you can't knock the effort.

The store also anticipated a future of hormone-heavy, chlorinated meats, while posters highlighted reductions on jobs and NHS staff. There was even an ATM, promising 'uncertain' cash withdrawals.

Fresh fruit & veg aside, though, at least the shelves were full. Fingers crossed the real thing is as bountiful - and fun!