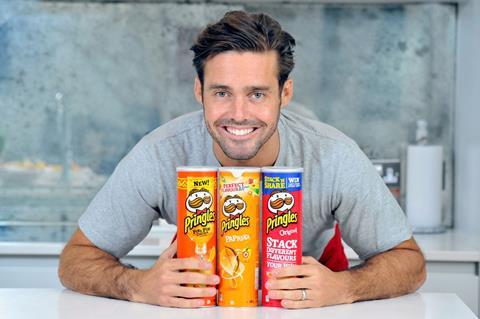 Big thanks to the people at Pringles for alerting us to "the latest craze" in snacking, which coincidentally involves having to buy loads of different cans of Pringles.

An ambitiously worded press release tells us the "phenomenon" that is "stacking" sees "adventurous foodies stack uniquely shaped Pringles on top of each other".

Pringles has enlisted Made in Chelsea's Spencer Matthews to help us grasp the concept. Spenny – a celeb MasterChef finalist, no less – has come up with intriguing combos such as 'steak and chips' (Flame Grilled Steak, Salt & Vinegar and Texas BBQ) and the 'posh toastie' (Smokey Bacon, Cheese & Onion and Original). The old romantic has even recreated his wife's favourite dish: 'winner, winner, chicken dinner' (Piri Piri Chicken, Paprika and Original) – much to her delight, we're sure.

But "you don't have to be a chef to work out your tastes and try new flavours", Matthews reassures us. "Anyone can have a play at home." Phew.

Consumers who share their own creations using the #PringlesStacknShare hashtag can win cooking classes and Restaurant Choice gift cards – nice prizes, though handy only in the unlikely event they ever fancy a meal not made entirely of Pringles.