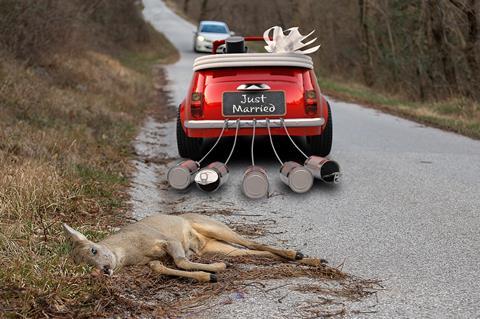 Weddings offer couples the opportunity to impress their personalities upon their guests, through everything from music to table 'favours'.

The best way to judge them is, of course, through what food they provide. Usually flavour and volume are most important factors – but one couple last week contacted online services marketplace Bark.com with a request designed to show off their sustainability credentials.

You might expect a locally sourced plant-based affair, but in fact the carnivorous couple are willing to pay £5,000 for a 'roadkill banquet'.

Caterers won't have to go on a van-based killing spree – just to prepare the 20kg of roadkill already in the lovers' freezer (an amount that suggests the services of a careful driver might also be useful on the big day).

The wedding's in late September, so start working up those squirrel, rabbit and deer-based recipes, chefs! The pair aren't telling their guests what they're up to – let's hope there's plenty of booze to take the edge off when the news comes out.