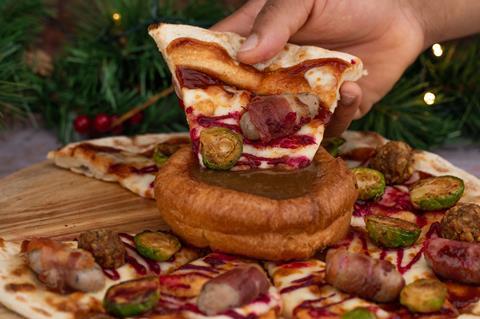 It's not a brand new idea – Asda brought one out a couple of years ago – but the enormity of the 'Christmas dinner pizza' concept means any new iteration is worth a moment's reflection.

So consider this: 'Santa's Little Dunker'. It may not be an even slightly serviceable pun, but it is a pizza topped with pigs in blankets, stuffing balls, chargrilled brussels sprouts, cranberry sauce… and a massive Yorkshire pudding brimming with turkey gravy.

It's the product of the maniacs at Twisted, who have added it to their online delivery menu, available through Uber Eats. Disappointingly, the gravy comes in a separate pot that you add to the pud yourself (we were hoping to challenge a few delivery bikers to keep it horizontal). If (like any right-thinking human being) you're uncomfortable with the notion of dipping pizza into gravy, you can order crunchy turkey tenders, too.

The festive aberration costs £10 (£12 with tenders) and is available until 22 December – so if you are planning to eat one on the big day it'll be slightly aged, too!