Kingsmill has carved itself a thicker slice of the bread market - at the expense of arch-rival Hovis. Now it's poised to take the number two spot from Premier Foods' Hovis, which has had almost £34m wiped off its value after the loss of a contract to supply The Co-op with branded and own-label loaves this spring.
"This contributed to the decline, as has the continued pressure the category faces as it continues to decline," admits Hovis marketing director Matt Hunt. "We are, however, seeing significant gains in nearly all current key accounts." And last month, Premier announced that it was courting investors in its bread division.
Whether investors view this as an opportunity is moot. The long-term volume decline in total bread has gathered pace in the past year, from 3.5% to 4.2% this time round, while rising costs, reduced deals and a shift to pricier bread such as seeded loaves pushed up value.
Not that the performance of market leader Warburtons - with volumes up almost 5% year-on-year - gives any indication of a category in trouble. Much of Warbies' success has been down to its biggest marketing investment to date, says marketing controller Megan Harrison, and the strong performance of its sandwich alternatives that have almost doubled in value and volume year on year.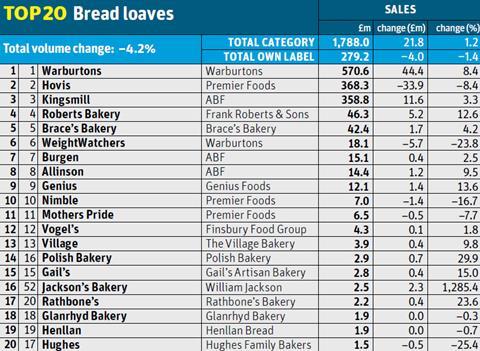 "Our Sandwich Thins were the first to market and have performed exceptionally well, resulting in our ownership of the sandwich alternatives category," she adds. It's also enjoyed success with its Half & Half bread, which was this year extended into Square(ish) Wraps and Sandwich Thins.
Like Allinson's High Fibre White (our top launch for bread in 2013), Warbies' Half & Half has benefited from consumer interest in healthier bread - but interest does not appear to extend to bread targeted specifically at dieters, with sales of Premier's Nimble and Warbies' WeightWatchers in sharp decline. However, Harrison claims the brand's communications plan for 2014 is aimed at encouraging trial of WeightWatchers products.
Again, it could be a hard sell. "Diet breads do not hold the attraction for the health-conscious that they once did," says Hunt, adding that many dieters now opt for 400g loaves of other breads to moderate their intake.
Outside the big three, Cheshire-based Roberts has gained more than £5m year on year on big volume growth, thanks to distribution gains across the North and Midlands and the launch of Robert's 50% White 50% Wholemeal loaves and brioche toasting rolls.
Meanwhile, Genius's growth continues despite stiff competition in gluten-free (in February it bought Finsbury's free-from business). And Aunt Bessie's owner William Jackson makes its top 20 debut after the 2012 launch of the Jackson's Bakery brand.
Read The Grocer's full Top Products Survey.
Top launch: Allinson High Fibre White Allied Bakeries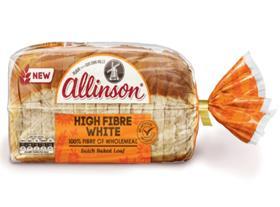 There was a risk that Allinson would become the brand time forgot - until Allied Bakeries brought it up to date with a marketing push and this brilliant NPD. Tapping into demand for healthier white bread, Allinson High Fibre White Bread is a soft white bread with a properly browned top, made from fine wheat fibre and containing as much fibre as a wholemeal loaf. The loaves have achieved sales of £1.1m in less than a year and played a major role in returning Allinson to growth.