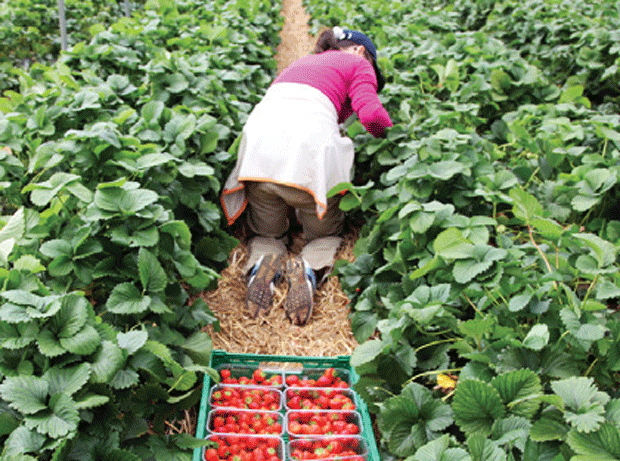 There is no immediate threat to labour supply from Brexit. That was the message from farming minister George Eustice and immigration minister Robert Goodwill when they appeared in front of the Efra committee yesterday.
Eustice and Goodwill cited Home Office data suggesting net migration from Romania and Bulgaria actually increased from 82,000 to 286,000 last year, while migration from other EU countries also rose.
No wonder Goodwill sees no need to reintroduce the government's now-defunct Seasonal Agricultural Workers Scheme (SAWS), as called for by industry bodies like the British Growers Association. There just isn't enough evidence to bring the scheme back, he asserted. And reports that labour was already declining were just a "scare story".
To say this came as something of a surprise to delegates at today's Fruiterers' Conference would be an understatement.
Labour shortages in the agricultural industry are a very real threat to the food industry already, warned Alison Capper, chairman of the NFU's potatoes and horticulture committee. "We are starting to see a decline in labour return rates," said Capper, who is also a fruit grower.
"We've got some Polish workers who have been coming backwards and forwards to our business for some time, and I think everything to do with the messages that our government is putting out around their concern for immigration is causing all of the people that we depend on to pick and pack our product to think about whether they want to come or not."
This echoes evidence given by asparagus grower Chris Chinn in front of Efra last month, when he explained how much more onerous it had become to recruit seasonal workers since the Brexit vote.
To hear ministers suggest there isn't a problem despite the very real challenges being experienced on the ground is making growers like Capper "lose faith in our political system". In fact, the NFU is so concerned about labour supply post-Brexit it will now conduct its seasonal labour survey on a monthly instead of a quarterly basis.
So what will it take for the government to take the concerns of growers more seriously? Capper doesn't have much hope. She believes it will take a catastrophic crop loss event to make the government recognise the significance of labour supply and take action.
Only by then, it may be too late.