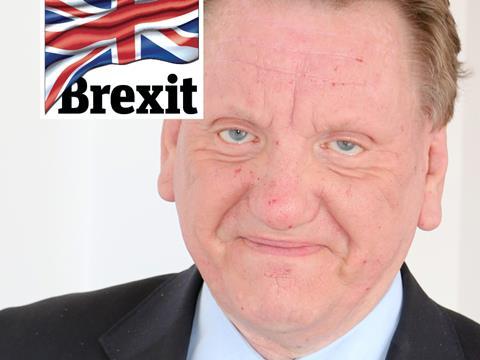 Agri-Brexit Coalition
Coalition coordinator David Caffal said: "With the combined knowledge brought by all our member organisations, we have one of the largest pools of expertise in farm research, implementation and trade. What's more we deliver that knowledge in practical ways to farms and agribusiness every day. Making that expertise available to government as negotiations progress will help us achieve that best deal outcome."
British Retail Consortium
Chief executive Helen Dickinson said: "Ensuring that consumers continue to enjoy great quality, choice and value on goods depends on a continuation of tariff-free trade on all products traded between the UK and the EU. Whether through reaching a new trading relationship quickly or securing a phased implementation deal, this must be at the heart of plans for a smooth and orderly Brexit.
"It's encouraging that the government recognises that the UK has a role to play as a champion of free and open trade. Our priority is to make sure the terms of our trade relationship with the EU are right before seeking new deals with other countries. Securing a positive new customs arrangement which enables mutually beneficial opportunities for trade with the EU and the rest of the world, will be crucial to ensuring British shoppers aren't hit with the costs of unwanted import tariffs at a time when the pound is already weakened. Therefore, ensuring a phased implentation that will maintain a free and open trading environment until a new trade deal can be put in place is essential.
"The UK retail industry employs approximately 120,000 EU nationals who make a huge contribution in every type of role from the boardroom to distribution centres and customer service. Workers from the European Union are part of the reason that British retailers are often able to deliver affordable and high-quality goods. UK's post-Brexit labour and immigration policy, should therefore be framed to enable domestic firms, including retailers themselves, to access the skills they need. Not only would this help our exporters, but it will help retailers keep prices low for British consumers."
Crop Protection Association
CEO Sarah Mukherjee said: "Our exit from the EU will provide the UK with an opportunity to become a global leader in crop protection research and development. As the Brexit negotiations commence we are keen to work with government departments to help develop a regulatory environment that encourages investment in innovation, supports productive agriculture, and at the same time protects and enhances our environment."
Food and Drink Federation
DG Ian Wright said: "The triggering of Article 50 provides us with a definitive timeframe for the UK to exit the EU and the clock is ticking. We hope this means we can move swiftly from the realm of speculation into one where real issues are being resolved.
"The results of the negotiation will have lasting implications - for our people, businesses and economy. Food is at the heart of our culture, identity and security. It is vital that the Government prioritises food and drink.
"FDF on behalf of manufacturers, alongside our partners across the food chain, will work tirelessly to help government to secure the best possible outcomes on future trade, access to the right workforce, regulation and ensuring a seamless border with the Republic of Ireland."
National Farmers Union
NFU President Meurig Raymond said: "Agriculture is at the heart of this country of ours. It produces the raw ingredients for the largest manufacturing sector here – food and drink. This sector is worth £108 billion, employs nearly four million people and generates around £18 billion worth of export earnings annually. But it's not just our core role in feeding the nation safe, high-quality food. Farming also plays an important role in managing the great British countryside - over 70 per cent of the UK's land area is farmed, providing habitats for wildlife and iconic landscapes for us all to enjoy. This, too, has economic benefits for people living and working in rural communities as rural tourism is worth at least £2 billion a year.
"The NFU is already engaging heavily with key personnel in UK government – last week I met with Secretary of State Andrea Leadsom and was pleased that she shared our ambition to maintain free and open trade with the EU once we leave. Defra also acknowledged the need to ensure that future reforms to the immigration system accommodate the labour requirements of the food and farming sectors.
"This is a monumental time in the nation's history. We are being given a once-in-a-generation opportunity to shape the future of UK agriculture. We can now work with government to shape a domestic agricultural policy that promotes competitive, profitable and progressive farm businesses, designed to meet the specific needs of UK farmers."
National Pig Association
NPA chairman Richard Lister said: "A free trade deal with the EU is absolutely vital for the pig sector. Tariffs on pork exports, for example, of 45p/kg on carcases or 131p/kg for processed hams, would cripple our export trade, slash profitability and export production overseas, particularly if equivalent tariffs were not levied on imports into the UK. If we leave without a trade deal, sensible transitional arrangements must be put in place."
"The recent Brazilian meat scandal has highlighted the inherent dangers in any potential new trade deals"
"The recent Brazilian meat scandal has highlighted the inherent dangers in any potential new trade deals. We don't want imported meat produced to lower hygiene, welfare and traceability standards posing a threat to consumers and undercutting UK producers. We don't want pork from the US, for example, from pigs reared using the growth promoter ractopamine or from sows reared in stall systems outlawed in the UK since the late-1990s.
"Any talk of trade deals will be rendered almost irrelevant if we lose access to the EU labour force. There would simply not be a British pig industry as we know it today. A survey of our members has highlighted the extent to which we rely on permanent, skilled and unskilled EU labour (by 'unskilled' we mean not educated to degree level), rather than short-term seasonal workers."
Scotch Whisky Association
Julie Hesketh-Laird, Scotch Whisky Association acting chief executive, said: "Now that Article 50 has been triggered, the UK Government can start the complex negotiations on exiting the EU. During these discussions on such a major change, the success of the Scotch Whisky industry should not be taken for granted. As a major manufacturer and exporter, the continued growth of Scotch will be a litmus test of the success of the UK's departure from the EU."
Wine and Spirit Trade Association
Chief executive Miles Beale said: "The triggering of Article 50 signifies an historic moment as the UK begins a new journey. For our trade, this chapter will bring both challenges and opportunities. The WSTA will be working tirelessly to achieve our key aims: continued, tariff-free movement of wines and spirits to and from the EU, new, tariff-free trade agreements with priority countries outside the EU and equally safe passage of goods without extra checks at borders once we have left the Customs Union.
"A phased leaving process will allow time to establish an EU free trade agreement and to put in place the necessary systems and infrastructure. Failure to do so, risks disruption to supply chains, chaos at UK ports, increases in costs for UK businesses and ultimately even higher prices for consumers.
"We stand together with our European Trade Association partners in our joint ambition to secure free trade flows. We have repeatedly said to Government since the referendum that the only way to achieve its aim for a frictionless Brexit is for the Government and industry to work in partnership."
Source