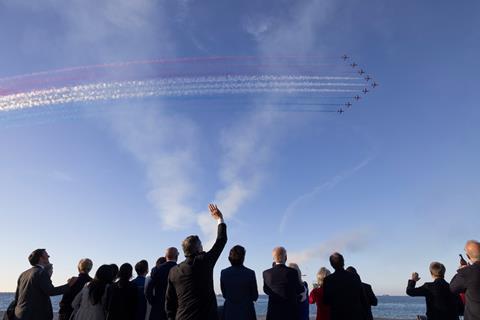 Sometimes the small touches make the event. Like having a roaring squadron of Red Arrow jets pluming red, white and blue smoke during your beach barbecue. Or using an aircraft carrier as a stage prop because it was named after the ship that took Churchill to meet Roosevelt for the signature of the first Atlantic Charter in 1941. Even inviting the royal family instead of the cast of The Crown. If there is such a thing as statement politics, the Carbis Bay G7 party was it – Global Britain writ large for all the world to see.
Sadly, not all the guests were on their best behaviour, especially when talking about Brexit. And Australia's Scott Morrison had to finish his shopping in London this week before delivering the free trade deal he was meant to have brought with him.
That has still to be fully unwrapped. But we do know in principle it will eliminate tariffs on all goods, subject to a quota 'cap' on UK imports of Australian farm produce for 10 years and a further five years of, as yet unspecified, 'other safeguards'. Outside the deal, the government has promised additional help for UK agricultural producers to increase their own exports, including to new markets under the Trans-Pacific Partnership (CPTPP), for which Liz Truss hopes the Australia agreement 'paves the way'. But the precedent this deal may set for future deals is precisely what is causing such concern across many parts of the UK food and farming sector.
However welcome they may be, increased sales on the other side of the world are hardly going to compensate for a loss of domestic market share to others with lower costs, greater economies of scale and different production standards.
Despite what President Biden reportedly said in Cornwall about EU SPS regulations not necessarily being a barrier to a future UK-US trade deal, the government continues to insist freedom to diverge was a key reason for leaving the EU. And it will not accept the EU's offer of even temporary alignment on veterinary checks as a means of unblocking implementation of the Northern Ireland protocol.
Time is running out to find solutions for that. Time is also running out for businesses waiting for Covid restrictions to end. Parties never look so good the morning after.