31 (32) Pedigree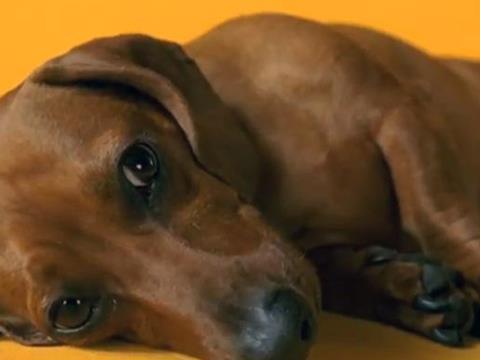 Sales: £204.0m (–0.7%)
Another flat year sales-wise for Pedigree, although it launched innovations including Dentaflex – the doggy equivalent of a trip to the dental hygienist – and a dry food range for mini pampered pooches. It's also reduced some pack sizes to offer them at a lower price. Pedigree's canned petfood range outperformed the overall dog can market, however, and the brand also launched an app – Pedigree Tracks – that allows owners to monitor calories, exercise and body shape.
32 (27) Cadbury
Sales: £194.5m (–15.2%)
Overall, products carrying the generic Cadbury name – as opposed to a specific Cadbury brand such as Dairy Milk or Wispa – are in the doldrums.
Some licensed ranges have been hard hit, with sales of many hot drink and biscuit lines down. But seasonal lines including Mini Eggs are performing well, and some cake ranges are in growth. Among the standout performers are Cadbury-branded doughnuts – rolling out to the mults last spring, they are already worth £4.5m.
33 (31) Activia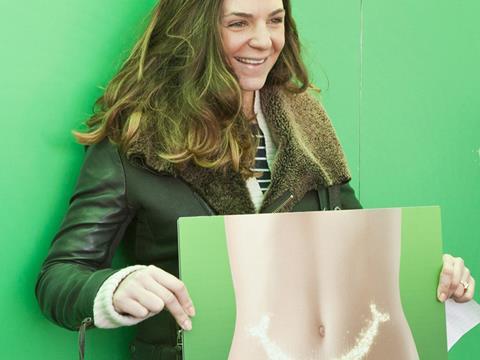 Sales: £193.3m (–11.1%)
There's no sugar coating this: 2014 was a tough year in yoghurts & desserts, and category juggernaut Activia is bearing the scars, falling below the £200m mark.
The past year has been difficult for the entire category, with volumes down as consumers buy less per trip, says brand owner Danone.
But there's no question Activia has been hit especially hard: while rival Müller Corner (no28) also lost sales, its decline was markedly less steep. The gap between the two brands has widened from just under £8m a year ago to £21.1m now.
Sales of Activia have dropped despite a solid run of NPD and marketing in 2014, including the launch of Fruit Fusions – layered fruit yoghurts sold under the Activia Intensely Creamy sub-brand. However, Danone is confident it can get shoppers excited about Activia yoghurt again in 2015 with the help of some feelgood NPD that takes the brand back to its traditional positioning around 'digestive comfort'.
It kicked off the year with a £2.5m Happy Tummy media campaign, fronted by long-running spokesman Gok Wan, around its latest Activia launch – Activia Fibre – which contains wheat bran fibre to aid digestion. The campaign featured 'experiential pop-ups' around the country (pictured) and "builds on the strong consumer insight that feeling good starts from within", says a spokeswoman.
"This campaign is the start of a strong plan to reconnect Activia with its core consumers in 2015 with both new communication and exciting innovation later in the year."
34 (35) Aunt Bessie's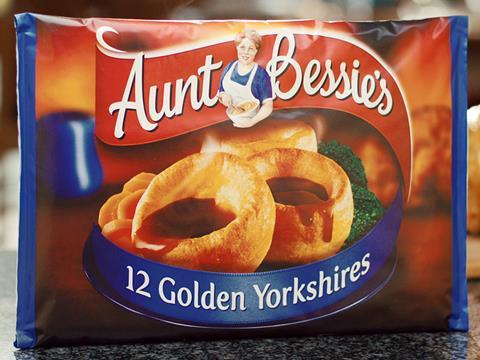 Sales: £186.7m (–6.2%)
Much of the frozen food sector has had a tough year. It's cost Auntie £12.4m. Frozen potatoes have been a major source of loss, as the brand has turned its attention elsewhere. But the new roasting veg mix has performed well, says the brand, and new flavour combinations such as orange sponge and toffee apple pie arrived in desserts. The launch of chicken and beef pies in Asda and an £8m campaign urging Brits to eat Yorkshire puds with chicken helped offset some of the losses.
35 (39) Ariel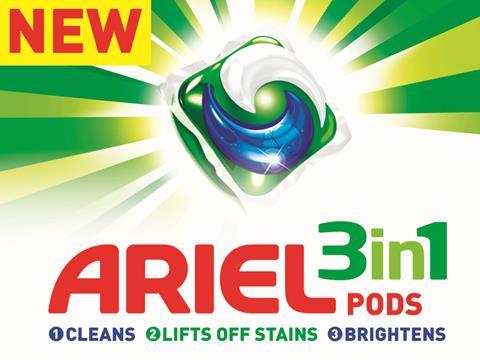 Sales: £186.5m (+1.2%)
Few brands launch ad campaigns talking about how they could potentially be a danger to kids. But that's exactly what a P&G TV and Facebook ad campaign, part of the brand's 'voluntary stewardship programme', launched before Christmas did for its Ariel liquitabs in a bid to encourage parents to keep the products safely out of kids' reach. It hasn't put off shoppers, with volumes up slightly ahead of value. The brand's 3in1 Pods have successfully targeted a more premium market.
36 (38) Maltesers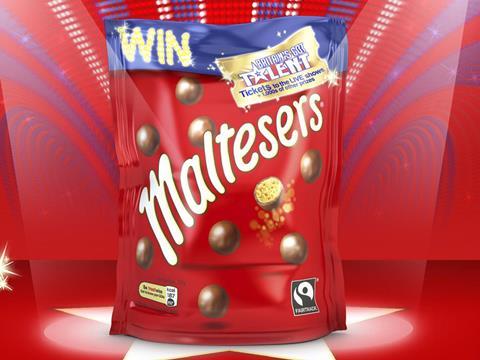 Sales: £186.5m (+0.2%)
Value and volume sales have inched up in equal measure for Maltesers; no mean feat in the current climate. Mars says the Malteaster Bunnies, despite a shortage during the key Easter period, helped it buck the decline in confectionery, growing to an impressive
£16m at the tills. The launch of a new Maltesers Teasers three-pack format is also helping, says Mars. This year Maltesers is running a Bake Yourself Silly Red Nose Day promotion, with the aim of raising £1m for the charity.
37 (41) Heinz Sauces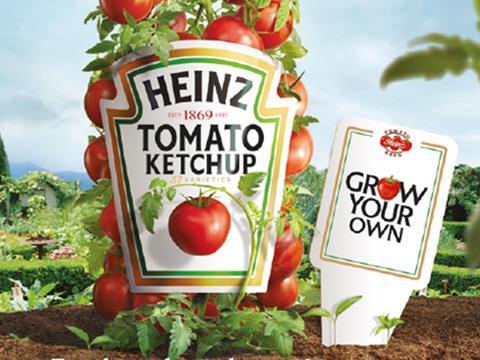 Sales: £185.2m (+3.5%)
Heinz has bucked the trend in a stagnating table sauces sector. The brand attributes its performance to large marketing spend, with £3m ploughed into a Heroes campaign for the BBQ season. It is also capitalising on the popularity of its Hot range in 2015 with a new Fiery Sriracha Chilli flavour. Heinz already expanded the range last year to include 'thick' sauces on the back of the success of its 'thin' variants. A reduced-sugar Ketchup also highlighted the brand's ability to adapt to the times.
38 (49) Volvic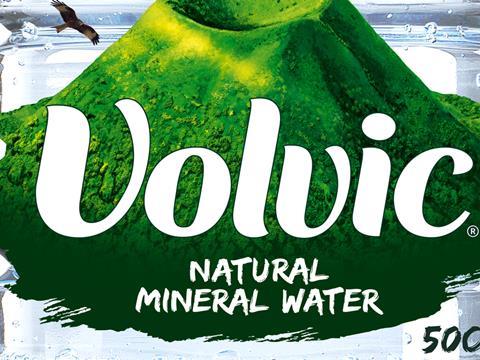 Sales: £183.9m (+12.5%)
The biggest packaging redesign in the brand's history and its first foray into sparkling water boosted Volvic.
With flavours a key growth area in bottled water, brand owner Danone is targeting sales of £25m in two years for its sparkling Touch of Fruit range made with mineral water and sweetened with sugar and stevia. The NPD follows a £1m ad campaign for Volvic natural mineral water and revamped packaging aimed at differentiating it from its competitors.
39 (45) Jacob's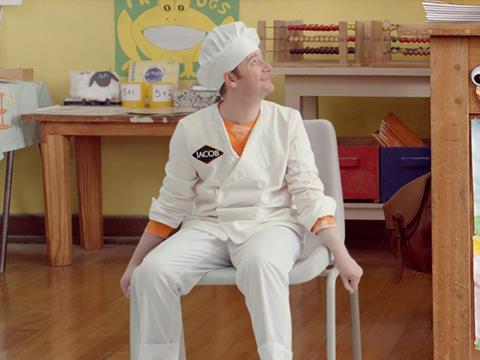 Sales: £181.7m (+8.1%)
Just as UB's sweet portfolio has been grouped under the McVitie's banner, most of its savoury offerings now sit in the Jacob's masterbrand stable. UB forked out £10m on advertising the range in 2014, with diminutive chef Jacob returning to TV. Much of the growth came from Mini Cheddars, up 8.5% to £60.2m thanks to a new recipe and ads calling them 'cheesier than ever'. Jacob's also benefited from widened distribution particularly in convenience, where PMPs have proved a hit.
40 (44) Pringles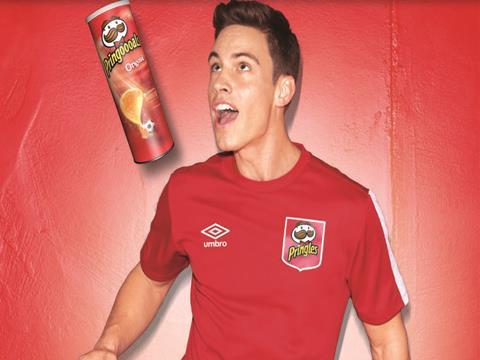 Sales: £180.0m (+6.1%)
Pringles invoked an angry backlash on Twitter and was accused of 'antiquated sexism' thanks to last year's laddish World Cup Pringoooals TV ad.
Even if the ads were 'the most sexist ever made', as some suggested, Pringles has still hit the back of the net. For the second year running it's in strong growth, up an extra £10.3m in the past year. Volumes have been driven up 9.8%, thanks in part to volume-driving deals timed around occasions such as the World Cup.
On-pack promotions also helped, says a spokesman. "In 2014, we took advantage of the increased interest around football with our Pringoooals on-pack promotion – buy two cans and get a free shirt," he says, adding the free shirt was replaced by a free movie as the clocks went forward in the autumn.
"Kellogg's recognised that, as consumers were spending more big nights in, particularly to watch weekend TV shows like The X Factor, The Voice UK and Britain's Got Talent, having on-pack promotions throughout the year was key to driving sales."
Hence the continuing focus on on-pack promotions in 2015. Kellogg's is gearing up for a summer-long promotion that will allow snackers to claim a karaoke speaker for every two cans bought. The brand has also launched a new flavour, Cheesy Cheese, and is looking forward to the summer festival season.
"We will be working hard with our retail partners to deliver some fantastic in-store execution around key snacking occasions, such as summer music festivals, Christmas and New Year," adds the spokesman.