71 (62) Mars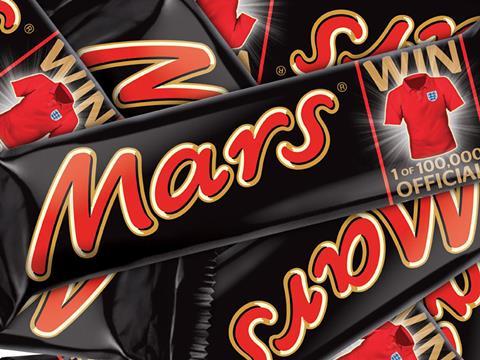 Sales: £125.8m (–10.5%)
Support for the England football team and the launch of an Xtra Choc variant – à la Snickers More extensions (no96) – didn't stop sales falling by £14.8m for the Mars flagship. In response, Mars says the chocolate bar will be on TV three times as often this year as it was in 2014.
72 (59) Special K
Sales: £123.2m (–13.4%)
Ouch. The second greatest fall down the list after Weight- Watchers (no52), with a loss of £19m. It's not only being hit in cereal: Cracker Crisps, Moments and Oats & Honey are all down by double digits. The only serious growth is in granola and Multigrain Porridge, up 108.7% to £10.2m.
73 (69) Bold
Sales: £123.1m (–3.7%)
Bold has dipped despite P&G launching an advanced formula and claiming its 2in1 Liquid and Gel have been upgraded to be significantly more efficient. In a nod to the growing trend for scented products, Bold now deposits perfume micro capsules into fabric during the wash.
74 (70) Finish
Sales: £122.5m (–4.0%)
Finish's £5m fall in value sales masks a much steeper drop in volumes, suggesting shoppers are unwilling to pay higher prices for the RB product. But it's not finished. The brand has launched the Shine & Protect variant to guard against glass corrosion, replacing the Quantum formulation.
75 (81) Ginsters
Sales: £119.1m (+6.7%)
Growth in convenience is to thank for much of the extra £7.4m raked in by Ginsters, which widened its reach with new listings in Co-op forecourts in 2014. NPD included the H+Eat range of microwaveable hot dogs and burritos. The brand also returned to TV for the first time in four years.
76 (72) Bakers
Sales: £116.9m (–6.2%)
A fall of four places for Bakers due to a £7.8m drop in value. The fall masks a 1.6% rise in volumes, suggesting price promotions have been central to the brand's strategy in the past year. And it's paying off: the uptick in units sold is the greatest of the four petfood brands in the top 100.
77 (77) Hellmann's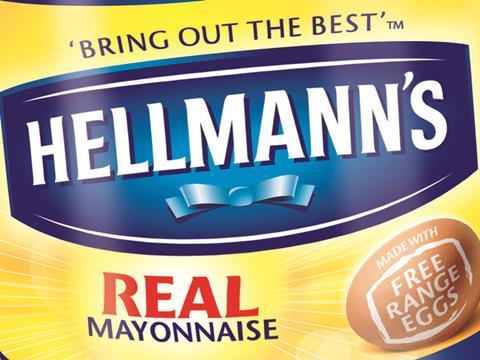 Sales: £113.3m (–2.6%)
Patchy BBQ weather last year had a negative impact on table sauces as a whole – but the picture was more mixed for Unilever's classic mayo brand Hellmann's. Going against current trends for healthy eating, Real mayonnaise fared well while there was a dip for Light and Extra Light.
78 (100) Alpro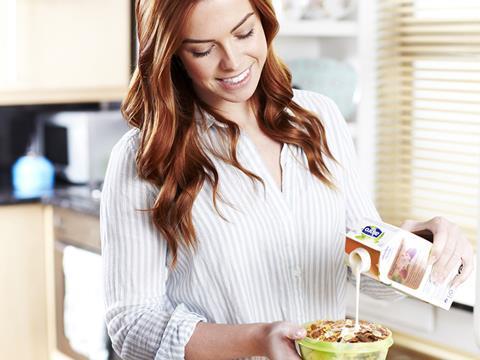 Sales: £111.4m (+24.7%)
If 2014 was the year Alpro arrived (it made its top 100 debut in last year's report), in 2015 it proved it's here to stay.
The brand has had the greatest rise up the ranking, climbing 22 places, and the second greatest value gain after Pepsi (no9), worth £22.1m at the tills, making it the UK's third largest milk brand. Not bad, considering the brand's offerings have never seen a cow.
Its success has been a result of savvy NPD, marketing focusing on reinventing breakfast, and increased consumer demand for dairy-free milk alternatives. It launched a coconut drink last April, described by the brand as 'best in class in terms of taste', a rice-based cream in May, and added a gingerbread-flavoured dessert to its range of soya puddings last June.
Alpro kicked off 2015 in similar fashion, expanding its soya-based yoghurt offering with the launch of Big Pot varieties in almond and coconut flavours, and launching a new TV push featuring a young woman enjoying a healthy breakfast with the help of mascot Ally the squirrel.
"This campaign marks the start of a significant year for Alpro," says marketing controller Vicky Upton. Expect more NPD in 2015.
79 (85) Chicago Town
Sales: £110.6m (+3.4%)
The Takeaway range took the fight to pizza delivery firms in 2014 with a £2m ad campaign and the launch of that takeaway favourite Doughballs. A BBQ Sizzler variant for the footie season and Subs snacking pizzas helped add £3.7m to overall value even though volume sales dipped slightly.
80 (91) Monster Energy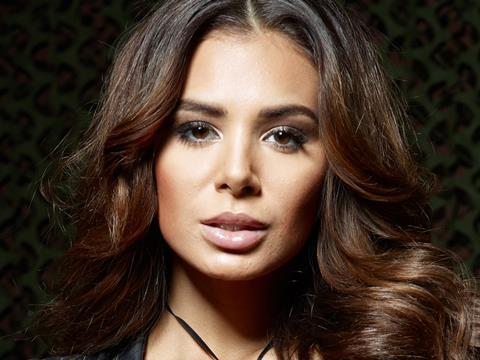 Sales: £110.5m (+11.6%)
Monster smashed the £100m barrier thanks partly to NPD Assault and The Doctor, honouring MotoGP star Valentino Rossi. Coca-Cola Enterprises says the Rossi tie-up became the range's second best performer in terms of rate of sale. Distribution gains also helped drive the £11.4m growth.