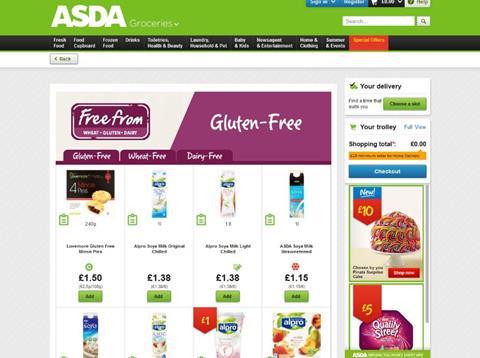 Asda has committed to offer a basket of eight core gluten-free food items in every store – making it the first supermarket to sign up to charity Coeliac UK's Gluten-free Guarantee campaign.
From today (15 September), all Asda stores – regardless of size – have guaranteed to stock eight gluten-free staple items: white bread, pasta, cereal, flour, cereal bars, rolls, crackers and one other bread (brown or seeded).
While Asda is the first UK supermarket to fully commit to the campaign, launched by Coeliac UK earlier this year, the charity said Waitrose, Tesco and Marks & Spencer had made "significant progress in meeting the Gluten-free Guarantee".
Coeliac UK reported that in a survey of its members, 74% of respondents said they have to visit more than one supermarket to complete their free-from shopping.
"Things have improved beyond recognition in the last few years in larger supermarkets but many will be surprised that for most people, shopping for gluten-free items is still a real challenge - especially if they only have access to smaller convenience stores," said Coeliac UK chief executive Sarah Sleet. "For that reason we are thrilled Asda has confirmed its commitment by guaranteeing customers will be able to buy the eight staple gluten-free items in each of its stores, and to see other leading supermarkets working towards the Gluten-free Guarantee."
Waitrose stocks the eight staple items in all its supermarkets and convenience stores, and from 22 September will do so in every Waitrose shop at Welcome Break motorway service stations.
From October, all Tesco Extras, Superstores and Metros will stock a minimum of one variety of each of the eight staple items, and the retailer has committed to meeting the Gluten-free Guarantee across its whole estate by summer 2015.
Marks & Spencer will offer six of the eight gluten-free items by the end of this year in all its stores and will work with Coeliac UK over the next two years with an aim to supply all eight items.
Coeliac disease is an autoimmune disease caused by intolerance to gluten. Left untreated it may lead to infertility, osteoporosis and small bowel cancer. One in 100 people in the UK has coeliac disease, with the prevalence rising to one in 10 for close family members. However, current statistics show that only 24% of those with the condition are diagnosed, said the charity.
"Diagnosis levels of coeliac disease are increasing and we are currently seeing around 1,200 new members joining every month," added Sleet. "It is therefore essential that supermarkets have sufficient stock available across all their stores to meet this increased demand and mitigate the need for customers to trawl a number of stores to find staple items."