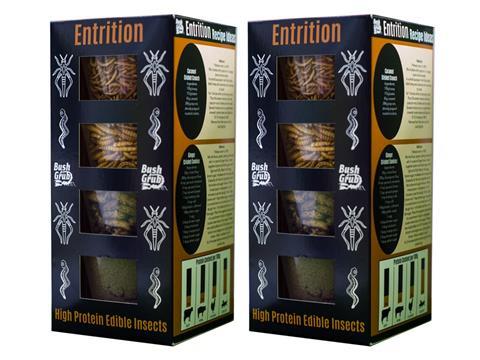 Bush Grub, the official insect supplier of ITV's I'm a Celebrity Get Me Out of Here! has launched an edible insect snack pack containing buffalo worms, mealworms, crickets and cricket flour.
The contents of the snack pack, entitled Entrition (rsp: £14.99/70g), can also be used as meal ingredients, according to Bush Grub, and will contain enough for four different insect-based meals. Recipes for the meals are featured on the back of the packaging.
In 2013, the UN's Food and Agriculture Organization recommended insects as a healthy alternative to mainstream protein staples for their sustainable qualities.
Since then, the market has seen a raft of edible insect NPD, such as Jimini's insect pots, which secured listings in Selfridges in May, and Eat Grub, which launched a powdered cricket energy bar last month.
"Crickets, especially ground into a powder (flour) will be the biggest growth area," said Bush Grub director Gary Bartlett. "It can be used as an additive to make biscuits, snack bars and pasta," he added.
Entrition is set to go on sale directly from Bush Grub's website during the next few weeks, while the supplier is also in talks over listings with various independents and wholesalers, Bartlett said.